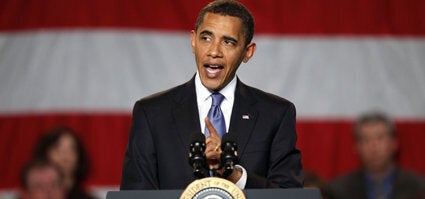 On June 25th, President Obama is convening a bi-partisan meeting to discuss the prospects for moving on comprehensive immigration reform later this year. If he asked me about the politics of immigration reform in this economic climate, this is the memo I would send to him:
Mr. President, with so many challenges facing America, is it too much to tackle immigration reform this year?
Reform advocates point to the pledge you made on the campaign trail, to make immigration reform a "top priority in my first year." Yet skeptics argue that the economic crisis makes your campaign promise moot. They believe you should delay immigration legislation and focus on the economy and your other legislative priorities. While addressing immigration may seem to be heaping another issue onto an already-full plate of priorities, there are four compelling reasons for you to move forward with reform this year.
First, the public support for immigration reform is growing stronger notwithstanding the conventional wisdom advanced by the political class. For a big majority of Americans, the failure to address immigration is a symbol of Washington's failure to confront and solve tough problems. Comprehensive immigration reform - the key elements of which require strong enforcement at the borders and in the workplace, coupled with a mechanism for unauthorized immigrants to get legal, learn English and pay taxes - is viewed by the majority of Americans as the most practical approach to addressing this complicated problem.
And in this economic downturn, voters are actually more supportive of immigration reform than at any other time. As pollster Celinda Lake tells it, "voters are very focused on finding solutions to our problems. They support comprehensive immigration reform as a practical, common-sense solution and have no patience for politicians who want to point fingers and score points rather than fix the problem."
The evidence for this point of view is growing. A Washington Post/ABC News poll showed 61% support for giving undocumented immigrants the right to live in the U.S. "if they pay a fine and meet other requirements," a 12% increase since 2007. The Pew Research Center recently found that 63% of respondents supported a pathway to citizenship, up 5% from 2007.
In polling conducted in May by Pete Brodnitz of Benenson Strategies for the organization I direct, 64% of voters support comprehensive immigration reform before it is described, and a whopping 86% support comprehensive reform after it is described. In response to a head-to-head question that pits comprehensive reform against the enforcement-only approach favored by most Republicans and some conservative Democrats, comprehensive wins 67% to 31%. Among those voters who describe themselves as undecided for the 2010 Congressional elections, they not only favor comprehensive reform at the same levels as Democratic voters, by a 69% - 28% they want their elected leaders to tackle immigration reform this year.
The second reason you should move forward is that your commitment to move on immigration reform has created enormous expectations in the Latino community. Your campaign promise was a galvanizing factor in motivating Latinos - especially Latino immigrant voters - to turn out in record numbers in 2008 and swing decisively to the Democratic column. These new voters helped flip at least four states that voted for George W. Bush in 2004 to Obama states in 2008 (Florida, Colorado, New Mexico, and Nevada).
While some like to point out that polls of Hispanics put issues related to the economy as higher on the priority list than immigration reform, the fact is that Immigration reform is a defining issue for Latinos the way civil rights is for many African-American voters, choice is for many female voters, and Israel is for many Jewish voters. For example, in a recent poll of Latino voters conducted by Bendixen and Associates on behalf of America's Voice, 82% called the issue personally important and 87% said they would not consider voting for a Congressional candidate who favors forcing most of those in the U.S. illegally to leave the country. Moreover, expectations are sky-high: three out of four Latino voters expect you to keep your pledge to move on immigration reform in the first year.
The third reason you should move forward is that fixing immigration is a critical component of fixing the economy. Immigration reform will benefit American taxpayers by requiring workers and their employers to get legal and comply with their tax obligations; it will benefit American workers whose wages and working conditions are depressed by unscrupulous employers who exploit unauthorized workers; and it will benefit law-abiding employers currently undercut by bad-actor competitors by significantly reducing the incentive to underpay workers and pay them off the books in order to win business. As for increased revenues, get this: a Congressional Budget Office study of a legalization component included in the 2006 McCain-Kennedy bill projected increased revenues over 10 years totaling $66 billion. Not bad at a time of squeezed budgets.
Finally, the moral stakes are high and getting higher. How we as a nation deal with illegal immigration has become a defining moral issue for our nation. Ultimately, the question we face is this: are we going to allow hardliners who want nothing less than the expulsion of millions of immigrant families already living in our communities to dominate the debate? Or are we going to live up to our tradition as both a nation of immigrants and a nation of laws and write a new chapter in the American story of how including "them" makes for a stronger "us?"
Immigration reform will not be easy, and yet, this is the kind of big issue that led you to proclaim the fierce urgency of now and run for President.
This is your kind of fight, Mr. President. History is calling.
Calling all HuffPost superfans!
Sign up for membership to become a founding member and help shape HuffPost's next chapter