 When San Antonio Mayor Julian Castro gave the keynote at the Democratic Party convention this summer, drawing raves for his breakthrough role as an emerging Latino political leader, few observers outside of Texas probably knew about the pioneering role of an earlier generation of community activists.
Meet María Antonietta Berriozábal, whose historic victory as the first Latina elected to the San Antonio City Council in 1981 shattered the glass ceiling for future politicians like Castro.
In an illuminating and deeply absorbing new memoir, Maria, Daughter of Immigrants (Wings Press), Berriozábal now shares her extraordinary journey through the rough and tumble politics of Texas, and her lifelong campaigns with a who's-who's list of unsung heroes for social and environment justice.
To be sure, Berriozábal's legacy, as it unfolds from a decade on the city council to a hotly contested mayoral race in 1991, transcends the cultural borders of San Antonio's West Side. Expertly recounting her campaigns for the protection of underground watersheds, taking on the battle over so-called urban renewal and urban sprawl and reckless industrial and nuclear industry operations, Berriozábal shows how local politics and cultural movements served as a microcosm for environmental and economic development issues affecting the greater Southwest, and across the nation.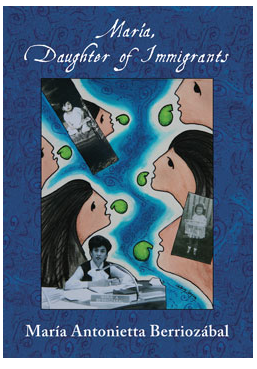 "The focus on economic growth," she writes, "was not on economic growth for all; the people behind GGL were about new growth, not investment in the central city or other areas where minorities tended to live."
Berriozábal's lightning rod role did not go unnoticed.
Taking an unblinking look at the Chicano movements and political power shifts, her memoir unfolds into "a vital documentation of our history as Latinos in one of the nations most important bicultural centers," noted San Antonio poet laureate Carmen Tafolla, as "a priceless resource of history, culture and political wisdom."
Tracing her roots back to her parents' flight from Mexico during the Revolution in 1910, Berriozábal weaves her family and personal stories into a greater history of San Antonio -- and the largely overlooked connections between the roots and experiences of the early 1950s Civil Rights Movement and the subsequent Chicano Movement. As a U.S. representative at the UN Conference for Women in China decades later, Berriozábal's work ultimately crosses more than one border.
Looking back at her hometown, she concludes:
San Antonio is now the seventh largest city in the nation. Yet we still consider growth for growth's sake as "economic development." We have not stopped to analyze how this kind of growth--which typically provides material benefits to wealthier people and low-wage service jobs to working people, with indirect costs to all--impacts the overall health
and well-being of our city. We have never assessed the long term consequences of our unsustainable growth patterns. What has long been clear is that "we, the people" are not making these decisions. As is true in many other places in our country and around the world, we too have a ruling class--an establishment, movers and shakers, a power elite. But they are not our elected leaders.
With the publication of Maria, Daughter of Immigrants, readers will know where to look for the real leaders of Berriozábal's San Antonio and state of Texas, and the impact of their legacy on the rest of the nation.

Follow Jeff Biggers on Twitter @JeffRBiggers
Popular in the Community