Tokyo. December 14, 1941.
Today, at his first in-person meeting with Hideki Tōjō, U.S. President Franklin D. Roosevelt said he was honored to meet the Japanese Prime Minister. Aides to the President reported afterwards that Mr. Roosevelt had brought up the recent attack on Pearl Harbor and told Mr. Tōjō that the American people have concerns that Japan might have been involved. He did not indicate that he shared those concerns. The President said Mr. Tōjō vehemently denied that Japan was involved in the 12/7 attack and that he, Mr. Roosevelt, was satisfied with the denial and willing to move on. Mr. Roosevelt said that his meeting with Mr. Tōjō was "tremendous" and he looks forward to working with him on many issues of mutual concern. Mr. Roosevelt said he and Mr. Tōjō have agreed to set up an impenetrable unit on securing naval bases from air attack.
Mr. Roosevelt allowed that he had thought, prior to the assurances he received from Mr. Tōjō, it was possible that Japan was involved in the Pearl Harbor attack, but said "It could have been anyone—Mexico, Canada, the Maldive Islands, or a 400-pound guy sitting on his bed."
The two leaders were photographed sharing an uproarious laugh about the difficulty of having to deal with reporters. "I got along very, very well with Mr. Tōjō," the President said with his trademark grin. "I look forward to working with him in the future."
"This meeting opened the way to a second, a third, a fourth meeting, where meaningful decisions will be made," Mr. Tōjō told reporters.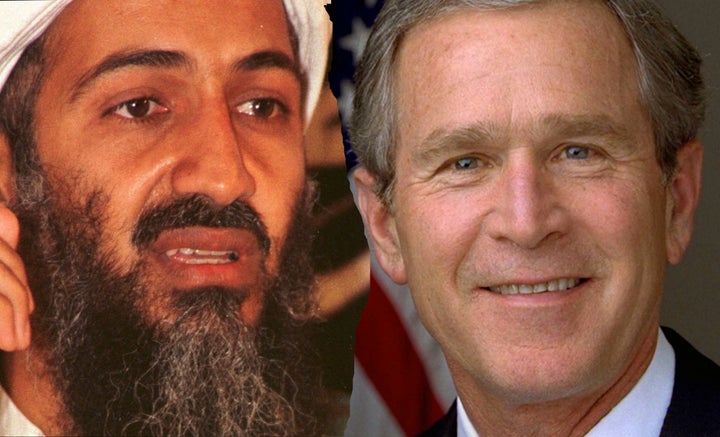 Casablanca. September 21, 2001.
At a face-to-face meeting here today, U.S. President George W. Bush told Osama bin-Laden that it was a great honor to meet him. After vigorously shaking hands with Mr. bin Laden, Mr. Bush hesitantly brought up a topic that he said was of concern to the American public: the possibility that Mr. bin Laden might have had something to do with the attacks on New York and Washington ten days ago.
"That bin Laden fellow is one smart cookie," President Bush said with an awe-filled smile. "No one really knows" who organized and carried out the attacks on the World Trade Center and the Pentagon, the President argued. "People are saying that the Democrats were behind it. Or it may have been the British. Dick Cheney has informed me that we were once their colony and that they still resent our having broken away from them. . . . And what about the French? They don't like Americans, do they?"
Mr. Bush characterized the meeting—which took place at Rick's Café Américain—as "tremendous." For his part, Mr. bin Laden said of Mr. Bush's questions about the attacks on September 11, "I got the impression that my answers satisfied him."
"Mr. bin Laden and I are creating a joint task force on airplane safety," the U.S. President noted enthusiastically.
Related
Popular in the Community