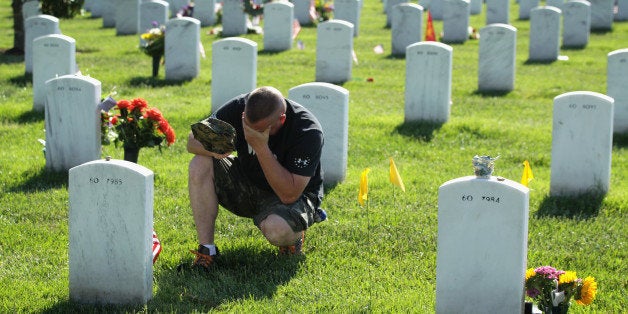 For three decades now on the last Monday of May, Bill Brater has gathered in the chapel of the funeral home he manages in Statesville, North Carolina, for what he considers one of the most important ceremonies of the year.
Joining a crowd of about 250 residents ranging from politicians to schoolteachers, Brater has watched as military veterans post the colors of the American flag and people offer songs ("God Bless America" is a popular choice) and prayers (a pastor will recite John 8:31-32 this year) for those who have died while on duty. Afterwards, the group spreads across cemeteries for wreath-laying ceremonies on veterans' graves.
It's the kind of event seen in small towns and big cities across the U.S., with some accompanied by patriotic parades, every Memorial Day since the holiday's first observations after the Civil War. But Brater, whose father fought in the Korean War and whose son served as a Navy Seal, has noticed a growing pattern over the years.
"It's tending to skew toward the senior side for people who show up. There aren't many in their 20s and only a few in their 30s," said the 59-year-old, who has taken to putting ads in the Statesville Record & Landmark newspaper to entice people to come to the ceremony that once spread by word-of-mouth. "It's just sad, I'm not sure how many people care or understand."
As the federal government pauses on Monday in recognition of the only American holiday dedicated to the memory of those who died while on duty, offering dramatic graveside ceremonies and moments of silence, much of the country will simply carry on as usual. According to recent surveys, less than 5 percent of Americans plan to attend a parade, be part of a memorial service or visit gravesites on what was originally called Decoration Day for its tradition of putting flowers on graves.
President Barack Obama will lay a wreath at the Tomb of the Unknown Soldier at Arlington National Cemetery, but many Americans can't recall what Memorial Day is exactly about.
In a 2000 Gallup poll that asked Americans to define the holiday, the most recent survey on the topic, only 28 percent of people correctly said it was about remembering those who died while serving in the military. In many areas, Memorial Day may be better known for its sales and spikes in DUIs.
"For a lot of people, it's just a day of fun, a day off. Maybe they go to the beach or on vacation," said Brater, who dutifully spent each Memorial Day while growing up in Cincinnati at the cemetery with his parents. "Things change."
It wasn't always that way.
After the end of the Civil War in 1865, an estimated 700,000 Americans were left dead, with thousands of unidentified bodies and unmarked graves. One of the first recorded remembrances for those soldiers was in Charleston, South Carolina. There, liberated slaves converted a horse race track-turned-prison for Union soldiers into a burial ground and led a parade of 10,000 on the track to "make sense of the death and destruction and what would come next," said David Blight, a professor of American history at Yale University.
"There were massive spiritual and logistical challenges to dealing with death, and nobody had dealt with it on that scale before. It was all about coping," said Blight, author of Race and Reunion: The Civil War in American Memory. "In the South they declared memorial days on different days, though eventually it crystallized on the last Monday of May, largely due to the availability of flowers for graves. The first official Decoration Day, observed across the country, was May 30, 1868."
Community groups, from veterans organizations to women's clubs and churches, led commemorations. "In the early days, especially among Catholics, it was often called the American All Saints Day because it was about honoring our dead ancestors who we revered," said Blight.
Today, the practice of going to a parade or decorating graves isn't nearly as popular. That decline is part of a pattern in American history of how Americans react to war and death, Blight said.
"Memorial Day was big throughout the late 19th century and began to wane in the early 20th century, but then there was a huge revival during World World I. That has been the story throughout. Commemorative practices, especially at grave sites, really revive at war time. It even happened during the Gulf War and the peak of the Iraq War."
In 2011, the Pew Research Center reported that while more than 77 percent of adults 50 and older said they had a relative who had been in the military, the number fell drastically for younger age groups, with just 33 percent of Americans under 29 saying they had a family member in the military. Twenty years earlier, a Gallup poll found 60 percent of Americans had either served in World War II or the Korean or Vietnam Wars, or had immediate family who did.
Despite inside-the-beltway arguments over the need to expand or decrease the size of the military, no one would argue it's bad that fewer people have to deal with the violence of war, said Kim Ruocco, who works for the Tragedy Assistance Program for Survivors, an Arlington, Virginia-based nonprofit that supports families of military servicemen and women who have died.
But Ruocco, whose husband, John, served in Iraq as a Marine and died by suicide in 2005, is more conflicted about how Americans remember the dead.
"On one hand I think, 'What are people remembering if not those who served?," said Ruocco, a social worker who runs suicide outreach and education programs and will spend Memorial Day with her 18- and 20-year-old sons at a "good grief camp" her organization hosts annually in Washington, D.C. "But then I think, people who served are proud to take that responsibility, that anxiety off the shoulders of their fellow citizens so those citizens can do things like go to the beach and have picnics on Memorial Day. They serve and protect so we don't have to always worry and think about it."
Brater, the funeral home manager in North Carolina, said his goal is not only to get people to think about those who died, but also to educate his community.
"Knowledge of the past is invaluable to youth today," he said this week while planning for Monday's 45-minute affair. To that effect, he invited a Tom Corbell, a Lutheran minister, to speak this year. While the pastor will offer short prayers, his message will largely be a study of history. He'll describe those -- famous and unknown -- who died in American wars and their stories of triumph and tragedy, before ending on a quote from President Dwight D. Eisenhower:
"May the light of freedom, coming to all darkened lands, flame brightly until at last the darkness is no more. May the turbulence of our age yield to a true time of peace, when men and nations shall share a life that honors the dignity of each, the brotherhood of all."
Support HuffPost
The Stakes Have Never Been Higher
Related
Popular in the Community