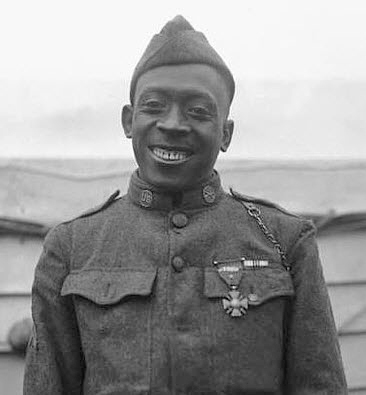 It's almost a century later than would have been ideal, but Sgt. Henry Johnson* and Sgt. William Shemin are being awarded the Medal of Honor by President Obama at a White House ceremony for their heroics in World War I. Both had been overlooked previously, though Johnson was one of the first Americans to receive the Croix de Guerre avec Palme from the French government.
Not surprisingly, a fair bit of information about both soldiers can be found online, and while there's no dispute about their bravery, personal details about Sgt. Shemin are mostly accurate, while Sgt. Johnson's are frequently distorted. I'd like to take this opportunity to correct some of the misinformation circulating about Sgt. Henry Johnson.
His full name was William Henry Johnson, not, as reported by some, Henry Lincoln Johnson.** Sgt. Johnson preferred to go by his middle name of Henry but occasionally used his full name for formal purposes.
He was born in West Salem, a district of Winston-Salem, North Carolina. The notion that he was born in Alexandria, Virginia, stems from his profile in the book Rank and File: True Stories of the Great War by Theodore Roosevelt Jr. but is mistaken. Alexandria is a suburb of Washington, D.C., where the soldier was living at the time the book was written, so perhaps the misunderstanding has its origins in that geographic proximity. But Sgt. Johnson himself consistently reported West(ern) Salem/Winston-Salem as his place of birth.
Sgt. Johnson was born between 1888 and 1897. Such a range may sound strange to 21st-century ears, but accuracy and consistency in dates is a relatively recent development (initiating mainly in the late 1930s with the launch of Social Security, which required specifics for registration), as is our emphasis on birthdays. In all likelihood, the soldier did not know his own date of birth, and his lack of certainty is reflected in his paper trail, though he mostly claimed March 15 or May 15 of various years.
Sgt. Johnson died on July 1, 1929, in Washington, D.C., and was buried in Arlington National Cemetery. Assertions that he died elsewhere (such as New York or Illinois) or on other dates are probably due to confusion with records of soldiers with similar names.
More remains to be corrected, but clarifying his name, as well as shedding light on the dates and places of his birth and death, seems a modest and fitting Memorial Day tribute.
*While it is customary in award situations to use the rank of the soldier at the time of the relevant incident, I have opted to refer to Henry Johnson by his highest attained rank.
**He may have been confused with Henry Lincoln Johnson, another World War I veteran.
Popular in the Community