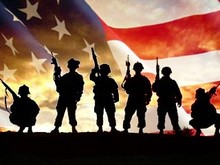 I did not have the pleasure of serving in our country's armed forces. I considered it briefly, but the truth is I was too busy being an addict and a drain on my family and community to be of service. I think about this a lot as Memorial Day approaches, because it is our military veterans' service -- those who returned and those who lost their lives -- who gave me the freedom to recover from my addiction and in turn, pass that same opportunity on to others.
There is a saying among veterans on Memorial Day, "Don't thank me. Thank the one who didn't make it home." I certainly do and yet, on all days for our veterans, I think not only of the dead, whose stories are done, but of the living. I appreciate the sacrifice of those who have passed on, but I look to the living to know that those sacrifices were not made in vain. Among those who did return and the family members of all who served, I see too much addiction and pain. That personal human suffering is an unacceptable legacy to those who died in service to their nation.
This Memorial Day, I'd like to address myself to veterans of all ages. If you are suffering; if you have found yourself at the bottom of a bottle or homeless or otherwise down and out -- ask for help. The U.S. Department of Veteran Affairs (VA) is the first step, but for those who don't want to go there, seek out the American Legion or the Veterans of Foreign Wars (VFW). They have service officers who will help you get the benefits to which you are entitled. You can also call private organizations and charities to help you gain access to services you need. Call someone. Ask for help. Your buddies who died didn't die for you to suffer. Live your fullest life. I know recovery can be yours. I see it every day.
Most important -- if you are thinking of killing yourself, call the Veterans Crisis Line. You will be immediately connected to someone who can help you. Help is available. Your companions who lost their lives wouldn't want you to lose yours too. Call toll free 1-800-273-8225 and press 1 or go online to http://www.veteranscrisisline.net.
Calling all HuffPost superfans!
Sign up for membership to become a founding member and help shape HuffPost's next chapter