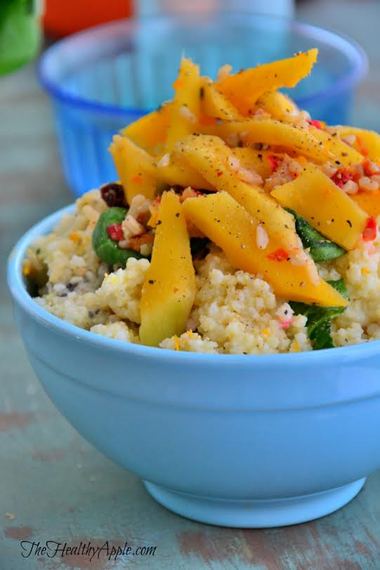 Summer is right around the corner and I don't know about you but I'm already craving fresh fruits and veggies, salads and chilled smoothies. Toss your processed, packaged foods that are filled with refined sugar, refined salt, additives, chemicals and other pro-inflammatory ingredients and load your fridge with fresh produce this summer. Many people use veggies to grill and toss into salads or side dishes, which is wonderful for summer entertaining but why not get a little creative and toss some fresh fruit into your salads, main dishes and side dishes?
You might be surprised but it's easy to add fresh mango and fresh berries to a quinoa salad with pecans and fresh basil; or try fresh mango salsa with guacamole served with whole grain gluten-free tortilla chips. You can even add mango to other recipes such as chicken dishes, black bean dips or chickpea salads as well as cold pasta dishes, tacos and fajitas. Introduce new flavors to your family and friends by getting creative (and kicking up your taste buds) by substituting mango in recipes that call for strawberries and tomatoes! As much as I love my veggies, it's so important to get the antioxidants, fiber and nutrients from fresh fruits, as well. Plus, fresh fruits add incredible flavor to everything from oatmeal to smoothies and are so versatile that you can toss them in a bowl with leftovers to make a Buddha bowl salad for lunch the next day! So, the next time you're in the food store and you're stumped on what to buy for the week ahead, grab a few mangos along with some other fresh fruits, veggies, nuts, seeds, lean proteins and whole grains to set yourself up for a weeks-worth of healthy food and nourishing ingredients. The best part? When you find yourself craving something sweet and you don't want to dig into a pint of ice cream or a box of cookies, all you need to do is whip out your fresh mango, dice it up and enjoy it with finely chopped fresh mint and a drizzle of honey. That will surely cure your sweet tooth; it's a sweet treat that surely won't weigh you down! The bright flavor and natural sweetness makes it a healthy (and tropical) stand-alone dessert or afternoon snack.
Since I was a young girl, my family considered mangos a nutritional powerhouse; they're full of vitamin C, vitamin A and lots of fiber, plus they contain over 20 minerals and vitamins, so you can feel good about serving them in everything from pureed mango salad dressing to mango ice pops. My mother served us mango in the summertime and it was a special treat for my sister and I.
When you're shopping for mangos, don't judge the mangos in the food store (or farmers markets) by their color; red doesn't mean ripe. You'll need to squeeze the fruit (gently, of course) to make sure it's tender and ripe. If it's ripe, that means it's ready to be used in a recipe! If it's still a bit hard, leave it on the store shelf and reach in for another one that's more tender and ready for use.

Here are a few mango recipes you can dig into just in time for Memorial Day weekend: