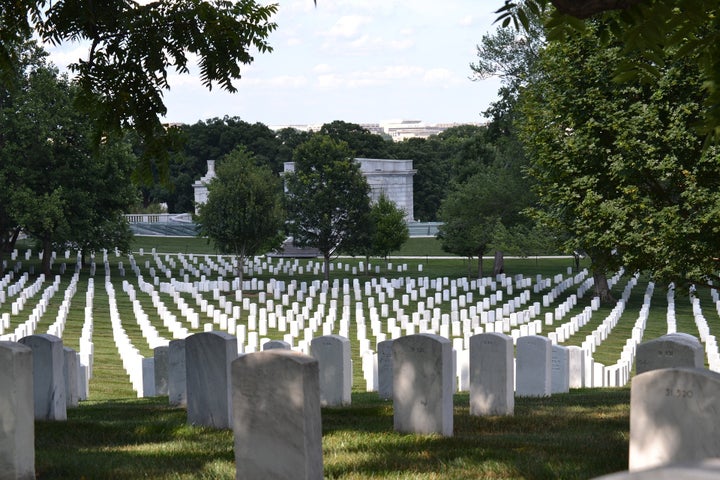 It's not just a reason to barbecue.  For those who have sworn the oath, this can be one of the toughest days of the year.
Before deploying to Iraq in 2006, as a young Lieutenant I was paired with a senior pilot through our squadron's mentoring program.  My instructor, Captain Kevin Kryst, was an intelligent and accomplished aviator from the University of Wisconsin who had already completed a combat tour.  As we sailed from San Diego to the Middle East on the USS Boxer, we regularly discussed enemy tactics, went over the mechanical systems of our attack-helicopter (the AH-1W Cobra), and we flew together many times.  Kevin taught me how to land on an aircraft carrier, and I flew my first mission in Iraq with him.  Although Kevin was a demanding critic, his experience and friendship helped assuage my initial fear of battle.
That all changed on December 18, 2006.  I was eating lunch with several pilots at our small airbase in Al Anbar Province (near the Syrian and Jordanian borders) when we suddenly heard explosions go off.  The foil-thin walls began to shake.
Our base was under attack.
We had taken fire before, but none had landed this close.  We felt the reverberations as several insurgent rockets ignited inside our camp.  The dining trailer offered no protection, so we ran half a mile back to our small headquarters building.  We had to organize our unit and prepare to launch the aircraft for a counterattack.
In the confusion of the assault several personnel could not be located, so our Executive Officer hastily ordered me to jump in the cockpit and fly with Kevin's usual co-pilot.  We soon learned that our friend, Gunnery Sergeant Andrew Harrell, had sustained a terrible leg wound in the attack - he needed to be evacuated immediately.  We quickly took off to fly alongside the medical Blackhawk helicopter that was carrying Gunny Harrell.  Because our austere camp had limited medical facilities, we had to fly critically injured personnel 150 miles east to a larger base.  Medical Helicopters don't carry weapons, so they must be accompanied by an attack platform such as the Cobra.
The two-hour round trip was agonizing, but we were hopeful because the Blackhawk pilots radioed to tell us that Gunny Harrell had stabilized.  We felt relieved when we landed back at our home base, where a small crowd gathered as we shut down our aircraft.  We had suffered an intense attack, but I was excited to tell everyone the good news that Gunny would be OK.  I hopped out of the bird and took off my helmet, but before I could speak, our Executive Officer called us aside.
"There's no easy way to say this. Kevin Kryst didn't go on this flight because Kevin Kryst is dead. The rocket went off, he didn't feel any pain - he went into shock immediately and died on the table."
I felt I had been kicked in the head - it was surreal.  My mind raced to a few weeks before leaving for Iraq when I gave the eulogy at my grandfather's funeral.  That was pretty rough, but I remembered thinking afterwards that it might help me deal with death during the war.  I was wrong, this was much worse - I felt completely disoriented.  Of course you wonder why him and why then?  It could have been any one of us - we later learned that the enemy rocket exploded in a place near our headquarters building that I, and several of the aircrew, had been standing at about 10 minutes before the attack.  The Chaplain conducted Kevin's memorial service the following week in the wooden hut that we called the chapel.  I stood at attention during the roll call, trying not to lose it, and it occurred to me that the previous day was December 25th.  Merry Christmas.
I spent almost 12 months in Iraq from 2006 to 2008, and I consider my experience as a helicopter pilot rather benign compared to my peers who were fighting on the ground in house-to-house bloody battles. But no matter what your job in the military, deployments can take a toll on you. So looking for respite I chose to attend a civilian university (as opposed to the Naval Postgraduate School) on a Marine Corps graduate education sponsorship.  Unfortunately respite was far from what I found. My classes began in August 2009, not long after two squadron-mates and friends, Aaron Cox and Jessica Conkling, died in a training crash while flying near San Diego on a route I had navigated dozens of times.  Then, while trying to relax at a Red Sox game in Fenway Park, I received a seemingly innocuous text from a Marine buddy saying "Did you hear about Hee-Haw?" 
The next day I was on a plane to Texas to attend the funeral of my friend Josh Meadows who was shot during combat operations in Afghanistan.  I sobbed uncontrollably on the way home - the other passengers on the Southwest fight really didn't know what to say seeing this big burly Marine just bawling in the window seat.  I got back to school and tried to put the pain behind me.  
Then, one month later while rushing to class my phone buzzed with the dreaded news - a pair of Marine helicopters had crashed in Afghanistan.  My heart dropped to my abdomen - I knew my former squadron was currently fighting over in theater and my friends were likely involved.  Pretty soon the texts and emails poured in - we had lost not one but three Marines in that accident, with another buddy severely injured.  One Marine in particular, Seth Mitchell, had been a close friend during my last Iraq tour.  I missed almost two weeks of grad school traveling for funerals.  A heart-wrenching day in North Carolina for Seth followed by Eric Jones' and Kyle Van De Giesen's services in Massachusetts - where through misty eyes and a clenched jaw I abruptly paused when I noticed Senator John Kerry sitting solemnly in the pew nearby - it seemed a genuine and heartfelt gesture on his part to support their families.  After the burial I wondered when it would ever end.
Maybe never in this business.  Even when not actively fighting a war, death can prowl around military bases.  We witnessed a tragic reminder last year when two Marine Corps helicopters collided during a night training mission off the coast of Hawaii.  Major Shawn Campbell piloted one of those aircraft - Shawn and I attended Texas A&M University together and were both members of the Beta Upsilon Chi fraternity.
Of course these frequent encounters with mortality in our profession are in addition to the normal experiences of every human.  Since joining the Marine Corps in 2003, my grandfathers (both veterans) and one of my grandmothers have died, and my wife and I suffered through the miscarriage of our first child in 2014.  I am certain most veterans have similar stories from their personal lives.
Several years ago, in November 2012, Seth Mitchell's dad visited Washington D.C. on business and he asked if I would go with him to Arlington National Cemetery to see his son's grave.   Unbeknownst to Seth's dad, that day was my 33rd birthday. 
Our nation buries veterans of the Iraq and Afghanistan wars in Plot 60 of ANC.   Most days if you go there, you'll see young widows or mournful parents visiting their child. Occasionally, you see a funeral service and you flinch as the rifle squad fires a salute honoring the latest casualty.  That November morning was freezing and cloudy with the cemetery mostly bereft of visitors.  On the long and solitary walk from the parking lot to Plot 60, the 624 acres of burial grounds and over 400,000 headstones seemed to stretch to the horizon - each silently representing a person just like you and I.  After visiting Seth's grave I continued on to see many other friends.  I rarely cry, but I had a complete meltdown that day.  I felt it ironic, but somehow appropriate to visit a cemetery on my birthday.  It was a terribly lonesome but cathartic experience which I later tried to capture with the following poem:
Six hundred twenty four acres of sorrow, symmetrical stones of grief
alone among friends and bitterly cold, I stare at the marble in disbelief.
Some are unknown. None are forgotten. I ponder when this will be me
Honor, Courage, and brave Commitment, interred in the fields of Lee.
Six hundred twenty four acres of sorrow, honeycombs of pain
Inconsolably sobbing I kneel, mourning my brothers heroically slain.
Kevin, Aaron, Jessica, Josh, Seth, Eric, Kyle, Shawn, and many many more, such as my friends Major Jeff Bland (USMC) and Lieutenant Peter Burks (US Army).  Even when trying to enjoy a ballgame or a barbecue - the Memorial Day weekend can be a hard one.  Despite the sometimes tough emotions, I believe we should celebrate the memory of our friends by enjoying this amazing country they fought to defend.  I understand many reading this article may have no personal friendships with those serving today in the military.  On this Memorial Day I implore you to honor those that have paid the ultimate price by seeking out and befriending veterans in your community.  Listen and learn, because this isn't just my story, but the story of many who have worn the cloth in defense of our great nation.
* David R. Dixon is a 2017 Presidential Leadership Scholar and the author of the best-selling children's book, Goodnight Marines.  The views in this article are his own and do not reflect official positions of the U.S. Government, Department of Defense, Marine Corps, or any other veteran.
Calling all HuffPost superfans!
Sign up for membership to become a founding member and help shape HuffPost's next chapter