Memorial Day, by definition, is a long weekend celebrated towards the end of May that is meant to mark the beginning of the summer season with visits to the beach, family BBQ's and "Sex and the City 2." Let's start over.
Memorial Day, by definition, is a federal holiday observed on the last Monday of May to commemorate the men and women of the U.S. military who died while in the service of their country. Its roots date back to post-Civil War America and "Decoration Day," when veterans and families would gather to honor the more than 300,000 Union dead that had been buried in 73 national cemeteries, including such hallowed grounds like Gettysburg and Arlington.
This tradition of a national day of remembrance has now spanned more than 150 years of our nation's history. From the soldiers who died at Appomattox, to the 5,487 men and women we have lost in Iraq and Afghanistan, Memorial Day is meant to be a moment for all of us to pause and honor the lives and sacrifice of these fallen heroes.
One of these heroes is Lieutenant Michael P. Murphy, a Navy SEAL who was killed-in-action on June 28, 2005, in Konar Province, Afghanistan. On October 22, 2007, Lieutenant Murphy was posthumously awarded the Medal of Honor--our nation's highest military honor--for his actions in combat high in the mountains of Afghanistan. Lieutenant Murphy's story is one we all should know.
Lieutenant Michael P. Murphy United States Navy

For service as set forth in the following Citation:

For conspicuous gallantry and intrepidity at the risk of his life above and beyond the call of duty as the leader of a special reconnaissance element with Naval Special Warfare Task Unit Afghanistan on 27 and 28 June 2005. While leading a mission to locate a high-level anti-coalition militia leader, Lieutenant Murphy demonstrated extraordinary heroism in the face of grave danger in the vicinity of Asadabad, Konar Province, Afghanistan. On 28 June 2005, operating in an extremely rugged enemy-controlled area, Lieutenant Murphy's team was discovered by anti-coalition militia sympathizers, who revealed their position to Taliban fighters. As a result, between 30 and 40 enemy fighters besieged his four-member team. Demonstrating exceptional resolve, Lieutenant Murphy valiantly led his men in engaging the large enemy force. The ensuing fierce firefight resulted in numerous enemy casualties, as well as the wounding of all four members of the team. Ignoring his own wounds and demonstrating exceptional composure, Lieutenant Murphy continued to lead and encourage his men. When the primary communicator fell mortally wounded, Lieutenant Murphy repeatedly attempted to call for assistance for his beleaguered teammates. Realizing the impossibility of communicating in the extreme terrain, and in the face of almost certain death, he fought his way into open terrain to gain a better position to transmit a call. This deliberate, heroic act deprived him of cover, exposing him to direct enemy fire. Finally achieving contact with his headquarters, Lieutenant Murphy maintained his exposed position while he provided his location and requested immediate support for his team. In his final act of bravery, he continued to engage the enemy until he was mortally wounded, gallantly giving his life for his country and for the cause of freedom. By his selfless leadership, courageous actions, and extraordinary devotion to duty, Lieutenant Murphy reflected great credit upon himself and upheld the highest traditions of the United States Naval Service.

Signed, George W. Bush
At sunrise this morning, I drove out to Calverton National Cemetery on the eastern end of Long Island. While Arlington is certainly the most well-known, Calverton is the largest of all 130 of our national cemeteries. There in Section 67, amongst the vast, solemn rows of marble headstones surrounded by generations past and present, Lieutenant Murphy is buried.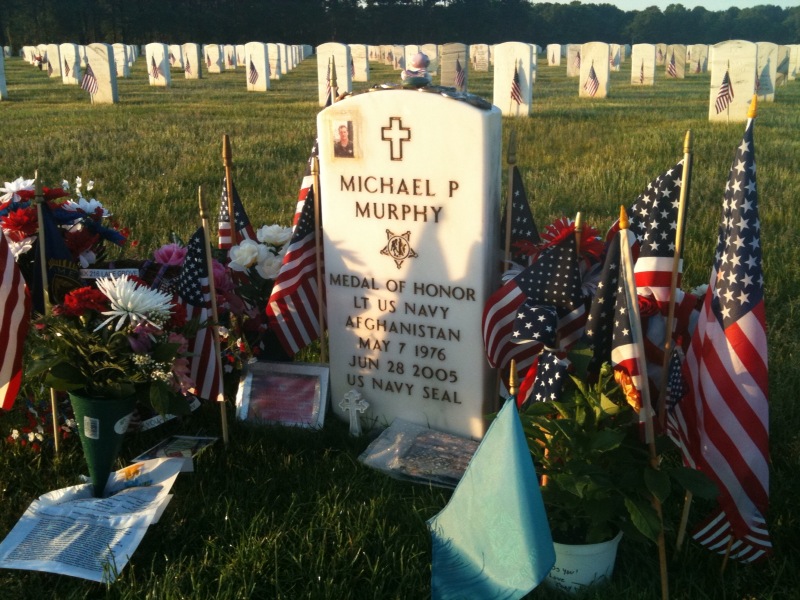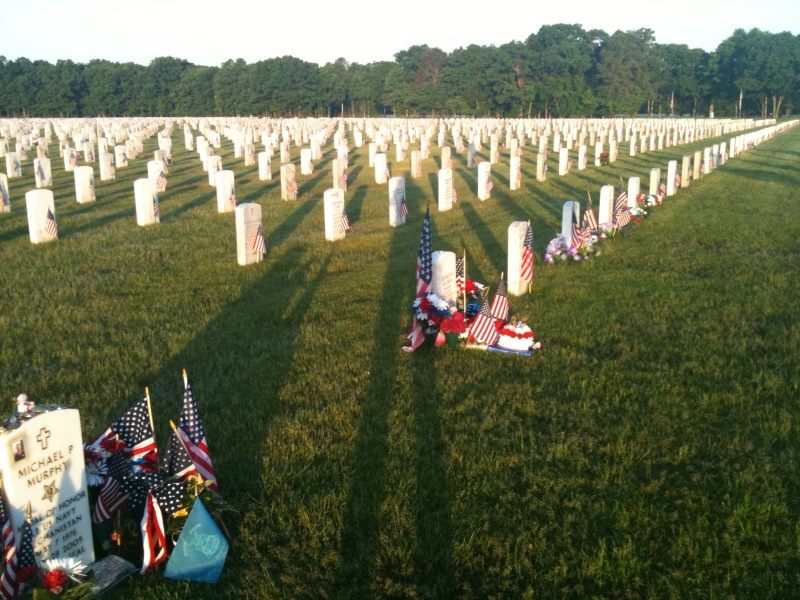 I stayed but a few minutes, before slowly moving down the rows to pay tribute to the other men and women killed in Iraq and Afghanistan whose final resting place is here. Alone amongst these heroes in the golden light of an early summer morning, I could not help but think of President Lincoln:
"But, in a larger sense, we can not dedicate -- we can not consecrate -- we can not hallow -- this ground. The brave men, living and dead, who struggled here, have consecrated it, far above our poor power to add or detract. The world will little note, nor long remember what we say here, but it can never forget what they did here. It is for us the living, rather, to be dedicated here to the unfinished work which they who fought here have thus far so nobly advanced. It is rather for us to be here dedicated to the great task remaining before us -- that from these honored dead we take increased devotion to that cause for which they gave the last full measure of devotion -- that we here highly resolve that these dead shall not have died in vain -- that this nation, under God, shall have a new birth of freedom -- and that government of the people, by the people, for the people, shall not perish from the earth."
This Memorial Day I choose to honor Lieutenant Michael P. Murphy, United States Navy, Medal of Honor recipient. He is but one of the millions we as a nation must never forget. Take a moment today--out of the fun and family celebration--to remember a hero of your own choosing. Even if just in the silence of your own mind, honor their memory, their sacrifice and the enduring legacy of freedom they have left behind.
REAL LIFE. REAL NEWS. REAL VOICES.
Help us tell more of the stories that matter from voices that too often remain unheard.