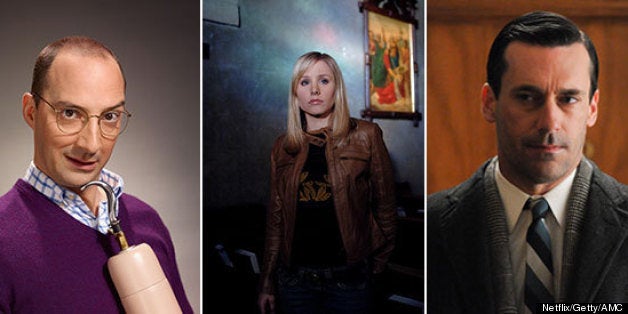 Whether you need a break from the sun, the relatives or the traffic this Memorial Day weekend, your trusty TV has the escape you crave, with a number of marathons and specials and premieres to fill your time off.
We've rounded up some of the highlights from the next three days if you feel like riding the couch, including everything from "Arrested Development" to "Veronica Mars." (Note: All times ET/PT. Listed marathon start and end times include first airings of each episode, not episodes that are repeated over the course of the marathon -- we figured you don't want to watch the same thing twice!)
The Elvis Collection (5 a.m. to 5:05 a.m. Sunday, Encore)
Revisit 14 of The King's cinematic hits from "Blue Hawaii" through to "This is Elvis," with classics like "Jailhouse Rock" and "Viva Las Vegas" thrown in for good measure.
"Arrested Development" (6 a.m. to 8:30 a.m. Sunday, IFC)
Prepare for the triumphant Netflix return of the Bluths with a marathon of the show's first three seasons. Sadly, Season 1 doesn't start airing until 12 a.m. on Sunday morning, so if you're a first timer, you may be a little confused if you start at 6 a.m. on Saturday with "Justice is Blind," the 18th episode of Season 1 -- but for longtime fans who just want to hang with America's most dysfunctional family, it should be a fun trip down memory lane.
"Bridezillas" (10 a.m. to 5 a.m. Sunday, WeTV)
If you're a fan of trainwreck TV, settle in for the best of these brides having complete meltdowns before the big day, including three "where are they now" specials.
"Law & Order: SVU" (10 a.m. to 12 a.m. Sunday, USA)
Spend the day with Stabler and Benson, featuring a selection of Season 12 episodes, starting with "Locum" and ending with "Flight."
"The Real Housewives of New Jersey" (11:30 a.m. to 9 p.m., Bravo)
The marathon kicks off with a director's cut of Season 1 finale "The Last Supper" before taking you back over the final few episodes of Season 4, for all the booze, backstabbing and bitchiness your stomach can handle.
"Longmire" (2 p.m. to 2 a.m. Sunday, A&E)
Catch up with all 10 episodes of the first season before Season 2 premieres on Monday at 10 p.m. ET.
"Sex and the City" (3 p.m. to 2 a.m. Sunday, Style)
Starting with "One," where Carrie first meets Aleksandr Petrovsky, and culminating in the first "Sex and the City" movie, relive the story that brings our heroine back together (then apart, then back together again) with true love Mr. Big.
"Defiance" (4 p.m. to 11 p.m., Syfy)
Now that the show has been renewed for Season 2, catch up with the series so far, starting with the ambitious pilot.
"Da Vinci's Demons" (9 p.m. to 12:05 a.m. Sunday, Starz Edge)
The first three episodes of David Goyer's lavish series detailing the untold story of Leonardo da Vinci. The next three episodes air at the same time on Sunday evening.
"Face Off" (9 a.m. to 9 p.m., G4)
Watch the entirety of Season 3 as makeup artists compete to create amazing effects, including creatures based on NBC's "Grimm," zombie versions of characters from "Alice's Adventures in Wonderland," and designs inspired by the video game "Dishonored."
"Hot in Cleveland" (10 a.m. to 5 p.m., TV Land)
Settle in for a marathon of Betty White goodness, and if you still can't get enough of our national treasure, "HiC" is followed by a "Golden Girls" marathon from 5 p.m. until 11:30.
"NCIS" (10 a.m. to 11 p.m., USA)
This all-day marathon kicks off with the Season 7 premiere, "Truth or Consequences," ending with Season 9's "Housekeeping."
"Doctor Who" (12 p.m. to 11 p.m., BBC America)
A marathon of the cult British hit's recent Christmas specials, starting with "The Runaway Bride" and culminating with "The Snowmen" before plunging Whovians into a series of retrospectives on Doctors one through five.
"CSI: Miami" (4 p.m. to 11 p.m., WeTV)
Dust off your sunglasses and join Caine and the team for this flashback to Season 3, starting with "Pirated" and ending with "Identity."
"Hatfields & McCoys" (6 p.m. to 12 a.m. Monday, History)
If you missed the ratings juggernaut that got everyone buzzing, now's your chance to catch up with the epic feud between two families starring Bill Paxton and Kevin Costner.
"D-Day in 3D" (10 p.m., Discovery)
This hour-long special reveals new secrets behind "D-Day" -- the day that changed the course of the 20th Century. On June 6, 1944, the Allies' invasion of the Nazi-occupied France transformed the outcome of World War II; but did you know that "3D" photography was the key to "D-Day's" success? This futuristic technology mapped every inch of the Nazi defenses, allowing the Allies to execute the greatest invasion in history.
James Bond Movie Marathon (9 a.m. to 10 p.m., G4)
Is there anyone you'd rather spend a day off with than James Bond? This five-movie marathon features "On Her Majesty's Secret Service," "The Spy Who Loved Me," "For Your Eyes Only," "License to Kill" and "Tomorrow Never Dies."
War Movie Marathon (9:30 a.m. to 5 a.m. Tuesday, AMC)
A fitting way to commemorate Memorial Day, with a marathon of "The Dirty Dozen," "The Longest Day," "Heartbreak Ridge," "The Green Berets," "Where Eagles Dare" and "Uncommon Valor."
"MASH" (11 a.m. to 7 p.m., TV Land)
This slice of nostalgia kicks off with "The Army-Navy Game" and culminates with the classic finale episode "Goodbye, Farewell and Amen."
"Veronica Mars" (10 a.m. to 7 p.m., SoapNet)
Now that the Kickstarter-funded movie is a reality, revisit Veronica's early days as a teenage sleuth in Neptune.
"Falling Skies" (10 a.m. to 8 p.m., TNT)
Refresh your memory of the first season of Noah Wyle's alien drama before Season 3 premieres on June 9. You can catch a marathon of Season 2 at the same time next Saturday, June 1.
"South Park" (10:55 a.m. to 11 p.m., Comedy Central)
Go on down to South Park and have yourself a time with some of the most memorable episodes from the show's first 12 seasons, ending with the "Imaginationland" trilogy.
"Memorial Day" (8 p.m., The CW)
In this movie, Bud Vogel (James Cromwell) has never talked about his experiences in WWII -- until his grandson Kyle (Jackson Bond) discovers the footlocker Bud used in the war. Bud tells Kyle can pick any three souvenirs, and Bud will tell him the stories behind each one. The mementos tell the story of Bud's complicated wartime past, and the future that awaits the grown-up Kyle (Jonathan Bennett), as well.
"The Bachelorette" (8 p.m., ABC)
The season premiere of the long-running reality franchise sees Desiree Hartsock embark on her own quest for love after being rejected by Sean Lowe.
"Cake Boss" (9 p.m. ET, TLC)
The Season 6 premiere highlights the aftermath of Hurricane Sandy devastated New Jersey, where the show is based.
What will you watch this Memorial Day weekend? Weigh in below!
PHOTO GALLERY
Arrested Development Photos
REAL LIFE. REAL NEWS. REAL VOICES.
Help us tell more of the stories that matter from voices that too often remain unheard.
BEFORE YOU GO