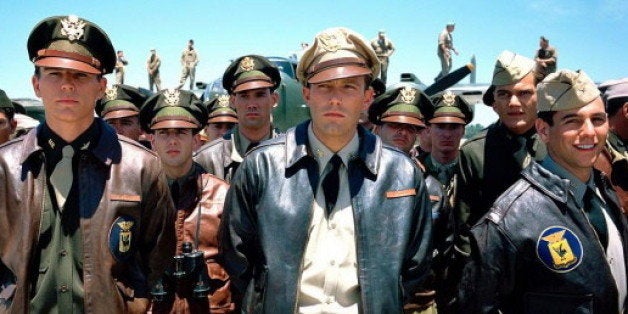 Memorial Day is a time to honor the brave men and women who've given their service to this great country. Most people choose to celebrate by barbecuing, heading to the beach or visiting national monuments and war museums. But really, what's more American than sitting on the couch all day, stuffing your face and watching TV?
If you don't have any plans for the holiday, or if bad weather is threatening to ruin them, we've compiled a complete guide to all of the patriotic programming and Memorial Day marathons on TV:
"Criminal Minds" Marathon on A&E
Watch agent Hotchner and his elite profiling team take down the bad guys and save the world by analyzing the most dangerous criminal minds in America. The marathon starts at 9 a.m.
War Heroes Movie Marathon on AMC
The network can always be counted upon to fill your patriotic needs and this year they're bringing you classics like "We Were Soldiers" and "Pearl Harbor" all day starting at 9 a.m.
"River Monsters" Marathon on Animal Planet
He may be British, but host Jeremy Wade shows some real American grit as he wrestles giant anacondas and hunts for some of the most mysterious creatures that lurk in murky waters. Catch him battling bull sharks beginning at 9 a.m.
"Tosh.0" Marathon on Comedy Central
Lighten up the Memorial Day mood with some raunchy and inappropriate humor from comedian Daniel Tosh. You can watch him make fun of the internet's biggest idiots all day starting at 11 a.m.
"Memorial Day" on The CW
Settle in for this movie that follows Kyle, a 13-year-old boy who follows in his grandfather's footsteps by becoming a soldier and serving in Iraq. The movie airs at 8 p.m.
"Keeping Up With the Kardashians" on E!
Nothing says "God Bless America" like an all day marathon celebrating the Calabasas crew. You can relive some of the family's most embarassing and dramatic moments beginning at 7 a.m.
"American Ninja Warrior" on Esquire
Watch a group of America's best athletes as they attempt to complete one of the most insane obstacle courses we've ever seen all in the hopes of becoming America's ninja warrior. The competition starts at 6 a.m.
"Defiance" Marathon on Syfy
Get caught up on the futuristic drama before Season 2 airs in June with an all day marathon starting at 11 a.m.
"Falling Skies" Marathon on TNT
Your second sci-fi option that follows a group of humans as they battle against alien invaders -- who have a weird obsession with children -- starts at 10 a.m. It's the perfect time to refresh yourself on the series before the Season 4 premiere this summer.
"The Game" on BET
One of the network's most successful shows and most watched comedies is airing reruns starting at 8 a.m.
"NCIS: Los Angeles" on USA
Watch LL Cool J lead his undercover team as they test their street smarts and take down international criminals beginning at 6 a.m.
"The World Wars" on The History Channel
Oscar nominee Jeremy Renner is narrating this three-part event series that follows some of history's biggest names as they navigate through decades of war. The first episode of the three-night programming airs at 9 p.m.
"The Good Wife" Marathon on the Hallmark Movie Channel
Political sex scandals are always a wonderful way to remember the holiday. Tune into this legal drama starring Julianna Margulies as a homemaker turned litigator starting at 9 a.m.
"Fast N Loud" Marathon on Discovery Channel
Two good ol' boys from Texas restoring run-down American muscle cars sounds like everyman's dream. Catch the all-day marathon starting at 9 a.m.
"BBQ Pitmasters" on Destination America
If you're not in the mood to fire up your own grill, you can just watch these professional cooks compete in barbecuing competitions all over the country. It's the tastiest way to spend your day off and it begins at 8 a.m.
"Game of Thrones" Marathon on HBO2
The fantasy series isn't new this Sunday so relive all of your favorite characters being mercilessly killed off with this primetime marathon that kicks off at 4 p.m.
"Walker, Texas Ranger" Marathon on TV Land
You could spend all day reading Chuck Norris jokes on the internet or you could watch the cowboy in action starting at 9 a.m. And you probably should, because you don't want Chuck Norris to come after you.
"Pawn Stars" on the History Channel
Watch Old Man, Chumlee, Big Hoss and Rick as they operate their famous Las Vegas pawn shop starting at 10 a.m.
"Marriage Boot Camp" Marathon on WEtv
What better way to celebrate America than by watching five couples whose broken marriages are heading for divorce. The show attempts to save relationships through intense seminars and bonding activities. Watch the drama unfold beginning at 10 a.m.
ABC Family Movie Marathon
Be a kid again and revisit all of your favorite films from "Casper" to "101 Dalmatians" to "The Sandlot." Movies start showing at 11 a.m.
Calling all HuffPost superfans!
Sign up for membership to become a founding member and help shape HuffPost's next chapter
BEFORE YOU GO
PHOTO GALLERY
'Game Of Thrones' Season 4