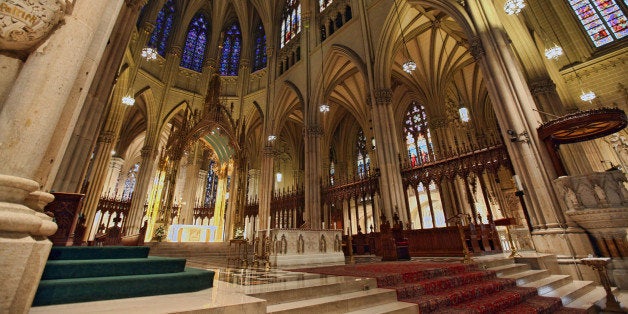 When I booked a memorial Mass for my mother, Mama Jean, at St. Patrick's Cathedral, it wasn't to pray for the repose of her soul. I was seeking a formal ritual to grieve, but I was also making up for the time I couldn't get her into St. Patrick's.
Several years ago before one of her trips to visit me in New York City from Texas, she told me emphatically, "I want to go to Easter Mass at St. Patrick's Cathedral, so look into it now to make sure we get in." This was a couple of months before the trip. She always planned ahead to insure she got what she wanted.
"Get in? It's a church. Anyone can get in," I said.
"Yes, but it's Easter Sunday. And it's St. Patrick's."
I didn't look into it until the Thursday before Easter. She was right. A reservation was required, and like the hottest Mario Batali restaurant, St. Patrick's was fully booked. When I broke the news to her she took the Lord's name in vain with a cut glass shattering, "God.. DAMN... it!"

We went to the Church of the Holy Trinity a block from my apartment. At Mama Jean's insistence we arrived forty-minutes early to get a good seat. She wore a hot pink Easter bonnet of straw, carefully pinned to her done-once-a-week raven coif. We arrived to an empty, half-lit church. The only other person was the janitor making a final sweep with his push broom.
"Well, we have our pick of the best seats," I said, "There's no one here."
She turned to me with her head cocked and cheeks sucked in. "That's because they're all at St. Patrick's!"
When she died of Lewy body dementia several years later, just two weeks before Christmas, I was there when she took her last breath. I was part of every step in sending her off: writing her obituary with my father, planning the wake with my brother, and all of us arranging "Mama Jean's Final Christmas Party." (She loved Christmas.) I was grateful for all of these rituals, each one an important step in processing the death of the person who loved me the most.
How deeply did she love me? When I hit a low alcoholic bottom and downed a bottle of sleeping pills, Mama Jean flew to my side. Before she shipped me off to rehab she told me, "You know, suicide is a mortal sin. It's a good thing you didn't succeed. If you had, you couldn't spend eternity in heaven with me."
I understand the power of ritual from both my childhood days of going to Mass every Sunday and now as an alcoholic in recovery. There is always a formal observance to the meetings I regularly attend. Unlike the Catholic Mass, the ceremony may vary, but the one common ritual is acknowledgement of who you are and why you are there so you never forget. It's a way of paying homage, gratitude, and respect.
As the first anniversary of her death approached, I felt untethered. I wanted a ritual to commemorate her death and her life. On the subway ride to work, I listened to "The Music of Mama Jean," a playlist I made when her mind had all but gone and music was one of the last things to which she responded: Burt Bacharach's "The Look of Love," "My Best Girl," from Mame, Mimi's aria from La Boehme, "High Flying Adored" from Evita, and Judy Garland's "Have Yourself a Merry Little Christmas." By the time I reached my subway stop for work, my face was downcast to hide my wet and red eyes. It was all wrong. Listening to a few songs on a packed subway had all the reverence of holding a funeral in a train station.
For the next anniversary I needed more, but what?
I'd finally get her into to St. Patrick's via a memorial Mass. When I stopped by the rectory office the next week to book the Mass, I could hear Mama Jean in my head, "You're just now looking into it?"
She was right. St. Patrick's was fully booked. I'd have to wait another two years. On the third anniversary of her December 14th death I arrived early -- not forty minutes early -- but early enough for her twelve-thirty Mass. In the outer aisles of the massive Gothic church marched a steady but orderly flow of Christmas tourists in dotted lines. I joined the ant trail around the church, listening to Mama Jean's playlist, which included not only songs she had listened to, but also music I associated with her. Cher's "Gypsies, Tramps and Thieves" always took me back to 5 years old, perched on the edge of the pine-green nylon bucket seats of her white Mercury Marquis as it played on the radio.
A Mass was in progress. It was twelve-fifteen. I panicked. Had I screwed up the time? Did I book a noon Mass? It had been so long since I booked the damn thing. Had I already missed the priest announce, "This Mass is offered for the happy repose of the soul of Jean Brickhouse?" I had waited two years to hear her name said in St. Patrick's.
The priest was already blessing the gifts for Holy Communion, so he was in the home stretch of the Mass. I pulled out my ear buds and asked an usher if there was a twelve-thirty Mass. "Yes," he said, not knowing the relief that simple affirmation gave me.
I continued in the steady parade around the church until I stood in front of the life-sized crèche. Mary and friends were all staring at an empty crib. Someone stole the Baby Jesus? Oh, right, its only December 14. He hasn't arrived yet. So why are they here so early? To get a good seat, of course.
I sat in the main part of the nave and the Mass began promptly at twelve-thirty. The priest opened with, "This Mass is being said for Jean Brickhouse." My heart skipped. He said her name, right here in St. Patrick's Cathedral.
He spoke her name again near the end of the Mass: "We pray for the sick and suffering. For the victims of war and poverty, and for the memory of Jean Brickhouse for whom this Mass is being said." It made me think how excited she was when she saw her heartthrob Hugh Jackman on Broadway in The Boy from Oz for the second time and he called her name from the stage. "Hi Jean!"
"He said Jean! He said my name!" she cried like a schoolgirl. I made fun of her when she told me that, but on that day, I understood how she felt.
A Roman Catholic requiem Mass is offered on specific appointed days of the year for the repose -- or rest -- of a dead person's soul. It is when we are interceding for the poor souls in purgatory praying that they may find rest (in God). In other words, finish their time of suffering and enter into the eternal rest, which is heaven. It's not for me to say, but I don't think Mama Jean wasted much time in purgatory waiting to get into heaven. I'm sure she called ahead and reserved a spot.
After Mass I reinserted my ear buds and walked around the apse of the church behind the altar, listening to the music of her life as I acknowledged (accepted, really) her death. For something to be reposed literally means for it to be put away and not used. Since that St. Patrick's Mass, I've made it my solitary annual ritual to bring Mama Jean out of repose to be formally loved, appreciated, and adored. She and I are getting a tour of the city, since I choose a different Catholic Church for each requiem. The subsequent year's memorial Mass was at Holy Trinity. Like that Easter Sunday, the church was almost empty, but I didn't need the crowd of St. Patrick's any more.
Popular in the Community