The 2016 TCM Classic Film Festival is almost here, and I can hardly wait. This year's festival -- which runs from April 28th-May 1st in Hollywood -- will feature Gina Lollobrigida as its special guest, a live orchestral screening of The Passion of Joan of Arc (1928), and will celebrate "big-time emotions of big screen stories" with this year's theme of "Moving Pictures."
If you're like me, attendance at these marvelous events long ago ceased to be optional. If you love the movies, if they're important to you in an emotional way, then these festivals are a necessity -- for the same reason that owning a physical copy of a favorite movie (whether on Blu-ray, DVD or even VHS) is a necessity: because it makes your relationship to the film closer, more permanent.
If movies are something you have a passionate relationship with, then TCM's festivals give you the chance to seal that relationship with a personal memory -- and I'm already looking forward to what this year's memories will be.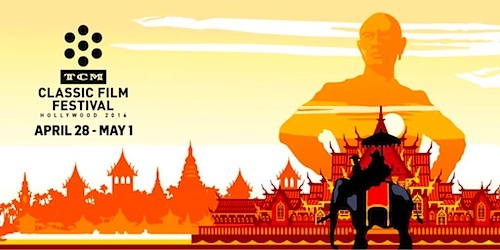 The best part of TCM's festivals -- their core appeal -- is in seeing classic movies with people associated with the film in attendance, usually introducing the film. At last year's TCM Classic Film Festival, for example, I had the pleasure of seeing Julie Andrews and Christopher Plummer at the screening of The Sound of Music, Sophia Loren at the screening of Marriage Italian Style, and George Lazenby at the screening of On Her Majesty's Secret Service. Errol Flynn's daughter, Rory Flynn, even introduced a screening of her father's classic pirate film, The Sea Hawk.
Every one of these experiences was incredible -- like watching the Dodgers play while seated next to Sandy Koufax, or enjoying a night at the Met sitting next to Plácido Domingo. Watching Sophia Loren being interviewed last year by her son, Edoardo Ponti, was especially poignant; I've never seen such an intense, personal interview of a major star before - let alone in person (the interview will be broadcast on TCM during this year's festival). If it's possible, I'm even more a fan of Sophia than I was before.
To describe these screenings as "emotional" doesn't begin to cover it. If you're like me, carrying around decades of memories of these films, seeing these people in person and hearing their recollections brings their films to life in a whole new way -- making them even more vivid and real than they were before.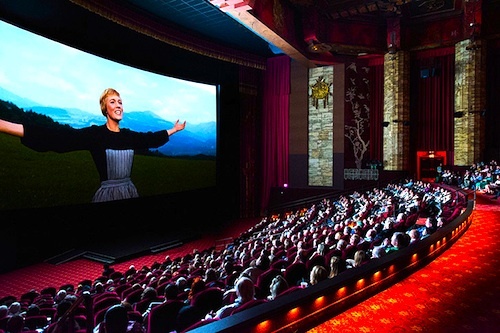 Each year at the festival there's some new experience to marvel at. One year it was seeing How Green Was My Valley with Maureen O'Hara present; another it was seeing On the Waterfront with Eva Marie Saint; another it was seeing It's a Mad, Mad, Mad, Mad World with Mickey Rooney and the surviving cast; another it was watching American Graffiti poolside at the Hollywood Roosevelt Hotel with the cast. Or seeing Bell, Book and Candle with Kim Novak; or seeing Le Mans with Steve McQueen's son Chad and legendary Le Mans drivers describing their experiences working with the King of Cool.
You get the idea. Seeing film history unspool in person this way is truly extraordinary -- almost too much to take in.
Indeed, the whole scene at TCM's festivals can be delightfully surreal -- in ways that no other film event can match. One minute you're quietly relaxing in the Hollywood Roosevelt Hotel -- ground zero for the festival -- and suddenly somebody's interviewing Mel Brooks, Shirley MacLaine or Max von Sydow over in the corner. The next minute you're chatting quietly with Diane Baker, or Kim Novak is winking at you, or you're snapping selfies with Errol Flynn's grandson (seriously, that happened).
You can't make this stuff up -- it's heaven for a classic movie lover.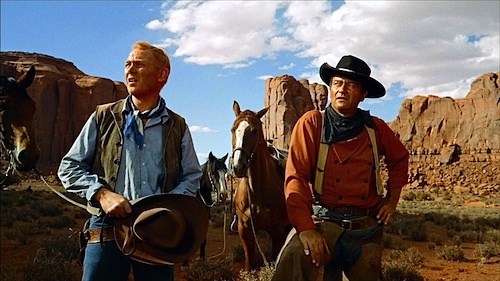 TCM's yearly festivals in Hollywood can be emotionally overwhelming -- like a huge family reunion (filmed in CinemaScope) -- but they're also informative, and catnip for film history buffs. Some highlights for me last year were watching Ben Burtt and Craig Barron go in-depth on the sound effects and visual effects of Gunga Din, catching an interesting presentation on 2-strip Technicolor, and seeing a rare 70mm film print of Patton. Such presentations add immeasurably to our appreciation of cinema craft.
If I had a wish for this year's festival, it would be to see John Ford's The Searchers (1956) -- which celebrates its 60th anniversary this year. Shot in VistaVision in Monument Valley, The Searchers is indisputably John Wayne's greatest film, and likely the greatest Western ever made. It's also a feast for the eyes on the big screen, although non-digital screenings of the film are increasingly rare. (The Searchers was last screened at the TCM festival in 2012 in the TCL Chinese Theatre, digitally.) It would be great to see Patrick Wayne -- John Wayne's son, who played Lt. Greenhill in The Searchers -- introduce the movie, or perhaps John Ford's grandson Dan, and then let the big film roll.
That's ultimately the best part of these festivals: sinking into a seat in a darkened theater ... and watching a movie you love, savoring it for a brief moment with the people responsible for creating it. When that happens, memories are made -- and something old is made new again.
[Jason Apuzzo recently directed the sci-fi short film UFO Diary. Join UFO Diary's nearly 10,000 fans on Facebook.]
Calling all HuffPost superfans!
Sign up for membership to become a founding member and help shape HuffPost's next chapter