As the Youth and Outreach Coordinator at the Kansas City Anti-Violence Project (KCAVP), an organization that supports LGBTQ survivors of violence and trauma in Kansas and Missouri, I have been lucky enough to work with amazing, resilient queer and trans youth who are often overcoming the adversity in their lives. For the past year, I have had the pleasure to work with one such young person, an amazing young woman named Mazy. Mazy is 9 years old, an avid dancer and a recent Brownie in her Girl Scout troop in St. Louis, Missouri. She is also transgender. Last year, Mazy was aware and confident enough in herself, after coping with a lot of self-shame and bullying, to share with her family, second grade class and elementary school that she had always known she was a girl.
In addition to advocating on Mazy's behalf in her school district and community, I have also had the opportunity to act as advocate for her entire family. I have been working with LGBTQ youth for over thirteen years, but rarely have I had the opportunity to see the coming out process from all angles in the family dynamic. Transgender youth experience many hardships. According to the Gay, Lesbian and Straight Education Network's (GLSEN) "Harsh Realities" report on transgender youth experiences in schools, almost all transgender students have been verbally harassed in the past year at school and over half of transgender students have been physical pushed, shoved or assaulted in school because of their gender expression. In this video by SocialScope Productions, a queer documentary media nonprofit, Mazy bravely shares the suicidal thoughts she had at the young age of 6, already coping with teasing, physical harassment and isolation from her peers for appearing different.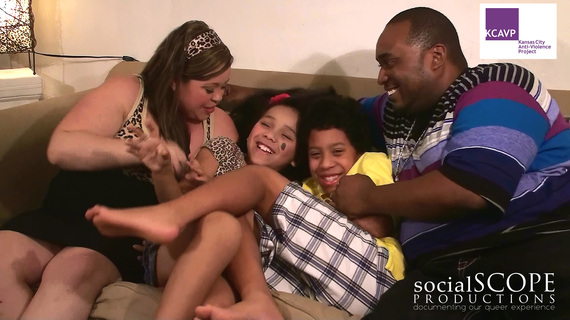 In my line of work, youth advocates understand the positive impact having supportive parents can have for trans and gender nonconforming youth (check out the infographic below from Trans Student Educational Resources), but often the parents themselves may be overlooked in the advocacy process. This video interview with Mazy's family perfectly illustrates the need for holistic advocacy for each member of family. In order for parents of transgender youth to provide happy, healthy and supportive homes for their children, sometimes they need support themselves.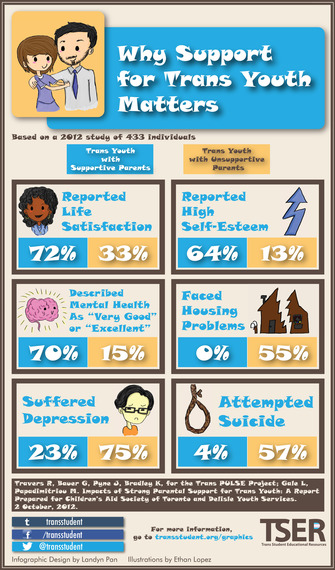 For KCAVP, supporting Mazy directly is our primary responsibility. We will continue to advocate for her in school, provide professional development trainings to the adults in her life and empower her to have a voice in her community. Supporting Mazy means supporting her whole family, and I am grateful that part of my job allows me to do this.
If you are or know someone who is a LGBTQ young person who is feeling unsafe, coping with trauma or violence in their family, school or community in Kansas or Missouri, please contact KCAVP's 24-hour hotline at 816-561-0550. Co-written by Victoria Pickering, Education and Outreach Coordinator at KCAVP.
Related
Popular in the Community