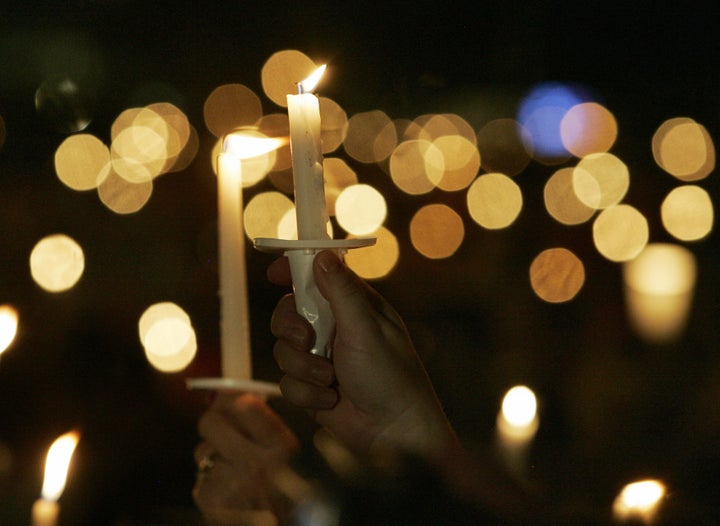 Police officers in Memphis, Tennessee, reportedly turned away several black people seeking to attend an annual candlelight vigil at Graceland in honor of Elvis Presley on Monday.
The officers apparently assumed that those black vigil-goers were actually protesters from a nearby Black Lives Matter demonstration, according to four people who were on the scene and later spoke to The Huffington Post. They did not seem to make the same assumptions about white attendees.
Justin Davis, a 20-year-old student at Memphis' Rhodes College who attended the protest, said he saw the police block about 5 to 10 black people from entering a section of the public street in front of Graceland that was barricaded off for the vigil.
Bennett Foster, a local activist who was also at the protest, said a lot of older white men and women were allowed past the police line.
While there were some protesters trying to enter the vigil area, not all of them were black and not every black person was there to protest.
Foster noted that some white protesters walked right into the vigil area. When the protest organizers asked them to return to the police line, he said, "they all came back together, and police sort of escorted them [out] once they realized what was going on because they all had their fists up."
Lt. Karen Rudolph, a spokeswoman for the Memphis Police Department, said in an email Tuesday that there was no profiling at the event. But police officials admitted to the Memphis Commercial Appeal that Graceland's security team had given officers instructions on who should and shouldn't be let into the vigil area.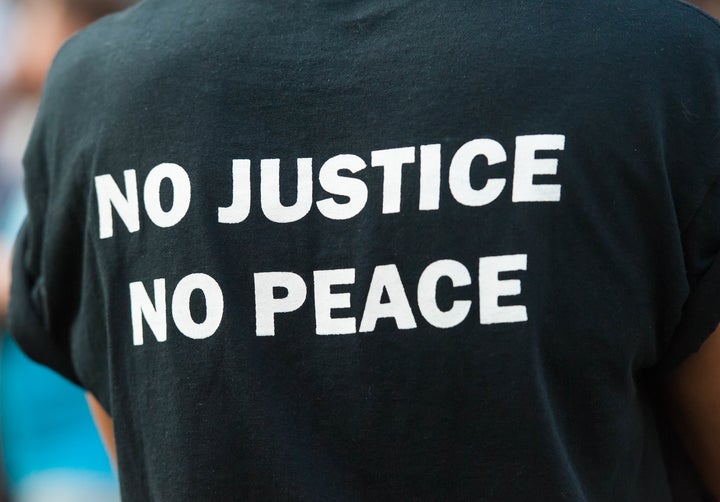 Elaine Blanchard, a white minister and community activist who was at the Black Lives Matter protest, said she saw police turn away black people trying to attend the Graceland vigil.
"Because they were black, they couldn't get past the police line ― but they didn't come to protest," she said. "They either had to go into the corral or get pushed by the police or intimidated."
Blanchard's own experience was vastly different, she said. She was about three blocks away from Graceland on Elvis Presley Boulevard when she saw police cars blocking off the street on Monday evening. She parked her car and, as she walked through the vigil area, some of the officers smiled at her.
When Blanchard later left the protest and attempted to cross the vigil area again, she said the officers treated her with just as much respect.
"I just walked past the police and put my leg over the fenced area they had created. A Graceland security guard took my hand and helped me across the barrier. And I just simply walked back to my car," she said.
The local Coalition for Concerned Citizens said earlier that Graceland was chosen as the protest site "because it demonstrates one of Memphis's most common forms of financial inequity and because the site has ties to a prominent case of police brutality," The Inquisitr reported. The Guest House, a new lavish resort on the Graceland property, has received an estimated $78 million in public funds and tax breaks, according to the coalition.
But Kevin Kern, a spokesman for Elvis Presley Enterprises Inc., the firm that manages Graceland, released a statement saying no public funds are being used in the expansion efforts.
"Graceland has not received any money from the city or county. Statements to the effect that Graceland has received upwards of 78 million dollars in public funding are false," he said. "All financial risks associated with the construction, completion and continuing operations of expansion projects in [the] Whitehaven [neighborhood] will be borne by Graceland and related entities, not the taxpayers of Memphis and Shelby County. The tax incentives for the project are based solely on Graceland's performance and are site-specific, limited to the Graceland campus."
"They robbed the community from growing and when that happens, communities die. Schools around here begin to get closed down," Steven Bradley, a spokesman for the Memphis chapter of Black Lives Matter, told HuffPost. "You start to see decaying buildings and everything else, while this one spot we giving tax breaks to is flourishing."
"The city of Memphis doesn't have money for adequate public transit or education or direct homeless services or anything like that," said Davis, the student activist. "But they have the money to send all of these police to block off this group of people protesting, who aren't doing anything."
At least three people were arrested at Monday's protest. Foster said one woman was thrown to the ground and her face was bruised.
This story has been updated with comment from a spokesman for Elvis Presley Enterprises.
Popular in the Community