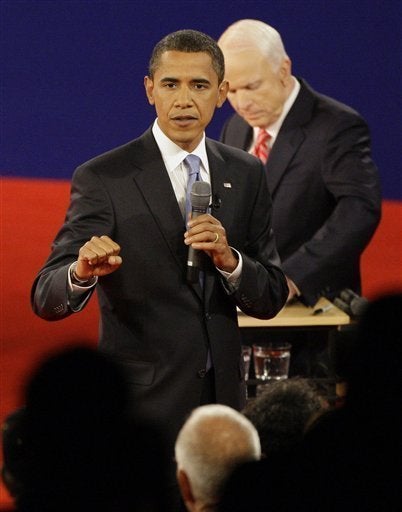 If you watched the presidential debate on CNN, you could watch the green and orange lines of the focus group reacting to everything each candidate said. What is quite amazing is that men reacted more slowly than women and men tended to react less to McCain's tough rhetoric than women.
Here are some quick reactions to what we saw tonight:
McCain's points, even when the lines hover above the flatline, are significantly discounted by the bullshit discount. He never reaches Obama's highs, because even when people reluctantly agree with him, they have to factor in the fact that they just don't believe anything he says.
In the CNN focus group lines, which divided by gender, men end up in the right place -- agreeing with the thoughtful, cerebral Obama -- but they're at least a beat behind the women.
Maybe they have a different processing speed; maybe they are truly more thoughtful. But guys, for efficiency's sake, just listen to the ladies. It will save so much time in the long run -- and aren't you supposedly all about efficiency? Girl power; you know we're right. All you have to do is admit it. We promise, we won't gloat -- it's not in our nature! (Not!)
BOTTOM LINE: OBAMA WON THIS DEBATE ACCORDING TO THE FOCUS GROUP. WHAT DO YOU THINK?
REAL LIFE. REAL NEWS. REAL VOICES.
Help us tell more of the stories that matter from voices that too often remain unheard.