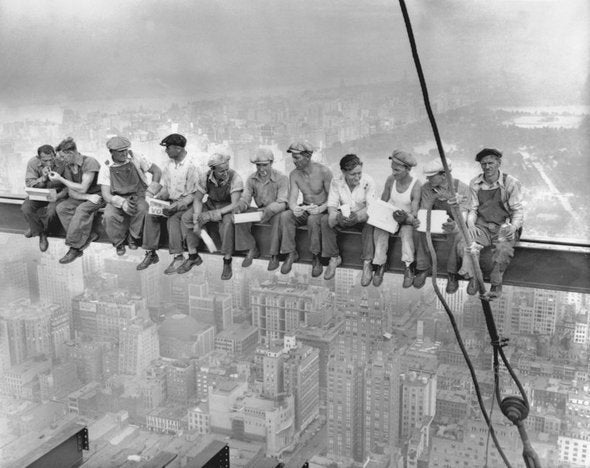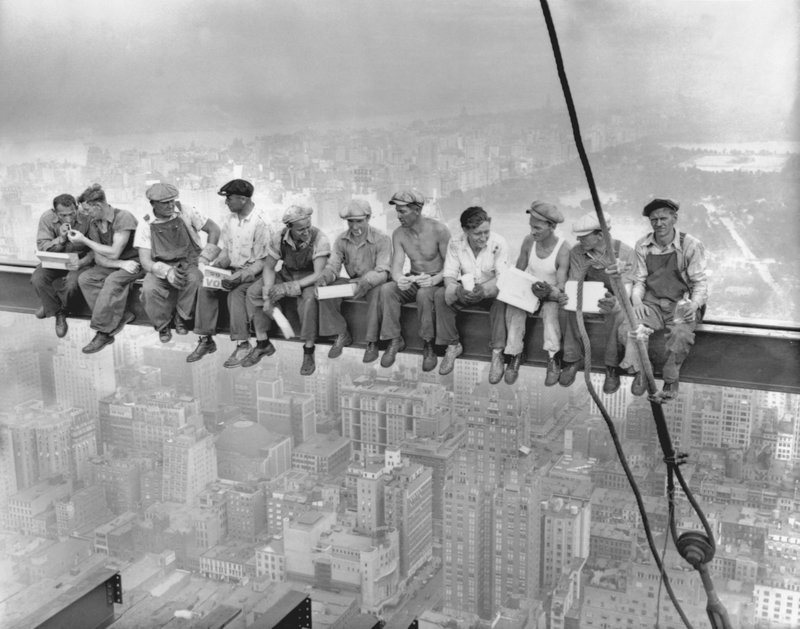 Photo credit: Bettmann/Corbis
Eighty years ago, on Oct. 2, 1932, the New York Herald Tribune published the now iconic photograph of 11 ironworkers, casually dangling their feet hundreds of feet above 5th Avenue while breaking for lunch on an exposed steel beam they had likely riveted into the framework of the rising 30 Rockefeller Center.
While many nationalities worked in the New York building trades at that time including a large contingent of Mohawk ironworkers, the Irish were in the majority, one indication that most of these rugged individuals were almost certainly Irish Americans.
And despite the fact that the builders anticipated one laborer's death for every 10 floors constructed, the men on the beam were happy to be high in the sky when about a third of their fellow citizens down below were out of work in Depression-era New York.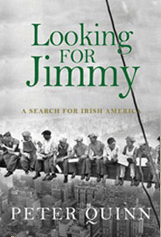 Irish Filmmaker Seán Ó Cualáin is among the many who have fallen under this picture's spell, investing much of his past five years exploring it in a nearly finished 75 minute documentary entitled Men at Lunch, a meticulously researched, highly evocative work-in-progress, imbued with atmosphere and mystery.
A more tightly-edited 50 minute version would be an appropriate addition to the PBS schedule.
Fionnula Flanagan's narration is supplemented by an impressive collection of talking heads, including documentary filmmaker Ric Burns; writer Peter Quinn, who used the same photo as the cover of his book on Irish America, Looking for Jimmy (for Quinn, Jimmy was the archetypal Irish American, embodied in the gent giving us the fisheye at the right end of the beam); New York Times writer Dan Barry, who found he may have a direct connection to the men at opposite ends of the beam; writer/publisher Niall O'Dowd, with his Irish immigrant's perspective; several photographers and a couple of Irish speakers.
The film shows how for ironworkers the photo is a talisman, that both New Yorkers and tourists identify with the image, that the Irish see it as an extended family portrait, and that immigrants from around the world can read their own story in these 11 hard-working men. The fact that there's only 11 of them presents a problem, because so many people are convinced that their father, grandfather or great uncle is on that beam, it would need to seat another thousand laborers.
Ó Cualáin does pursue one identity claim that takes him from suburban Massachusetts to a tiny village in County Galway, and he may have uncovered the photo's original glass negative under a mountain in Pennsylvania.
Amazing month in NYC for Irish theater as the 1st Irish Festival staged 12 plays for Irish playwrights and other events in venues around NYC... Irish American Writers & Artists Salons, where members present their writings, songs, videos and more, currently held twice a month in New York, has expanded to an additional monthly Salon in New Jersey and may soon be adding another monthly Salon at a new venue in NYC... same organization has its primetime event on Oct. 15 when -- speaking of iconic -- singer/songwriter Judy Collins will receive the Eugene O'Neill Lifetime Achievement Award, with Tom Paxton on hand to introduce Judy and Malachy McCourt to present the award.
Related
Popular in the Community