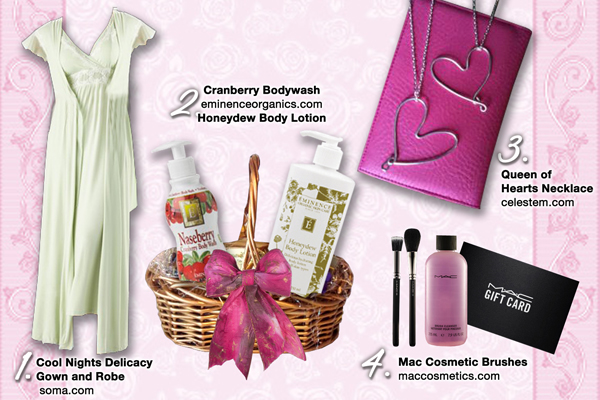 Are you tired of buying the same thing every Mother's Day? Flowers are lovely and chocolates are a nice gesture, but what does mom really want? Of course she wants the obvious - to spend the day with her lovely family. However, even though mom will never admit it, luxurious gifts are always icing on the cake. Now don't let the word "luxurious" bring on visions of dancing dollar signs in your head. Luxurious is not synonymous with expensive in this case. Think about items that mom would not normally buy for herself because she always puts herself last. Shop for things that she could use on a daily basis to relax or feel glamorous. Here are a few last minute gift ideas to get your creative juices flowing.
GLAMOROUS GIFTS UNDER $100
1.Sleepwear is the one thing that woman do not buy for themselves, but something that every woman loves. Let's face it - woman would rather go to sleep in fabulous fabrics and captivating colors instead of worn out sweats. There is something to be said about waking up in a beautiful matching ensemble. The weather is warming up, so think about soft flowing fabrics like the Cool Nights Collection by Soma Intimates. This sensually soft material will make it hard for her to change out of her sleepwear. The gown and robe are shown in the picture. The sleep gown has such beautiful lines it could almost be mistaken for a summer dress. The robe has an adorable flutter sleeve - very French! The gown is $79 with an additional 25% off right now at Soma Intimates. You may be able to find a store near you.
2. Many women, whether a professional or stay at home mom, don't have the time to frequent the spa anymore. So why not bring the spa to her? Create a "Spa Basket" for mom this Mother's Day. Eminence Organic Skincare makes heavenly products whose scents could take you a million miles away from your worries. The Honeydew Lotion is a great moisturizer for the entire body, particularly for those with sensitive skin. The scent is out of this world. It pairs nicely with the Naseberry Body Wash, which is packed with antioxidants. Eminence is a great organic skincare line without preservatives or harsh chemicals. Last but not least, throw in a pair of aromatherapy socks to bring the ultimate home spa experience. Hue makes a great pair of aromatherapy socks in various different scents. They are a great conversation piece and the scent really relaxes the body! The Honeydew lotion is reasonably priced at $28 and the Naseberry Cranberry Yogurt Body Wash is $35. Check out the website eminenceorganics.com to see what other products you might like to put in her "Spa Basket." Check your local beauty salons to see if they carry Eminence or other organic lotions.
3. Can a woman have too many purses or too much jewelry? According to the fashion world, these accessories make an outfit. So why not give her a fun piece of jewelry this Mom's Day? Hearts are a timeless piece that will show the special lady how much you love her. Celeste M Designs makes a simple, yet elegant heart necklace called the Queen of Hearts. Your queen would be tickled pink with this fabulous piece. Very sensibly priced at $39.
4.
The final suggestion is for the true "makeup goddess
", the woman who won't step out of the house without her makeup! She may have makeup bags full of the latest bronzers and lipstick, but does she have
"the brush
"? A great bronzer or blush brush can make all the difference in the world with how your makeup goes on. However, because these brushes can be on the pricey side, many women put off buying professional brushes. Well here is your chance to give her a luxury item that she will use every day. MAC Brushes can run around $34 and up, but well worth every penny. They will last forever. Unless of course the kids take it out of mommy's makeup bag and paint with it. A nice combination would be the blush brush with a concealer brush. Oh - and don't forget the MAC gift card so she can pick out a new spring lip color. Men - she will wonder how you came up with such a perfect gift. SHHH - it didn't come from me. You must take all the credit!
Happy shopping and remember it is truly the thought that counts. Don't forget to include your children in the hunt for that special gift!