In her recent article on global gender equality, Ruchika Tulshyan, a Contributor for Forbes reported,
In the nine years the World Economic Forum has measured the global gender gap, the world has seen only marginal improvements in equality for women in the workplace. Their latest report finds the gender gap for economic participation and opportunity now stands at 60% worldwide, or 4% since it's first measure in 2006. Based on this trajectory, with all else remaining equal, it will take 81 years -- until 2095 -- for the world to close this gap completely.
And, in an effort to create greater awareness among a global audience of the challenges posed by gender gaps and the opportunities created by reducing them, UN Women Goodwill Ambassador, Emma Watson, extended a formal invitation to men, stating, "Gender equality is your issue, too" in a recent speech to launch her HeForShe campaign.
We spoke with six gentlemen who continue to support women on every level and set an important precedence for gender equality. We hope that they will inspire many more men to follow suit.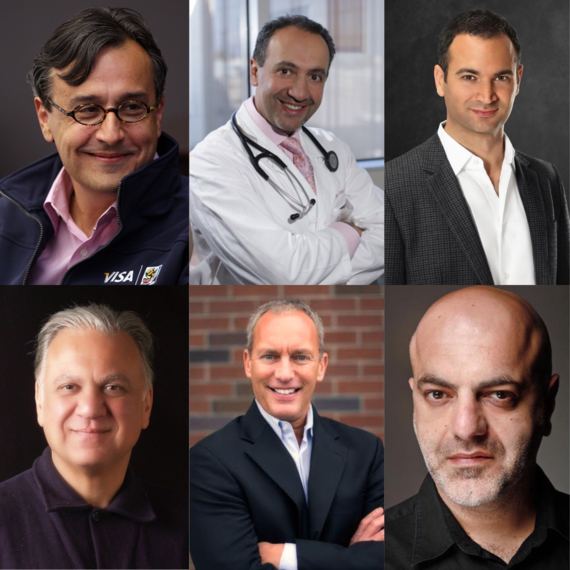 As an advocate of gender equality, why do you feel it is crucial for men -- particularity successful male entrepreneurs like yourself -- to support gender equality?
Dana Haqjoo: It really is about one's overall attitude or philosophy towards the issue. Whilst it seems on the surface that society, business and commerce is moving/has moved towards equality -- enshrined in all manner of government policy and workplace law -- it can only be in the actual attitudes (and more importantly, in actions) of individuals that true equality will ever exist.
The very fact that there are laws to police equality highlights that there is inequality. Equality should be the norm. In reality, it takes education to bed it in and that may be a long term process.
I was raised with the principle that equality between men and women is the engine for an enlightened society to operate. The analogy of a bird flying with two wings operating in harmony comes to mind. With a single wing, no flight! To me it is an obvious, default setting and therefore one should always support, promote and, if required, fiercely push for equality.
As both an actor and an architect, I've worked in environments where women have been leaders and in positions of authority. Equality was explicit and the end results as a business or artistic product were all the more positive. For example, simple things like maternity pay and terms/conditions which exceeded the statutory minimum and promoting flexible working hours seem entirely reasonable, but they are sadly not the norm -- they are positive steps towards embracing the natural stage of life of having children and managing a career.
I've also endured workplaces where equality clearly did not exist and the sense of failure and despondency was palpable.
How do you think empowering women has the potential to shape society?
Kfir Gavrieli: I believe empowering women across the globe is the single most important social mission of our time. No other issue stands to have the impact that empowering billions of women can have. At Tieks, we have committed over $1M through the Gavrieli Foundation to women entrepreneurs in developing countries. We believe these women are a key in the broader fight against global poverty, and that there is no better way to have impact than to support the ingenuity and efforts of these women.
Sheryl Sandberg is most famous for advising women to lean in by "sitting at the table" in an effort to assert themselves as someone who deserves to be there and be recognized as a part of the meeting or conversation at hand. What is one piece of similar advice that you would give to other women to become empowered in the workplace?
Antonio Lucio: Two skills that are required to succeed in the workplace are self-advocacy and having an insatiable thirst for unfiltered feedback. It has been said that career development is a two-way street. There are significant advantages for those who decide to drive on their side of the street. Managers do not know what they do not know and they make decisions based on the information they have. Therefore, it is the responsibility of the employee to play an active role in their career development journey by asking provocative questions that help her define what they want to become over time. Great things can happen to those that dare to ask.
If self-advocacy is about defining what you need and want, feedback is about keeping score. It is not for the tame at heart. Candid, unadulterated feedback enables us to confirm the things that are working and adjust, modify, transform or eliminate the things that do not. Feedback makes us grow and we should never be afraid of it. The things you know, as bad as they may be, you can always manage or fix.
With respect to finding a mentor in your profession, do you think gender makes a difference? Based on your experience, would you recommend that others pick a female mentor, male mentor, or one of each?
Fred Parvaneh: Having a mentor in business is important, but I do not believe it needs to be either a man, woman or one of each. The priority should be the mentor's depth of knowledge and experience, in conjunction with their ability to help the job applicant understand the company's philosophy and politics, while serving to navigate a successful career path.
This was a particularly "hot button" issue a few years ago while Hilary was running in the primaries, but it has been and remains an important consideration for all women in business: Do women need to act like men to fully be accepted and succeed in the business world? Does it help?
Dana Haqjoo: I'd like to say a big NO. In reality, and It may be sector-specific, women 'acting' like men may have aided their success, indeed it may have been the only choice available. But it may have meant taking on the worst stereotypes of the archetypal male. Those that shouts the loudest get heard, etc.
In my experience, the successful women I have worked with have not "beefed up," but rather displayed qualities and skills which you could attribute to being "female." I hope I'm not sounding naive, but if a job requires a woman to act like a man, that job/company/sector/ industry, etc. is broken.
Mrs Thatcher is probably seen globally as a highly successful woman in a man's world (at the time). She certainly "succeeded," but at what cost and in whose opinion? She divided opinion right down the line in the UK, with many perceiving her as almost an antithesis of a woman, with no humanity, empathy or kindness. She played and beat the males at their own game.
In the wake of Malala Yousafzai receiving the Nobel Peace Prize, bringing attention to girls' and women's rights in other countries becomes particularly important. In your opinion and experience, how can we help to advance women's rights in other cultures and societies?
Dr. Afshine Emrani: Educate women. Educate societies to accept women. Fight against obscuring the role of women or limiting it to the household. Educate men to respect and validate women. But most importantly, show men the many female role models and what they have accomplished. Education is key.
Addressing men in her powerful speech to the UN in September, Emma Watson said "gender quality is your issue, too." How do you apply this in your life?
Steve Gutzler: In Emma Watson's stunning address to the UN, her words echoed within me... "If not you, who? If not now, when?" She extended a formal invitation to me, and to all men to make gender equality our issue too!
The movement for gender equality was originally conceived as a struggle for women's rights by women and only for women. With the HeForShe movement, men are invited and empowered to step up for the women in their lives. Empowering and recognizing women's rights and their giftedness begins in our homes, our friendships, our schools and our workplaces.
I do believe we change lives one person at a time. For me, I have an incredible platform of influence, inspiration and impact. I have the privilege of working with Fortune 500 companies on a day-to-day basis. With each interaction I have the opportunity to make a real difference. For me it is not just about women or men, it is about every person rising to their greatness. That is why I do coaching, trainings, and keynote presentations, to inspire and empower others to their greatness. When individuals are living into their fullest potential they can positively affect numerous lives.
REAL LIFE. REAL NEWS. REAL VOICES.
Help us tell more of the stories that matter from voices that too often remain unheard.