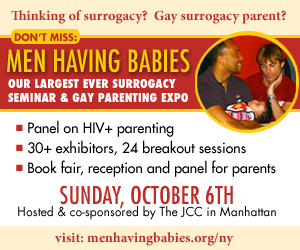 Sebastian, a 24-year-old New Yorker from Puerto Rico, adores his little nephew, loves playing with him and teaching him Bob Marley songs, and hopes one day to have a child or children of his own. But as a gay man who is newly diagnosed with HIV, he isn't sure whether he can have biological children of his own or when he might be in a solid-enough relationship to share parenting responsibilities, or even when he might have a stable-enough career and finances to afford raising a kid.
"It's not so much about being gay for me," he says. "Fatherhood is about becoming a man. I grew up without a father, and I think becoming one will help me understand my own masculinity. The HIV is something that is now in the way, you know? I'm just looking to see how that obstacle can be gotten out of the way. Are there prudent, realistic solutions for such a problem?"
Help for Sebastian might be at hand at the Men Having Babies conference, which returns to New York City on Oct. 6 to offer workshops and panels for gay men thinking about becoming parents. In addition to advice from experts, parents, and surrogates; 24 breakout sessions; and an exhibit with more than 30 service providers, the conference will hold a new panel specifically for men with HIV that it debuted in May at the Los Angeles version of the conference.
At that panel, an HIV-positive parent was joined by doctors from Boston's Bedford Research Foundation Clinical Laboratory and its Special Program of Assisted Reproduction (SPAR), which, for over 10 years, has been the go-to sperm-testing and "washing" center for HIV-positive men looking to have their own biological children without risk of infecting the gestational surrogate or the child. The testing that SPAR does is actually more important than the "washing." From their site:
[A]pproximately two-thirds of semen specimens produced by healthy, HIV infected men have an undetectable amount of HIV. Sperm from such specimens are safer for use in assisted reproduction than "washed sperm" from untested specimens, or from specimens that test positive for virus.
From 1999, when the first SPAR baby was born, through 2011, over 150 children have been born healthy with SPAR's help, even though the Food and Drug Administration (FDA) still considers the process experimental. All the gestational surrogates carrying the children to term have tested negative as well.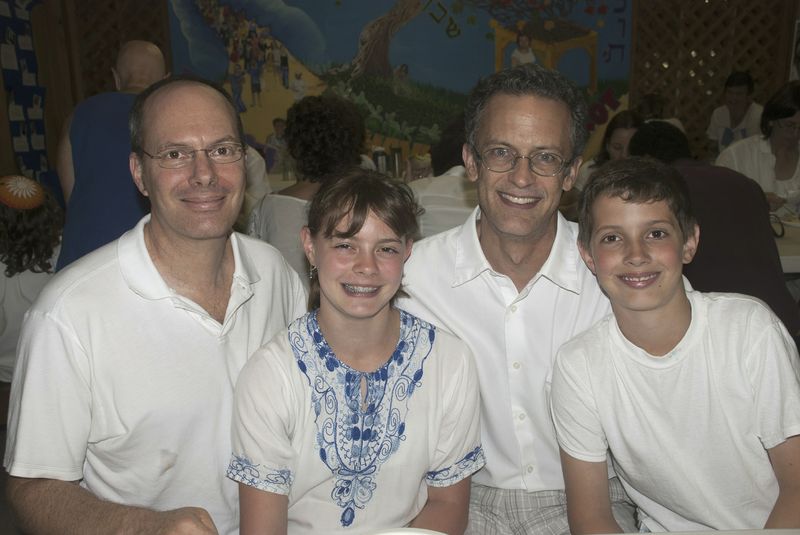 According to Men Having Babies Executive Director Ron Poole-Dayan (on the left with his family), himself a father of two biological children thanks to his own sperm, eggs from his husband's sister, and a surrogate who bore the children, the HIV panel in L.A. was notable for being the first of its kind, and also because all the clinic and agency partners at the conference sent curious personnel to learn about the possibilities presented. Moreover, the female surrogate for the HIV-positive SPAR father was also in attendance and movingly disclosed that her mother had perished of AIDS, saying, according to Poole-Dayan, "Of course I would help somebody who is HIV-positive. Why not?"
Such stories of scientific achievement and human generosity offer realistic hope to people like Sebastian if having a biologic child is important to them. But what about overcoming the financial and access hurdles? According to Poole-Dayan, it's not uncommon for gay male couples to spend upwards of $100,000 for the surrogacy, IVF, egg donation, and legal costs of having a child.
At the conference in October, Men Having Babies is officially launching a new program of the organization, The Gay Parenting Assistance Program (GPAP), to address just such financial issues of potential parents. While there are dozen of foundations set up to help infertile heterosexual couples, for example, until now there hasn't been a single program to offer meaningful support to gay men without the private resources for the costly process of becoming parents.
GPAP has lined up sponsoring agencies and clinics as well as private donations totaling, at this point, up to over half a million dollars in commitments to be offered as either grants or free services to qualifying gay men.
Such creative, compassionate, and responsive support for gay men who dream of raising a family is part of the cutting edge of philanthropy, science, and the cultural sea changes of our times.
Poole-Dayan and the other founders and supporters of Men Having Babies are the midwives (or should one say "midfathers"?) of what will be a new generation of gay male parents. They stand on the shoulders of giants, the first gay men and the generations of gay women who have claimed their place as loving parents.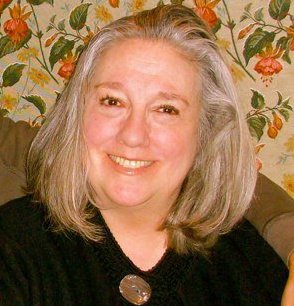 Men Having Babies is itself the grateful, healthy, and rapidly growing child of a parent organization, having spun off in July 2012 from the groundbreaking workshops that had been offered since 2005 at New York City's LGBT Center CenterKids program under the leadership of the legendary-among-a-generation-of-gay-parents former Center staffer Terry Boggis, herself a lesbian mom.
Ed Galloway, the Special Projects Coordinator at the New York City LGBT health center Callen-Lorde, who, with his husband, architect Gordon Kahn, is the father of three pre-teens, acknowledges the role of Terry Boggis in many gay families' lives:
Terry Boggis is the fairy godmother to countless numbers of gay families such as ours. Back when many of us were realizing to our happy surprise that being an out gay man didn't necessarily mean you couldn't also be a father, Terry was the person we turned to for advice, direction, and support. As much as anyone else, she's whom we have to thank for our family, because she first pointed us in the right direction. Our community owes her a tremendous debt of gratitude, not only for the work she did for individual families but also for her advocacy on all of our behalf.
I've been so moved, over the years, witnessing the struggles gay men undergo in order to create the families they dream of. Gay men have the same longings for offspring that anyone has, but the obstacles that stand in their way of having biological children are pretty enormous. But with the support and generosity of the women who assist them, they do it. And it's great that it has become so much more accessible than it was 20 years ago. That said, it's always been troubling that creating families through surrogacy has been something only economically privileged folks have been able to access. I appreciate Men Having Babies' helping to level that playing field.
So Sebastian has reason for optimism when it comes to the possibility of becoming a father, and he will be attending the conference on Oct. 6.
For more information about Men Having Babies, the Gay Parenting Assistance Program, and the upcoming conference, go to menhavingbabies.org.
Christopher Murray is a psychotherapist in private practice in Manhattan and can be reached via christophermurray.org.
Popular in the Community