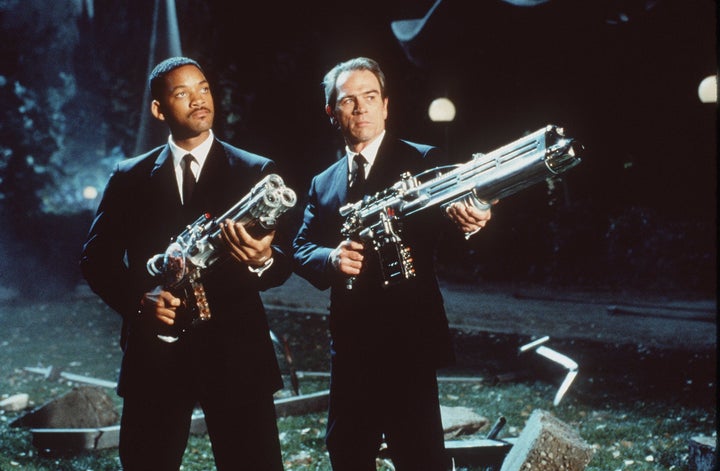 Barry Sonnenfeld is recent Hollywood history in human form. An hour on the phone with him is worth three decades of anecdotes about bad casting decisions, tiffs with bullheaded studio executives, celebrity egos and success that's never guaranteed from one project to the next.
Now an Emmy-winning director who has worked squarely inside the system, Sonnenfeld, 64, began as a cinematographer. Wanting to be a still photographer like Robert Frank and Garry Winogrand, Sonnenfeld pivoted to filmmaking after meeting Joel Coen at a party in the early 1980s. He then shot the Coen brothers' first three movies (including "Blood Simple" and "Raising Arizona"), as well as "Throw Momma from the Train," "Big," "When Harry Met Sally..." and "Misery."
Sonnenfeld's directorial debut, 1991′s "The Addams Family," was a stylistically assured inauguration that gave him blockbuster bona fides, even though he's seen his share of misfires along the way ("For Love or Money," "Big Trouble," "Nine Lives").
His crown jewel, "Men in Black," celebrates its 20th anniversary on July 2, and his Netflix series, "A Series of Unfortunate Events," could rack up Emmy nominations this month. In honor of both, we chatted with Sonnenfeld about his career, yielding juicy tales from the Hollywood front lines. Our favorites: manipulating Chris O'Donnell into turning down "Men in Black" and fielding Kevin Kline's "Wild Wild West" grievances.
Here are Sonnenfeld's spiciest tidbits.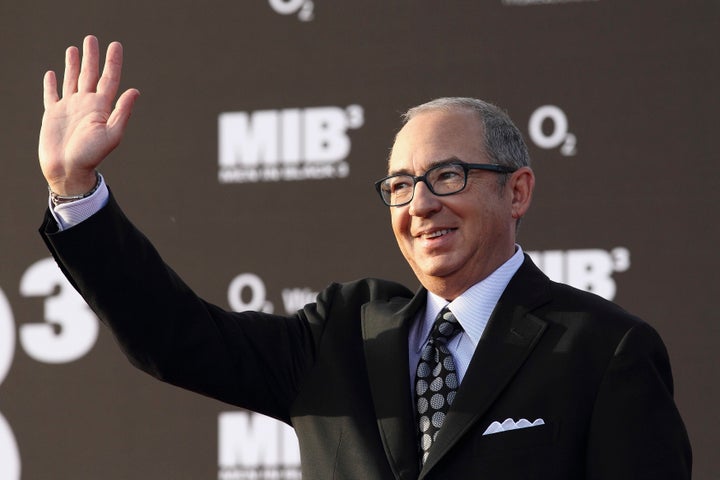 Cher was considered for Morticia Addams.
After Sonnenfeld showed a knack for working with first-time filmmakers, power producer Scott Rudin recruited him to helm "The Addams Family." Tim Burton and Terry Gilliam had turned Rudin down, but Sonnenfeld was game, even though he swears he didn't aspire to become a director.
Sonnenfeld envisioned the movie less as a reboot of the 1960s sitcom and more as an offshoot of the "macabre" Charles Addams drawings that appeared in The New Yorker. "My original material was not the TV show at all, which I thought winked at itself and didn't take itself seriously," he said. Thus began Sonnenfeld's penchant for oddball characters trying to thrive in environments where they are misunderstood.
Executives overseeing the project at the now-defunct Orion Pictures wanted Cher, who won her Oscar for "Moonstruck" a few years prior, to play family matriarch Morticia. Sonnenfeld and Rudin did not ― they wanted someone who wasn't such a personality. And then along came Anjelica Huston, who also sported jet-black hair and won an Oscar in the mid-'80s, for "Prizzi's Honor."
"What was great about Raúl Juliá and Anjelica Huston and Christina Ricci is they're not trying to be funny; they're trying to be real to who those characters are, which allows the audience to find the comedy instead of us telling you where to find it," Sonnenfeld said.
Clint Eastwood and Chris O'Donnell were in the running for "Men in Black."
Facing creative disputes with Walter Parkes, the president of Steven Spielberg's production company, Sonnenfeld said he dropped out of "Men in Black" to direct "Get Shorty" and later re-joined the project. After tweaking "Bill and Ted" writer Ed Solomon's script ― a more dutiful adaptation of the "Men in Black" comic-book series ― Sonnenfeld had to persuade Spielberg against his one request: casting Chris O'Donnell to play Agent J. (At the time, O'Donnell was a top-tier hunk thanks to "Scent of a Woman," "The Three Musketeers" and "Batman Forever.")
″[Spielberg] told me I had to go to dinner with Chris and convince Chris to be in the movie," Sonnenfeld recalled. "But I knew I wanted Will Smith, so I told Chris that I wasn't a very good director and I didn't think the script was very good and if he had any other options he shouldn't do 'Men in Black.' He let it be known the next day that he was not interested."
Back to the Will Smith push. Sonnenfeld, who lived year-round in East Hampton, where Spielberg spends his summers, arranged for a helicopter to take Smith from a wedding in Philadelphia to New York. "Will and Steven hit it off, so that's how I got Will Smith to be in the show," Sonnenfeld said.
For the second headlining role, the executives quaterbacking the film wanted Clint Eastwood. Sonnenfeld thought Tommy Lee Jones, "who was very intimidating," would be better.
"Tommy and I got along great, especially after the first movie and he saw how funny he could be by trusting me," Sonnenfeld said. "He didn't like my direction while we were working because he thought I was trying to make him not be funny."
Sonnenfeld compared Smith and Jones' interplay to that of Cary Grant and Katharine Hepburn, or George Burns and Gracie Allen, or Jerry Lewis and Dean Martin. "You want the funny guy and the flat guy," he said. "Cary Grant is the most brilliant comedy actor there is because he's never trying to be funny."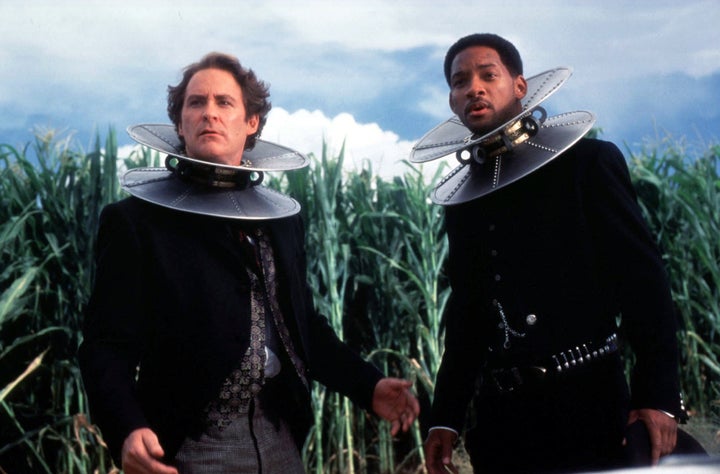 Kevin Kline was the wrong choice for "Wild Wild West."
Sonnenfeld ignored his Grant-Hepburn instinct on "Wild Wild West," the 1999 steampunk spectacle that updated the 1960s series of the same name. Recasting Smith after their lucrative "Men in Black" collaboration, Sonnenfeld went to Kevin Kline for the role of Artemus Gordon. (George Clooney was cast first, but he dropped out.) The problem? Kline "didn't want to be the straight man" opposite Smith's zany showmanship.
"Will should have been the funny one, and Artemis Gordon should have been the serious one who's sort of reacting," Sonnenfeld said. "We had to reverse that. [...] I shouldn't have cast Kevin in that role."
That wasn't his only problem, though. Sonnenfeld blanched at the "scale and scope and tone" of the movie, an expensive exercise in bombast. Sonnenfeld especially regrets the sequence in which Smith, playing Captain James T. West, pops up in drag to seduce Kenneth Branagh's overblown Confederate villain. Sonnenfeld said that regretful scene, and Branagh's colossal mechanical spider, stemmed from "fundamental" disagreements with producer John Peters. "Tonally, that show was a bit a mess," he said.
"Wild Wild West" became an expensive gamble. Its $170 million budget was especially costly at the time. (For comparison's sake, "Star Wars: Episode I - The Phantom Menace" and "The Matrix" ― two of 1999′s highest grossers ― cost a reported $115 million and $63 million, respectively.) To profit comfortably, a movie needs to earn about twice its budget at the box office. "Wild Wild West," already a critical failure, became a commercial disappointment, too, stalling at $222 million worldwide.
"I had said if I ever was in the film business it would be directing movies like 'Local Hero' or 'Get Shorty,'" Sonnenfeld said (he did direct the latter, in 1995). "That was much more my aesthetic, or the Coen brothers stuff. And I found myself directing these large blockbusters, and that can be problematic. If they work, you're everyone's hero, and if they don't work, you're an expensive director. I think that was not helpful for my career."
Sonnenfeld made two fruitful "Men in Black" follow-ups, but "doors closed after 'Wild Wild West'" and he has yet to helm a big-screen blockbuster of the same caliber that isn't a sequel.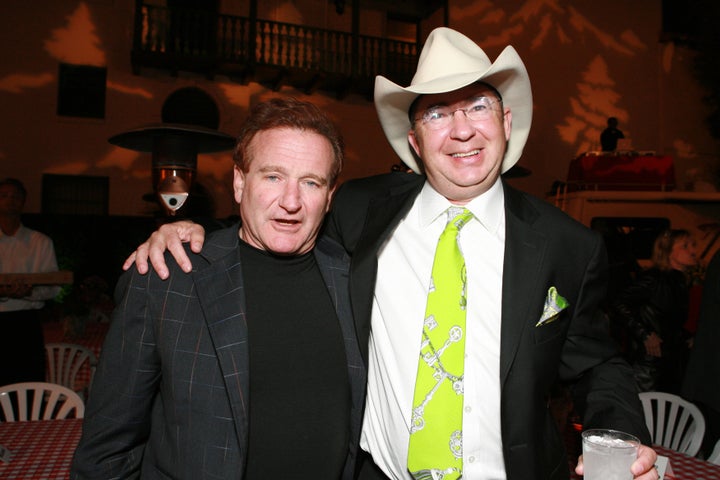 Robin Williams had a comedic brain like no other.
Sonnenfeld's career persisted despite his "Wild Wild West" setback. He produced and directed the pilot of the celebrated but short-lived Fox sitcom "The Tick." He then made the Tim Allen comedy "Big Trouble," which bombed when Disney postponed its release one week after 9/11 due to its plot about a nuclear device being smuggled onto a plane. "Trouble" opened in April 2002, and Sonnenfeld recalls seeing television segments asking "Is America ready for a comedy about terrorism?" The movie made a paltry $8.5 million worldwide on a $40 million budget.
In 2006, Sonnenfeld found a modest hit in "RV," a broad comedy about a dysfunctional family road-tripping to the Rockies. Working with Robin Williams was a mixed blessing. Sonnenfeld is a "control freak" who carefully designs his camera shots and sticks to the script, while Williams is "like a jazz musician of comedy."
"You could give him two words or a stick or a leaf from the ground, and he could do 20 minutes of pure comedy riffing," Sonnenfeld said. "He was such a good impersonator that you couldn't just say, 'Give me Donald Trump.' You'd have to say, 'Ethel Merman imitating Donald Trump.' And then if you said, 'Now do Donald Trump imitating Ethel Merman,' it would be slightly different. His comedic aesthetic is different than mine. He's all about jazz — he's all about the freedom of trying things and riffing and never doing the same thing twice and ad-libbing. [...] The two of us had different ways of approaching the same thing. But he was a lovely guy and he was really funny, and his brain was almost unlike anyone's I've ever met in terms of how fast he was in finding 20 minutes of comedy with nothing. He was amazing."
"Pushing Daisies" was "too cute."
Because of the 2007–08 Writers Guild of America strike that halted production on many television shows, we'll never know if "Pushing Daisies" could have been a bigger hit. Mixing the aesthetics of Tim Burton and the rapid-fire charm of "Gilmore Girls," the wacky detective dramedy about a pie-maker (Lee Pace) whose touch could bring people to life was a critical sensation. Despite multiple Emmy nominations, including a win for Sonnenfeld's pilot, the gap imposed by the writers' strike between Seasons 1 and 2 led to a ratings dip.
"We were delayed almost a year, so we were never on long enough and consistently enough to build a word-of-mouth," Sonnenfeld said. "And then the second issue is, I blame our scripts, in that I think they were slightly too cute. I wish they'd had a little bit more plot. I remember saying to Bryan Fuller, who was the showrunner and the creator and a good friend of mine who I adore, 'Hey, Bryan, shouldn't we have better plots so we can lean forward in trying to figure out who did the murder, for instance?' He was afraid if we had a little bit more of a procedural that we would lose the quirkiness."
Sonnenfeld sees "Pushing Daisies" as something that would thrive in the Netflix era, gathering momentum by dropping 10-episode batches. "We would probably be in our 11th season now, but that's just not he way it worked out," he said.
"Daisies" has become something of a cult favorite thanks to DVD sales and streaming services, but Sonnenfeld said there's been no talk of a reboot or revival.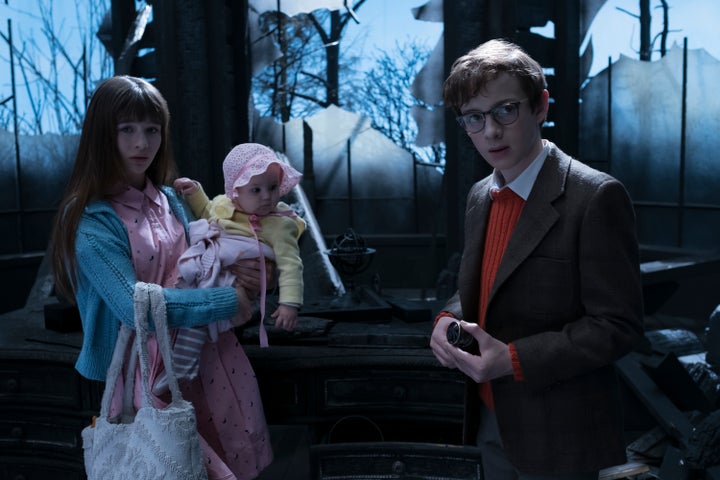 Sonnenfeld had a distinct vision for "A Series of Unfortunate Events."
After "The Addams Family" and "Pushing Daisies," Sonnenfeld's aesthetics were perfect for the Netflix series based on Daniel Handler's "Lemony Snicket" series. Beyond the desaturated palette and busy landscape inspired by Terry Gilliam's sci-fi satire "Brazil," he had one aim: making the central kids, Violet and Klaus Baudelaire, more "heroic."
"In the books, they're stoics ― they're slightly more victims," Sonnenfeld said. "And in the show, they have to take a little bit more control of where they are. I did not want to fall into the trap of having the kids be too passive or the plots of the episodes not be strong enough to carry two hours per book. We worked hard, being faithful but adding other characters and other complications."
Sonnenfeld, who dropped out of the 2004 "Series of Unfortunate Events" movie due to budget constraints, also wanted to give Lemony Snicket a more active presence. "The very first thing I ever said, at the meeting to get the job, was that I thought Lemony Snicket should be an on-camera narrator and be there on the set, not just off somewhere typing."

Hit Backspace for a regular dose of pop culture nostalgia.
Popular in the Community