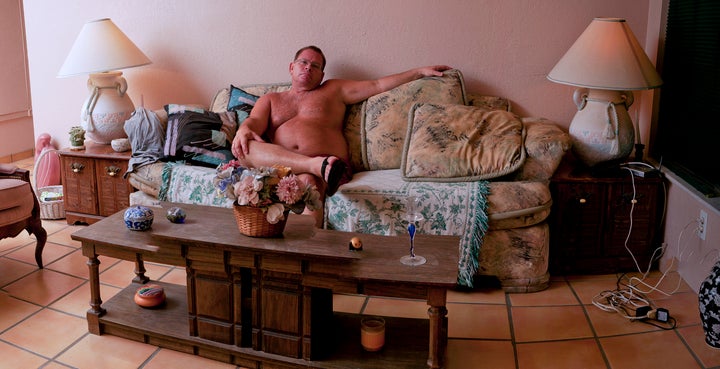 A photography exhibition of gay men in their living rooms was pulled from an LGBT museum after its board of directors deemed the images too graphic.
But as first reported by the South Florida Gay News, the images caught the attention of board members who felt they were too graphic for the Stonewall's audience, which ranges from fourth grade students to senior citizens.
Are the four photographs too explicit? (Story continues below.)
PHOTO GALLERY
Men in Living Rooms
"We have to be cognisant of who our patrons are," museum president Brian Knicely told HuffPost Miami. "The board chair made the decision that it didn't meet the needs of what our space is about."
(The museum's current exhibition, "Concentrated Juice," focuses on gay and lesbian pulp fiction novels, with titles like "Muscle Boy," "The Whispered Sex," and "The Devil Is Gay." Its collection includes items like the gavel used to repeal "Don't Ask, Don't Tell," and a circulating library with more pulp titles like "Glory Hole," "Homo Hostage," "Bitch Boy," and "Manacled Male.")
Knicely said the museum was only shown two of Larson's photographs before they agreed to host the show, and those two weren't installed for display. The museum president canceled the exhibit, though it was allowed to go up for just one night during a scheduled artist reception.
"It's not the fault of anybody; it's a miscommunication and we regret it happened. We don't obviously censor what's going on over there, it's not even in our vocabulary," Knicely said, noting the museum would likely change its pre-approval protocols. "It's unfortunate that it got this far."
Larson, however, said the board approved the photos, invitation, press release, and the exhibition once it was hung. He said he also provided two spare photographs in case museum officials wanted to replace any of those on the walls, and says he was told it wasn't a matter of "miscommunication."
"Stonewall is being very political," Larson said. "ArtsUnited and I did everything that they wanted prior to even hanging the exhibit, we did everything that they us wanted to. But because somebody felt uncomfortable with the images, they took them down."
In a statement to HuffPost Miami, ArtsUnited said that "the work of artist Jeff Larson is very strong and compelling. It is meant to invite discussion. We are disappointed that Stonewall decided to err on the side of caution..."
Larson, a part-time lecturer at the University of Miami and Florida Atlantic University, started "Men in Living Rooms" in 2008, photographing gay men at home dressed according to their fetish, whether it be nudity or leather, while sitting in a living room that could belong to anybody.
"Basically, once you get past the idea of the guy being naked or in fetish, you start seeing what they surround themselves with. I've had older ladies look at my photos and think, 'Oh! I have those coasters!'" Larson said.
Larson said "Men in Living Rooms" has been shown during Art Basel at the UM project space in Wynwood, at the Lowe Museum and Fort Lauderdale Main Library, and in Mexico City, and some prints were shown at the esteemed Kinsey Institute.
CLARIFICATION: The four images shown above are the only photographs intended for display at Stonewall. Other photographs on the artist's website were not intended to be part of the exhibit.
PHOTOS: Images from the Stonewall National Museum & Archives:
PHOTO GALLERY
Stonewall National Museum & Archives
Calling all HuffPost superfans!
Sign up for membership to become a founding member and help shape HuffPost's next chapter
BEFORE YOU GO