The news is brimming with accounts of sexual assault and crime on university campuses across the nation. The prevalence of these assaults and the mishandling of them has prompted drastic efforts such as Columbia University student Emma Sulkowicz's mattress protest, the White House's public awareness campaign "It's on Us" and website NotAlone.gov. The Center for Public Integrity has also undertaken an investigation on the subject. In spite of these efforts to prevent and address sexual assault, it seems that threatening and potentially unsafe behavior is still being dismissed.
Around midnight on August 26th, I encountered what I thought was an assault attempt as I walked up the stairs from the library at the University of Nevada, Reno (UNR) to the parking lot where my car was parked. When I reached the top of the stairs, I encountered a group of at least 5 men walking towards me.
Within a few seconds, the following scene occurred:
One man in the approaching group waved at me. I waved back absent-mindedly. I noticed they were all wearing dark-colored suits which I thought was strange. Then, I glanced up to their faces which I realized with great bewilderment and terror were all Caucasian-skinned masks with cartoonish features. Then the one who had waved held up what I was certain was a black billfold silently, as if to ask for my wallet. I screamed at the top of my lungs, yelled for help, and bounded down the stairs several steps at a time.
Imagine encountering such a group alone at night. Does this sound terrifying to you? I hope it does.
Upon reporting this to campus police, I was told that this group is actually a secret society of frat boys and students that routinely wanders around in this costume and operates under the name "Coffin and Keys." The officer noted that they do charity work and cheerfully explained that they are a school tradition. My assertion that their costume provides an excellent opportunity for rapists, and the officer's explanation of related complaints from scared people, did not seem to mean much. It was just good fun!
The well-meaning policeman offered to let me keep the flyer pictured as "a souvenir."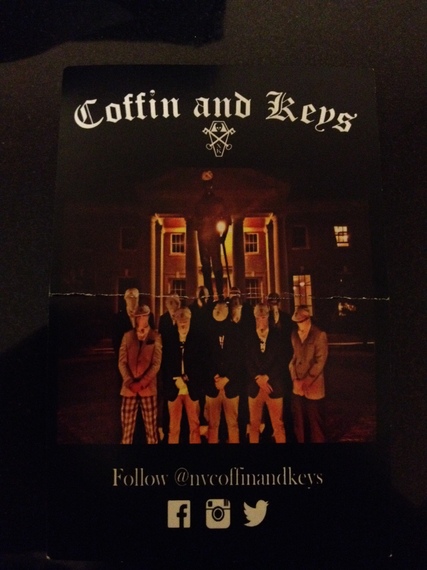 When asked about police conduct in this incident, UNR Police Director Adam Garcia told Reno Gazette Journal "They did walk her to her car," and "We have absolutely talked to [Coffin and Keys] about their conduct in the past but what they do is not illegal."
When contacted by Reno Gazette Journal, Coffin and Keys confirmed my account of the event but insisted that they were holding up handbills not a wallet. They said by email, "Our Order has no plans to change our policy in the foreseeable future with respect to concealing our identities."
I expected better from my recent alma mater, especially knowing the sensitivity of campus rape problems. UNR is no exception to the national sexual assault epidemic. In fact, the 2008 abduction, rape, and murder of Brianna Denison from a nearby house was carried out by James Beila who raped a woman in a UNR parking garage. Given this reality, it's shocking to me that a group of masked men is allowed to walk around at night without police seeming to give it a second thought.
Something like this could cause a heart-attack, a serious fall, or a PTSD episode for any of the 1 in 5 women sexually assaulted in college. It could result in injury to the perceived assailants if they encounter someone with a Taser or other weapon. It could also increase crime if people stopped fearing masked men at night and assumed instead that they were "harmless frat boys."
If this happened again, I can tell you with confidence that I would turn and run again. It would be impossible to tell whether or not the men before me were "a secret society" or a gang of criminals intending to harm me.
I hope that anyone encountering such a scene at night would run and yell for help because this is what an attempted assault looks and feels like. My heart pounded just as intensely, my asthma worsened, and I was equally scared to go home alone.
From the recent warnings I have received from many students and community members who fear Coffin and Keys, it sounds like I am the one who could benefit from anonymity. I maintain that anonymity threatens credibility, and I speak out because I believe that the best way to criticize an anonymous "secret society" that says petty things in an unofficial newspaper (their main endeavor) is to be an identified activist who says meaningful things in an official newspaper.
The potential danger presented by Coffin and Keys' conduct was covered by the university's Wolf Pack Radio in February, and this incident has been covered on the front page of Reno Gazette Journal as well as in the op-Ed section. The Nevada Sagebrush published an editorial on this incident. Still, the administration has not responded.
The dangerous and perplexing platitude "boys will be boys" has been used to defend the questionable behavior of students across the nation. It's more than time for that to end and universities to fulfill their legal and moral obligation to protect.
Failing to take appropriate measures to address this problem is nothing short of negligent and reprehensible. It is a strike against UNR's reputation which certainly does not benefit from upholding a tradition of anonymity at the expense of the safety of students.
UNR President Marc Johnson, I'm passing the buck to you.
Calling all HuffPost superfans!
Sign up for membership to become a founding member and help shape HuffPost's next chapter