The Barney's Creative Ambassador-at-Large and the fashion world's resident bon vivant insists that American men, unlike their European and Australian counterparts, have an unjustified fear of wearing Speedos. Instead of opting for the skimpier, arguably more practical swimwear, dudes in the States have an overwhelming preference for boardshorts. So what's the problem? Doonan lays out two in his piece:
1. Drowning: "Dudes are getting waterlogged, and dudes are sinking. In the course of my far-from-extensive research, I spoke to legendary West Coast swimwear magnate Mr. Turk. He shares my conviction that 'board-shorts aficionados are drowning because their swimsuits are so voluminous.'"

2. Gender misidentification: "This past weekend I spotted two burly figures walking toward me wearing what I assumed were large peasant skirts. 'What made these two beefy, short-haired possibly lesbians decide to go topless?' I asked myself. Upon closer inspection, they turned out to be a couple of dudes with man boobs in garishly printed board shorts, prompting the question: Why do American men insist on concealing their willies 'neath yards of fabric?"
Oy vey. Doonan goes on to explain that American men seem to have the idea that Speedos are only for "foreigners" and "friends of Dorothy." He jokingly puts the blame on Puritans and even goes so far as to ask, "Are most American dudes simply too fat to wear a Speedo?"
While we realize Doonan's article was mostly playful, we too get the sense American dudes might have an irrational anxiety of sporting the so-called "sassier swimwear." But we'll put the question to you: Do you think our men are too scared of Speedos?
Read Simon Doonan's piece in all of its hilarity here.
See the swimsuits celebrities deem acceptable: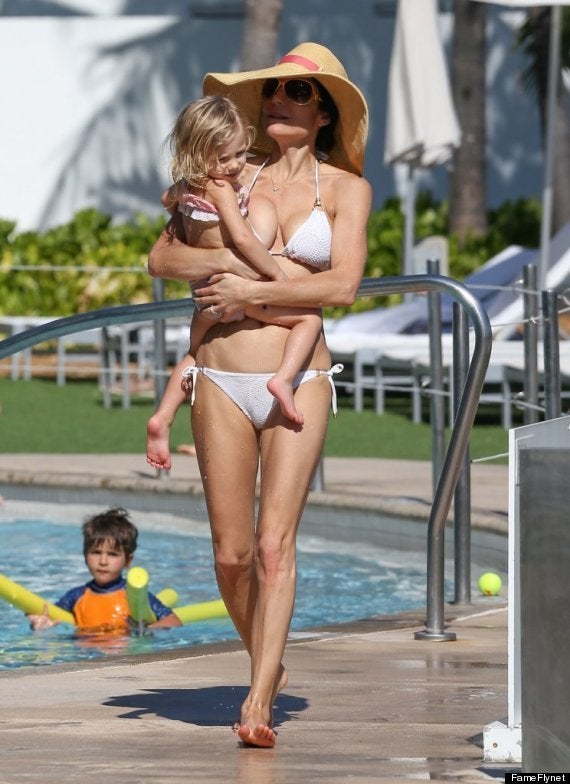 Celebs In Swimsuits
Popular in the Community