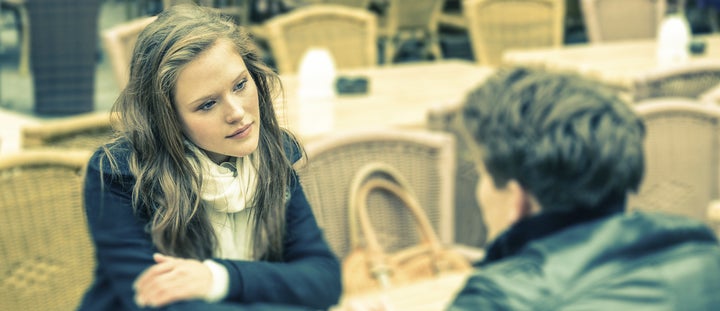 Academic studies can be fascinating... and totally confusing. So we decided to strip away all of the scientific jargon and break them down for you.
The Background
In general, most people like the idea of "dating up." Isn't it better to find someone more attractive, more successful and more intelligent than your (already wonderful) self? That depends. For men, the idea of dating someone more intelligent than themselves may actually be a turn-off.
Research has found that analytical ability is considered a stereotypically masculine quality, and being competent and competitive are qualities that are particularly important to men, so female intelligence might be threatening for heterosexual men sizing up a prospective partner. A 2006 study found that men in a speed-dating environment found intelligence appealing unless they perceived their female date to be smarter than they. It's hard to tell how generalizable these findings are, but they do make one wonder: Even if a man says he wants a smart woman, is he actually attracted to one when she's in front of him?
Researchers from the University at Buffalo, California Lutheran University and the University of Texas at Austin explored this question in their new study. During their preliminary survey, 86 percent of men reported that they would feel comfortable dating someone smarter than they. In a series of six experiments, the researchers put these claims to the test.
The Setup
In the first version of the study, the researchers had 105 undergraduate men read a hypothetical scenario about a woman who scored better than them on a test, and then asked them to rate how romantically desirable that woman seemed. In the second, they had 151 undergraduate men take an intelligence test and then asked them if they'd like to meet the woman down the hall, who either scored better or worse than them on the test. Both of these studies found that when men imagined a hypothetical woman who was smarter than they, or only knew of the woman in an abstract sense, they were interested in meeting her and even dating her.
In the next two versions of the study, men interacted with a woman (who was in cahoots with the researchers) who either performed better or worse on an intelligence test than they did. After the participants met the woman, took the test while seated next to her and heard both of their scores read aloud, male participants were asked to move their chair across from the woman's chair. They were then told to take a survey about their first impressions of the other -- specifically, how attractive and desirable they found each other. The researchers looked at the distance between the two chairs as a measure of how attracted the man was to the woman.
Men who were partnered with a woman who scored higher on the intelligence test felt the need to physically distance themselves from her when moving their chairs. They also tended to rate her as less attractive and desirable to date than men who interacted with a woman who scored worse than they had.
The last two experiments got even more nuanced by looking at the way men rated their own masculinity. In the fifth version, men were either told there was a woman in the room next door, or they were seated face-to-face with a woman (again, in cahoots with the researchers). Participants and the woman shared basic information, like name, relationship status, age and year in school. They then took an intelligence test side-by-side and were told their scores aloud. The men were told that the woman either scored higher or lower than them on the test no matter how well they did. Finally, participants filled out a survey measuring how much they related to various stereotypically masculine qualities and how interested they were in the woman romantically.
The sixth and last version of the study repeated the procedure of the fifth, but the men in the study saw the woman for a few minutes in person at the beginning of the study (though they didn't interact with her).
The Findings
The last two versions of the study found that men were less interested in dating and interacting with a smarter woman when she was face-to-face with them. However, in the fifth study, when she was "psychologically distant" (supposedly in the next room), there was no difference in men's desire to date or interact with her no matter how well she scored on the test compared to them. In fact, the men who never saw the woman showed a "marginal tendency" to want to interact with a woman who was hypothetically smarter.
Overall, men were into hanging out with a smarter woman when they had yet to meet her, but they weren't so excited to hang out with a living, breathing intelligent woman staring them in the face.
Men also felt less masculine when they were faced with a smarter woman sitting next to them than when they never saw said smarter woman.
The Takeaway
This study sheds light on one reason dating is so complicated: We don't always know what we want, even if we think we do. This just happens to be a particularly depressing example.
It seems that, even if men say they want a smarter woman, when push comes to shove, they're not so into women who threaten their own intelligence. As the researchers put it, their findings suggest that there are "conditions under which self-protective concerns may trump qualities of partners that seem desirable at a distance." Translation: Men who blow off intelligent women might just be protecting their fragile masculine egos.
Of course, these findings don't mean that all or even most men are threatened by smart women. This study just adds to decades of literature on gender dynamics which suggests that, as a whole, there are a lot of icky complications around confidence and power wrapped up in heterosexual attraction. More research needs to be done until there are any practical implications.
In the meantime, it's probably not a bad idea for threatened men to do a little soul-searching and think about why they might be intimidated by smart women.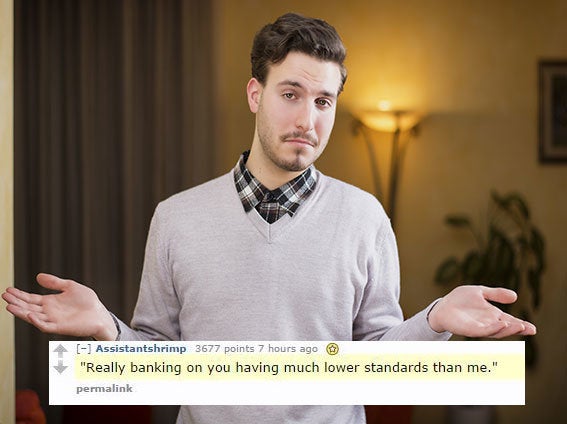 Brutally Honest Dating Profiles
Support HuffPost
The Stakes Have Never Been Higher
Related
Popular in the Community