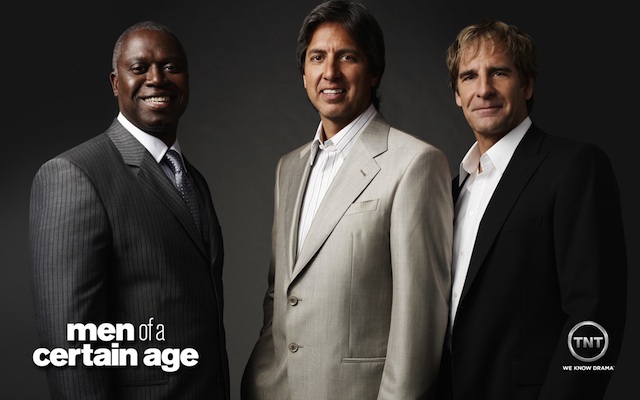 The groundbreaking TNT comedy-drama, Men of A Certain Age, returns for a second season on Monday, December 6 at 10AM (9PM central). Starring Ray Romano, Scott Bakula, and Andre Braugher, the show really is must-see TV---for men and women.
With humor, pathos, and intelligence, Men of a Certain Age covers some of the serious issues we all face after we "settle down" on the road to becoming grownups. Most notably, however, the show defies the stereotype of vacuous male friendships by portraying three 40-something male chums who really are true friends and intimates even though their lives are vastly different. The guys argue, laugh and support one another as they cope with the unpredictable challenges of middle age.
Because the writing for the show is so highly relatable, I was eager to find out some of the back story. So I interviewed Mike Royce, executive producer, whom I met on Twitter. Mike and Ray Romano are not only collaborators; they're also good friends. Perhaps that's what gives them an edge on writing about real friendships.
The two joined forces for the first time in 1998, when Mike helped Ray write his New York Times best-selling book, Everything and a Kite. After that Mike joined the writing staff of Everybody Loves Raymond, eventually becoming an executive producer for the last two seasons. In 2003, Mike was nominated for a Emmy Award in 2003 for Outstanding Writing for a Comedy Series, for his episode "Counseling." He and the other Raymond writers and producers won the Emmy for "Best Comedy" in 2003, and 2005.
Post-"Raymond," Mike became the executive producer and showrunner of HBO's first ever sitcom, Lucky Louie. And then, in 2007, he and Ray teamed up to begin the long development journey that became Men of a Certain Age.
Here's my interview with Mike:
When and how did you meet Ray?
I first met Ray when we were both comedians. I believe it was around 1990, and we were doing a week at "Catch a Rising Star" in Princeton, NJ. Back then, he was leaps and bounds ahead of me comedically... and it stayed that way!
What's it like to be a Friend of Ray?
Ray and I have known each other for twenty years and have worked together pretty closely, off and on, for twelve. As the cliché goes, we're sort of an old married couple at this point. We're in tune with each other, get annoyed with each other, and have at least 4 million inside jokes.
The first time I ever saw Ray onstage I thought, "That's the kind of comedian I want to be." Not so much the subject matter, since at the time I did not come from a dysfunctional Italian family (I still don't). But the way he delivered his material was so true and natural. He accomplished very early on the skill of seeming like "He's just up there talking." He made something very difficult look easy.

Do you think male friendships are as shallow as they are cracked up to be? If so, why? If not, why not?
I guess I would say that male friendships are very individual and sometimes in entertainment, all that's portrayed is the sex and sports talk. Not to say there isn't a bunch of that. But without pontificating about what it means to be a male friend, I would say there's a lot of nuance that sometimes gets lost in pop culture.
Would you consider yourself a work friend, personal friend, a mix? Explain.
The two things are so intertwined! I only got to know Ray because we do the same work, from comedian to writer, over the years. And our television work has tended to be very personal, so we're always drawing from our lives and our friendship. It's a Mobius strip; no one knows where it all begins and ends. We're constantly having experiences either together or separately and reconvening to go, "Wow, that would be a great scene." Sometimes we have to make sure we are dealing with the real life situation fully and not ignoring it in order to immediately go write about it.
Has your own friendship been a part of the storyline of Men of a Certain Age?
Ray and I have various friendships that get melded into the relationship between Owen, Terry and Joe. I would say the main way our friendship is a part of it is conversationally, although that encompasses many other friends of ours as well. One thing we try very hard to portray accurately on the show is the notion that these guys know each other so well that every subject has been visited 400 times before---that many of their conversations are just a new variation of one of their old conversations. That certainly happens with Ray and myself where we get talking and it's like "This again, huh?" It's important to us to maintain that dynamic in the show, that it never feels like the guys are fakely discussing something they would have already discussed a million times.
In your opinion, what is the relationship between social media and friendship? Do you ever text or tweet Ray?
I like social media but Ray is allergic to Facebook and Twitter. But it's different for him, obviously the fame issue complicates how much of your life you can put out there on the Internet.
I highly recommend you watch Monday's premiere. If you want to play catch-up, the DVD of the first season was recently released and is available at brick and mortar stores, on Amazon, and from Netflix.
Mike Royce grew up in Syracuse, New York and graduated from film school at Ithaca College. From there he moved to New York City, where a fun experiment in standup comedy turned into a 12-year career. Mike became a fixture on the New York club scene and did spots on a bevy of television shows, including Late Night With Conan O'Brien. For several years, he was also a warmup comedian for such shows as The Dana Carvey Show, The Maury Povich Show, Viva Variety, and Spin City. He lives in Los Angeles with his wife and two children.
REAL LIFE. REAL NEWS. REAL VOICES.
Help us tell more of the stories that matter from voices that too often remain unheard.