This is the fourth in a series about the sailors who lost their lives on the historic USS Monitor, which was launched and lost 150 years ago in 1862. History buffs and mystery lovers may enjoy the previous articles:
(Another sailor, James R. Fenwick of Scotland, is profiled in the "Skeletons in the Turret" chapter of Hey, America, Your Roots Are Showing.)
Daniel Moore was one of the 16 sailors who went down with the USS Monitor on December 31, 1862. A former slave from Virginia, he enlisted in the Navy as a landsman, but would sadly have little time to enjoy his freedom before sacrificing his life in the service of his country.
Forensic analysis suggests that it's highly unlikely that Daniel Moore was one of the two skeletons that were found in the turret when the USS Monitor was brought up from the ocean floor (indications are that both were white and probably European-born), but thanks to the Moore family's impressive paper trail, it would be possible to trace living, maternal relatives to provide mtDNA samples for final confirmation (regrettably, it appears that his Y-DNA or paternal lines have died out).
While African American genealogy can sometimes be quite challenging, the slideshow that follows demonstrates the variety of documents that can contain clues to a family's past. In the case of Daniel Moore, his was a remarkable family that rubbed elbows with presidents and other Washington, D.C. notables, and included a nephew, F.R. Moore, who would become the publisher and editor of a major African American newspaper, The New York Age. It's a testament to the determination and fortitude of this family that Daniel and Fred Moore, an uncle and nephew born into slavery, would contribute to the fabric of our country in such different but meaningful ways.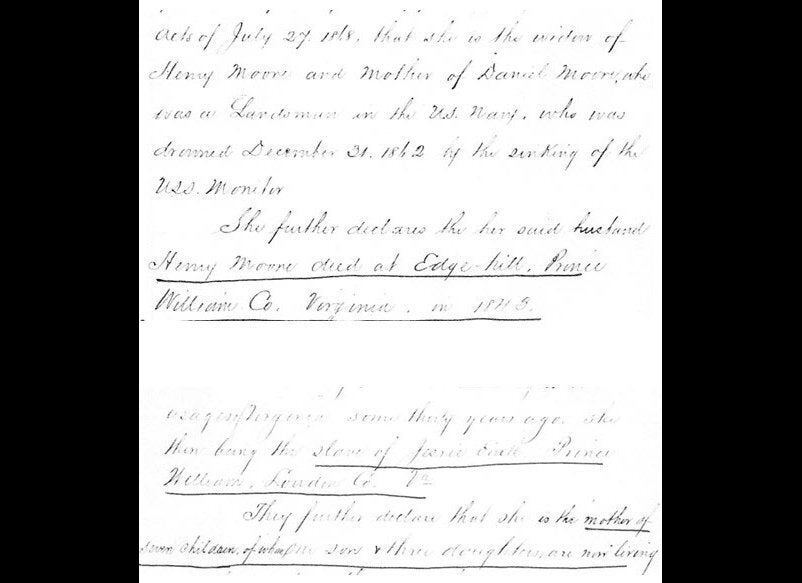 Men of the USS Monitor: Daniel Moore, African American Sailor and Hero
Related
Popular in the Community