Why is it that some guys seem to have it and some guys don't? One guy in a t-shirt and jeans could seem to be dressed better (though more casual) than a guy in a suit and tie. You would think suit guy has several advantages, yet somehow t-shirt-and-jeans guy wins out. How does this happen? Basically, it comes down to fit. A guy in an oversized dress shirt and suit becomes larger than life in all the wrong ways. A shorter stature guy seems shorter than he is. An athletic guy looks out of shape, and a heavier guy seems like he's added a few pounds -- without any change to his diet.
We can't change how tall or short we are any more than we can change the color of our eyes or our shoe size, but we can wear clothes that enhance our appearance and personal style, no matter what body type we are. So, the first rule about dressing well is understanding your body type and what works for you and what doesn't. There are a lot of great clothes out there, especially if you know what to look for, and what to avoid.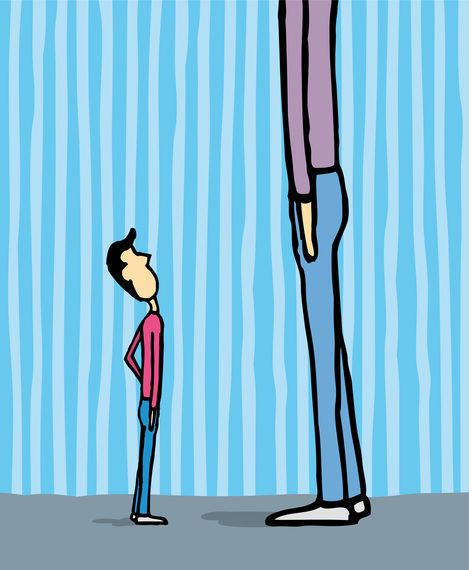 Guys on the Heavy Side - The Many Sides of Jonah Hill
Some guys on the heavy side try to hide behind baggy clothes. It doesn't work. In fact, it can make for a sloppy appearance or make it look like you've actually gained some weight. I'm not suggesting you go out and get a pair of skinny jeans and a tight tank top, but do go out and get an outfit that gently drapes over your frame. If you have to squeeze into a pair of jeans, they don't fit. Get the next size. Pants that are too tight around the waist emphasize a heavy midsection and may make your belly protrude over your belt. Go with low-rise pants that cover at the hips, instead of ones that hit at the waist.
Darker colors generally have a slimming effect, but you don't always have to wear black. Try to create clean lines from top to bottom. It will also make you look a little taller. It works for Jonah Hill, a great actor and a guy who is developing a dapper style and a slimmer physique. By the way, he's 5'7". If you're uncomfortable with your weight, hit the gym and your clothing choices will expand while your waistline will shrink. In the mean time, if you know what to wear, you can still look great.
Guys 5'9" and Under - Dress Like Dave, Think Like Jon
Though 5'8" is the average height of men in this country, those around this height or below may be considered short. I'm one of them. I'm 5'6", but I don't feel short and I don't dress short, and neither should you. But that's easier said than done. Most clothes are styled and sized for much taller people. In fact, if you go to a typical men's clothing designer web site, you'll see that the models are generally over six feet tall, generally about 6'2"! Check it out -- a lot of sites these days tell you the height of the models and the size of the clothes they're wearing. My site, jadenlam.com, does the same thing, except our model is 5'6".
Most guys -- tall, short or average -- typically wear shirts, sweaters, trousers and suits at least a size too big. Pants bunch at the bottom or there's excessive fabric throughout the garment. The bottom of the pants should graze the top of the shoes and have just a little break. Pants needn't be tight, but they should definitely not be too wide for your legs. Wear modern flat fronts, with shallower front and back pockets and shorter inseams. For shirts, go for a shorter and narrower point collar, slimmer shoulders, higher armholes and a slightly tapered waist. If you wear the shirt untucked, make sure the shirttail falls about mid-zipper in the front and just below the pocket in the back. For sport jackets, two inches or less should separate your torso from the front of the jacket. The waist of the jacket should be tapered to create a longer look for the legs and a low stance on the jacket elongates the upper body.
Talent comes in all shapes and sizes. Who looks taller? Both comedic genius Jon Stewart and actor Dave Franco are 5'7". Do their clothes make a difference? It's all in the fit.
Tall and Athletic: LeBron is Today's Fashion MVP
LeBron James has legendary style both on and off the court. He will go down as one of best who ever played the game of basketball. But when he first started in the pros, his game off the court was, well let's just say, oversized.
Fine tailoring, a tapered waist, shoulder seams that sit on top of the shoulder bone rather than beyond it, clean lines, narrower collar and a modern two-button suit have the potential to turns this basketball superstar into a style icon.
We know LeBron cares about fit. This is what he said about those new sleeved jerseys after a Miami Heat loss:
I'm not making excuses, but I'm not a big fan of the jerseys. Every time I shoot it feels like it's just pulling right up underneath my arm. I already don't have much room for error on my jump shot. It's definitely not a good thing.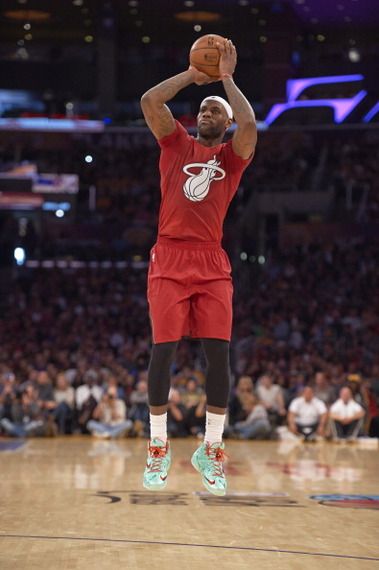 No matter what body type you are, style and fit can make a difference whether you're trying to make a jump shot or enjoy an evening out on the town.
Jaden Lam is a menswear designer. Learn more about his work and see his collection at www.jadenlam.com.