Girls have rain boots. Guys have...
Yeah, rain shoes for men are a stumper. While brands like Hunter certainly make tall, plastic wellies for men, you rarely see men wearing rain boots loud and proud. So what kind of footwear should dudes wear when the weather's gross and the ground is soaked?
We've got good news: There are more options than you think. Below, we're walking all you men through the treacherous shopping terrain of men's foul-weather footwear.
1. Ankle rain boots
Think those knee-high rubber boots look too girly? There are plenty of brands that make toned-down ankle versions with more streamlined shapes and neutral colors that don't scream "rain boot."



Stråla, Tretorn, $70; Landfast, AIGLE, $118.
2. Sneakers
Not to state the obvious, but sneakers are actually pretty decent rain shoes. High-tops with cotton or suede uppers won't be water-resistant enough, but those leather Nike Dunks or Air Jordans should do the trick for light rainfall. Just don't step directly in puddles.

3. "Rain sneakers"
You get the best of both worlds with what we call "rain sneakers," which are basically rain boots masquerading as high-top sneakers. Both Tretorn and Hunter have styles made of waterproof rubber, but done in subtle colors with regular shoelaces so no one will be able to tell the difference.

4. Duck boots
These are a little more hardcore (and less office-appropriate). But for a more rugged, flannel-loving dude, duck boots are totally acceptable and even kind of trendy. You can't go wrong with a classic pair from L.L. Bean.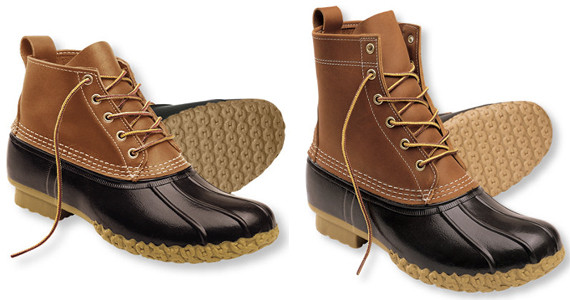 5. Chukka boots
Chukka boots are a slightly more stylish, less sporty alternative to duck boots. The lace-up shoes are typically low-slung, only rising slightly above the ankle, and they've got a chunky, rounded toe. Not all chukka boots are waterproof, but but look out for some stylish pairs that are!

6. Rubber overshoes
For guys who want to be able to wear their normal shoes even when it's wet out, a rubber "overshoe" is the way to go. Just slip the thin, flexible rubber over your normal dress shoes, and peel them off when you get to work. Bonus: They're the cheapest item on this list.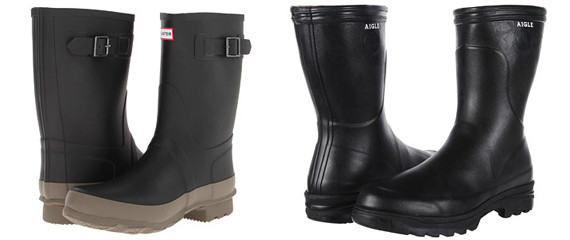 Get some inspiration from the ladies: