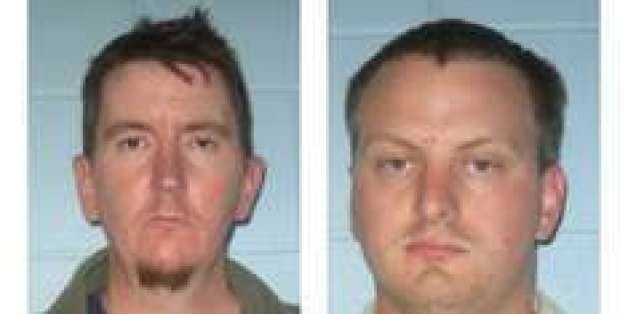 They smoke too much, they leave ashes everywhere, and they always have to be told that they're hot -- fireplaces are the worst.
That could be why Steven Givens, 25, and Matt Henderson, 37, allegedly pumped 41 rounds into their fireplace. The Newmarket, New Hampshire men were swarmed by a SWAT team Friday after neighbors heard "shots being fired outside within 50 yards of the road, where there was a woman walking her dog at 6:30 in the morning," officers told WMUR.
Prosecutors say the two were boozed up and accuse Henderson of threatening officers with more gunfire, the Union Leader reports.
"Henderson told a friend, via text message, he had eight magazines loaded with armor piercing ammunition and that if police came to his house one more time, it would end in a shootout," court paperwork states.
Givens told police that Henderson started shooting at the fireplace for no reason, but admitted that he had to get one or two shots in himself. From the Union Leader:
Court documents reveal eight .357 SIG shell casings were found on Henderson's back porch, and another 10 casings were found inside the residence. Forty-one bullet holes were found in the fireplace, and a .177 caliber pellet rifle was located inside on the living room couch.

The other suspect in Friday's incident, Givens, was not arraigned with Henderson. He reportedly told police Henderson fired approximately 10 rounds for no legitimate reason, though Givens also admitted to firing two shots, himself, from a handgun.
Though Henderson claimed he's "not a violent person" in court, a judge refused to lower his bail from $100,000 Tuesday, Sea Coast Online reports.
Both men were charged with felony reckless conduct.
BEFORE YOU GO
PHOTO GALLERY
Mugshot Tattoo Legends