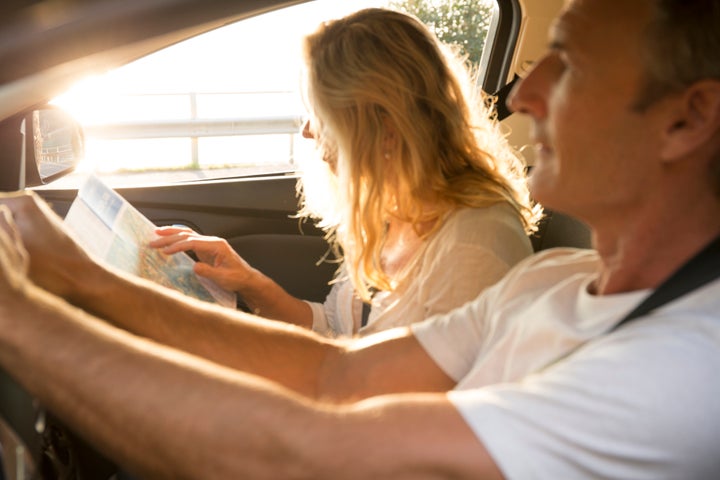 The idea that men have a better sense of direction than women is one of the oldest gender cliches. But new research suggests that men really might employ better navigational strategies than women.
Previous studies -- including many decades-old experiments on rats in mazes -- have shown that men tend to outperform women on tasks requiring spatial awareness and way-finding. Now, the new findings offer a glimpse into why this is the case.
In a new study currently under review, neuroscientists at the Norwegian University of Science and Technology, asked 18 male and 18 female participants to use 3D goggles and a joystick for one hour to orient themselves in a virtual maze game. Then, they were given 30 seconds for each of 45 various navigational tasks (for instance, finding a yellow car from different starting points). Meanwhile, the researchers measured their brain activity using fMRI.
"Men's sense of direction was more effective," Carl Pintzka, a Ph.D candidate in neuroscience at the university and the study's lead author, said in a statement. "They quite simply got to their destination faster."
The researchers found that men used cardinal directions more in their navigation. That means that men tended to use a "world-centered strategy," going in the general direction of where something was located.
"World-centered strategy means the use of a cognitive map and cardinal directions to find your way," Pintzka told The Huffington Post in an email. "Women on the other hand used a more egocentric strategy (self-centered), which means they relied more on a route of landmarks to get to the target."
The world-centered strategy, which the men used, is more flexible since having a sense of direction is less dependent on the starting point. It's likely that this is why the men ended up completing 50 percent more of the tasks than the women did.
The fMRI scans revealed a number of brain activity differences between the sexes. In men, the hippocampus -- a brain region that helps us make sense of cardinal directions -- was used more, and a larger hippocampus was associated with better navigational skills. Women relied more on the pre- and orbitofrontal cortex of the brain, which is involved in decision-making. Additionally, men had increased connectivity and synchronicity between important areas for navigation compared to women.
In a second study, which will be published on Feb. 1 in the journal Behavioral Brain Research, 21 women who were given testosterone and 21 women who were not given any hormones underwent the same navigational tasks. The results showed that the women who took testosterone didn't perform any better, but they did use the hippocampus more when navigating, just like the men in the first experiment.
What does it all mean? Well, the gender differences have more to do with behavior and brain differences than hormones.
"Our results demonstrate that testosterone had an enhancing effect on certain aspects of spatial cognition in healthy women, but that complex behaviors such as navigation, relying more on learned strategies, are not altered despite increased neuronal activity in relevant brain regions," Pintzka told HuffPost. "These findings suggest that the male navigation advantage mainly reflects sex differences in behavioral strategy."
The researchers simply chalk up these differences to our evolutionary past.
"In ancient times, men were hunters and women were gatherers. Therefore, our brains probably evolved differently," Pintzka said. "In simple terms, women are faster at finding things in the house, and men are faster at finding the house."
Related
Popular in the Community