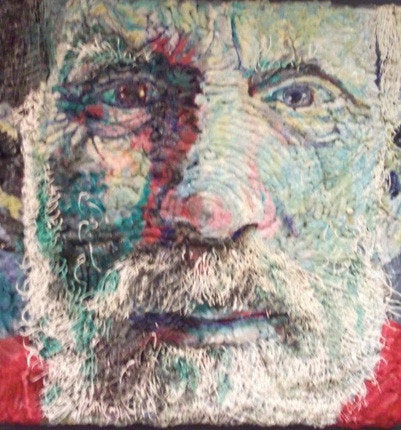 Ménage is a French word that means household, but in the context of a new art show called "Ménage à Detroit," it might be better interpreted as interconnected community.
The show, which opens Friday at the G.R. N'Namdi Gallery, brings together three generations of Detroit artists for a retrospective of the city's expressionists, spanning 1970 to the present. It features both unfamiliar works by familiar artists and creations by artists newer to the scene.
Local art historian Dennis Nawrocki, who teaches at Wayne State University and the College for Creative Studies, is curating the exhibition. He said the show features 22 artists who are each represented by a single carefully-chosen piece.
"All [are] bold visceral kinds of 2D/3D combines, many projecting dramatically from the wall," he said. "Some are flat but still painterly and tactile, which seems to be a theme in Detroit as practiced by that aesthetic."
Nawrocki said he personally knows many of the show's first generation of artists, a group sometimes called the Cass Corridor Artists because they formed a distinct community along Cass Avenue in Detroit from the 1960s until the early 1980s.
He said Cass Corridor Artists are known for their use of found objects and thick swabs of paint. They once operated an art space called the Willis Gallery.
The second generation, which emerged in the 1980s, was influenced by its predecessors, according to Nawrocki, but took a more restrained approach to technique.
The newer artists in the show bear little resemblance to those who came before them. Scott Hocking, for example, is known for constructing large installation works, photographing them and then exhibiting the resulting images.
Nawrocki said one of the most visually arresting pieces of the N'Namdi show is a 9-foot-tall sculpture built out of a large number of artifacts, stuffed animals and toys by Gordon Newton. It hasn't been displayed since 1992.
"It really pulls into a viewer's space," Nawrocki said. A radio embedded in the work continuously plays a classical music radio station. "I think people will be be stunned by the work."
In addition to Friday's opening, the gallery is sponsoring a series of Saturday talks, including an introduction to the exhibit on May 5 and several artist talks during the month of June.
The artists featured in the show are as follows:
First Generation: Gordon Newton, John Egner, Ellen Phelan, Nancy Mitchnick, Allie McGhee, James Crawford, Nancy Pletos, Michael Luchs and Robert Sestok.
Second Generation: Gilda Snowden, Paul Webster, Kurt Novak, Lois Teicher, Gary Eleinko, John Rowland, Matthew Blake, Cay Bahnmiller and Yolanda Sharpe.
Third Generation: Scott Hocking, Thomas Pyrzewski, Stephanie Sturton and Steven McShane.
The "Ménage à Detroit" artist reception will be held on April 27 from 6 to 9 p.m. at the G.R. N'Namdi Gallery at 52 E. Forest in Detroit. The show itself runs April 27 to July 21. The show's Introduction and Artist Talks are scheduled for 2 p.m. on May 5, June 2, June 9 and June 16. For more information see www.grnnamdi.com.
Related
Popular in the Community