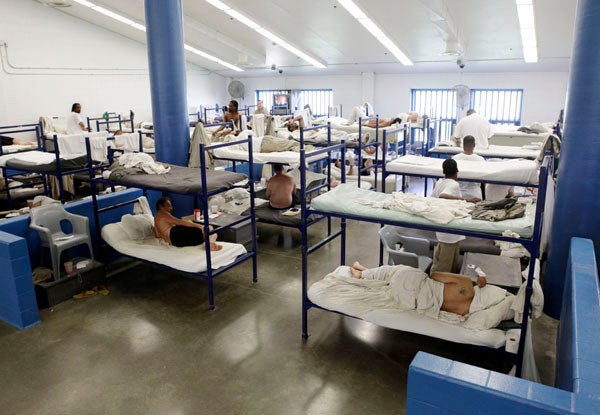 A report by an oversight group evaluating Illinois' largest maximum-security prison found an "alarming" rise in staff and inmate assaults, likely a product of too many inmates and too few guards.
The Menard Correctional Center in Chester, Illinois has the lowest staff-to-inmate ratio of all of Illinois' maximum-security facilities, as well as that of several medium and high-minimum security facilities, the John Howard Association report states. The report argues that overcrowding (the prison has 104 more inmates than its 3,640 capacity) and staffing shortage has created dangerous conditions at the all-male, high-security facility.
"Like other Illinois facilities, Menard suffers from systemic overcrowding, understaffing, and limited access to medical and psychiatric treatment, rehabilitative services, education, and jobs for inmates," the report states. "Despite efforts by Menard's administration to fill staff vacancies, lack of funding and gross delays inherent to the state's slow and convoluted hiring processes routinely frustrate these efforts...Given these conditions, it is perhaps not surprising that JHA has received an exceedingly high number of reports from inmates and inmates' family members regarding correctional staff physically assaulting, and verbally abusing inmates."
The report comes at a tense time for Illinois prisons, where overcrowding is rampant statewide, and 25 of the 28 state prisons are over capacity. Citing funding deficiencies, Gov. Pat Quinn announced possible plans to close the Logan Correctional Center last month, displacing nearly 2,000 inmates, some of whom will be housed in available beds at the Tamms super-max facility, with the remaining 1,500 inmates likely being moved to area gymnasiums. In Taylorville, Illinois--
http://www.huffingtonpost.com/2011/06/29/illinois-prisons-face-und_n_887106.html" target="_hplink">there's an underwear shortage. Inmates at the central Illinois prison are reportedly being forced to wear the same pair of underwear for several days in a row because the prison cannot afford more undergarments.
The oversight association warns that the incidents recorded at Menard could lead to a lawsuit, similar to one in California, that prompted the release of thousands of inmates. Those critical of Quinn's plan to close Logan say the inmates-in-gymnasiums situation could also result in lawsuits.
Early release is not an option for many Menard inmates. The facility holds more than 2,000 convicted murderers--more than any other prison in the state, according to the Quad City Times. Statewide, the Illinois Department of Corrections is holding 49,066 inmates in a system designed to house 33,703 people.
The JHA report praised the efforts of the prison's administrators, but said that correcting the problem lies in the hands of state government--and that government is failing to help.
"The ability of Menard's administration to address systemic issues is seriously curtailed by overcrowding, understaffing, and lack of resources," the report says. "Yet, the response of Illinois elected officials to the crisis in prison overcrowding has been to strain correctional facilities further – by slashing DOC's budget, eliminating education, treatment and rehabilitative services for inmates, suspending meritorious good time credit, and reducing prison staffing levels – all the while doing nothing to reduce the population. Time will tell that these actions served only to compromise the safety and stability of Illinois prisons, and the safety and welfare of the public, by releasing inmates back into the community with serious untreated physical and mental illnesses, and without job skills, education or rehabilitation."
Calling all HuffPost superfans!
Sign up for membership to become a founding member and help shape HuffPost's next chapter