One of the most important civil rights triumphs from the 20th century happened right here in Southern California, a piece of history often overlooked and underrepresented. 826LA remembers the landmark Mendez v. Westminster School District court case, which made California the first state to desegregate public schools, in its 12th Young Authors' Book Project.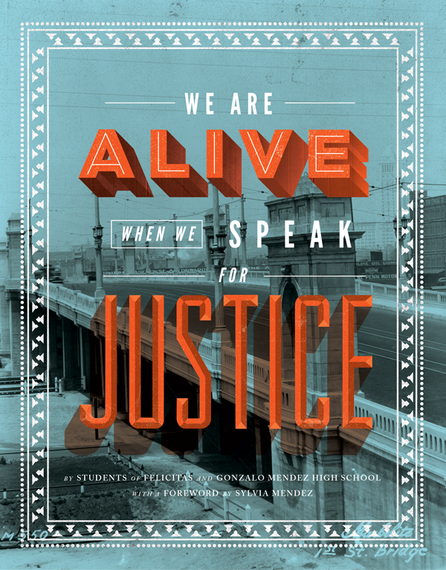 Orange and Los Angeles counties in the 1940s were marred by their own struggles with racial inequality, discrimination, and segregation in schools, housing, public pools, and restaurants. Felicitas and Gonzalo Mendez, along with other Latino parents, led the arduous push for justice and were victorious in their 1947 Mendez v. Westminster lawsuit, which set the precedent for the milestone 1954 Brown v. Board of Education case. A group of students in East L.A. continued that fight by organizing walkouts to protest unequal opportunities in the schools in 1968. 826LA partnered with Boyle Heights' Felicitas and Gonzalo Mendez High School -- named after the couple at the forefront of the battle -- to tell gripping stories from this dark era in American history.
826LA, history teacher Ben De Leon, and young authors from his 11th-grade history classes at Mendez High will release their book, We Are Alive When We Speak for Justice, on Tuesday, June 2.
"We hope the young authors' testimonies, thoughts, and hopes for the future will be used in classrooms everywhere when the case is studied. A reflection and a snapshot of social justice and educational equity in 2015, this book is part of an important history," said 826LA Director of Development Marisa Urrutia Gedney and Project Manager Emilie Coulson.
This anthology includes 57 student pieces and features a foreword written by Sylvia Mendez, daughter of Felicitas and Gonzalo and the 2011 recipient of the Presidential Medal of Freedom for her civil rights work over the years. She shared not only her firsthand experiences as a child but also as a lifelong activist with the students at Mendez High. The young authors also interviewed other leaders whose work and life experiences tie to the themes of the book, including Bobby Verdugo, Leisy Abrego, Claudia Alvarez, Melissa Flores, Gustavo Arellano, Heriberto Garza, Miguel Roura, Evelina Fernandez, Raquel Roman, and Laura Urias. Their voices added history and current examples of the fight for social justice to this collection.
Other student-written pieces in We Are Alive When We Speak for Justice explore firsthand experience with a variety of discriminations and prejudices, and express a desire to change the conversation about their community, Boyle Heights. A thoughtful afterword by award-winning educator De Leon, who has spent more than a decade teaching in the LAUSD, is also included in the anthology.
Copies of We Are Alive When We Speak for Justice will be on sale at this event, as well as through local bookstores and 826LA's storefronts, the Time Travel Marts, on June 3. To purchase a book, visit www.timetravelmart.com.
About 826LA
826LA is a nonprofit organization dedicated to supporting students ages 6 to 18 with their creative and expository writing skills, and to helping teachers inspire their students to write. Its services are structured around the belief that great leaps in learning can happen with one-on-one attention and that strong writing skills are fundamental to future success. 826LA offers a wide range of education programs, all free of charge, to more than 8,000 students a year. For more information, visit www.826LAorg.
REAL LIFE. REAL NEWS. REAL VOICES.
Help us tell more of the stories that matter from voices that too often remain unheard.