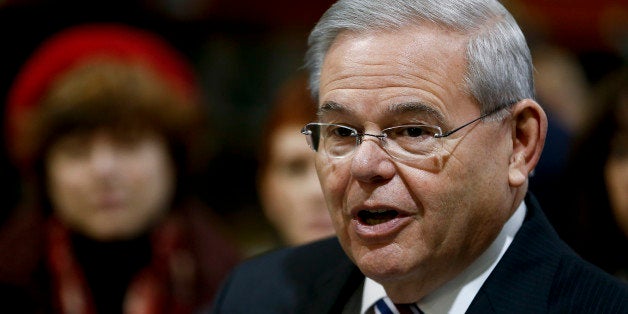 When news broke last month on the Department of Justice's plans to indict Sen. Robert Menendez on criminal corruption charges, the New Jersey Democrat signaled he would fight.
"I'm not going anywhere," he said.
The test of Menendez's will begins today, as a federal indictment charges the senator with 14 counts, including bribery, conspiracy and wire fraud.
It's certain to add considerably to the already massive legal bills Menendez has racked up — and that political patrons are helping pay off. From early 2013 through the end of 2014, Menendez reported spending more than $1.2 million on legal fees, using a combination of cash from his campaign committee, political action committee and a legal defense fund, according to a Center for Public Integrity analysis of federal documents.
It was early in 2013 when Menendez's relationship with Florida ophthalmologist Salomon Melgen, a friend and campaign donor, set off a series of investigations that led to today's indictment.
New filings are due this month that will no doubt reflect additional large payments to Menendez's legal team, which now includes prominent white collar defense lawyer Abbe Lowell of Chadbourne & Parke LLP.
Lowell has represented a long list of prominent politicians from both parties. They include former Sen. John Ensign, R-Nev.; former Democratic senator and presidential candidate John Edwards; and another Democratic senator from New Jersey, former Sen. Robert Torricelli, who faced allegations of corruption. Menendez's committees reported paying Chadbourne more than $160,000 during the fourth quarter of 2014.
The bulk of Menendez's legal fees have so far been paid to other firms, including Perkins Coie LLP, where Menendez is represented by Marc Elias, the chairman of the political law practice.
Menendez's legal fund and political committees paid Perkins Coie more than $560,000 during 2013 and 2014.
In addition, Menendez's legal fund has paid McDermott Will & Emery LLP roughly $780,000 over the same period, nearly $56,000 to Brand Law Group, and about $157,000 to Coburn and Greenbaum PLLC.
So far, donors have been willing to ante up to Menendez's legal defense fund: Menendez has raised about $866,000 since it formed two years ago. About three-quarters of this haul has come in $10,000 increments, the maximum annual contribution allowed. He's spent more than $760,000 of it, almost all on legal fees.
Among the biggest donors to Menendez's legal defense fund: Hoboken developer David Barry.
Barry gave the maximum $10,000 in 2014. Three other donors with the same last name using the address of his business, Ironstate Development, gave $10,000 each, as did another executive at Ironstate, Gregory Russo.
Marc Lasry, the president and chief executive officer of hedge fund Avenue Capital Group, gave $10,000, and his firm appears to have given $10,000 as well. Michael Kempner, the president of New Jersey-based public relations and lobbying firm MWW Group, gave $10,000, and so did his wife, Jacqueline Kempner.
Eighty-three of the 150 contributors to Menendez's legal fund list New Jersey addresses. Another 20 list addresses in New York.
"As a top fundraiser, I'm sure he's made a lot of contacts … with people who will want to continue to support him," said Lawrence Noble, a senior counsel at the Campaign Legal Center and a former general counsel of the Federal Election Commission. "The question is going to be, as the case goes along, how much of a viable candidate he remains and what it does to his fundraising."
Added Kenneth Gross, who leads the political law practice at Skadden, Arps, Slate, Meagher, & Flom: "This is going to be an expensive defense … the senator has already incurred significant bills, and this could go on for quite some time through a legal process and beyond."
Menendez, a former Democratic Senatorial Campaign Committee chairman, is known as a strong fundraiser and doesn't face re-election until 2018.
In the meantime, it's hard to say how high Menendez's legal bills could go.
Only 11 senators have been indicted while in office, according to the Senate Historical Office, and only one so far this century: the late Sen. Ted Stevens, R-Alaska.
Stevens was convicted in 2008, but in 2009, a federal judge dismissed the conviction, citing prosecutorial misconduct.
This story is from The Center for Public Integrity, a nonprofit, investigative news organization in Washington, D.C. To read more of their work on broadband and the telecommunications industry, go here or follow them on​ Twitter.


REAL LIFE. REAL NEWS. REAL VOICES.
Help us tell more of the stories that matter from voices that too often remain unheard.
BEFORE YOU GO
PHOTO GALLERY
Scenes From 114th Congress And Capitol Hill