WASHINGTON ― An incumbent Democratic senator is on trial this week on charges of federal bribery, and his colleagues in the Senate would rather not talk about it.
Federal prosecutors alleged Wednesday that Sen. Bob Menendez (D-N.J.) entered into a "corrupt pact" with wealthy donor and longtime friend Dr. Salomon Melgen. They said the senator received luxurious vacations abroad, flights on the Florida eye doctor's private jet and hundreds of thousands of dollars in campaign cash, and that none of the gifts were disclosed on Menendez's annual financial disclosure forms as required by law.
In return, prosecutors alleged, Menendez helped Melgen expedite visa applications so his foreign girlfriends could visit him in the U.S. They claimed in a court filing on Wednesday that the relationship dated back at least as far as 2006, shortly after Menendez entered the Senate.
"This is what bribery looks like," Assistant U.S. Attorney Peter Koski said Wednesday as the government made its case. "These two defendants corrupted one of the most powerful offices in our country. The defendants didn't just trade money for power, they also tried to cover it up.''
"Senator Menendez was Salomon Melgen's personal United States senator," Koski added.
Both Menendez and Melgan, who was also present at the trial on Wednesday, have denied the allegations.
"Never, not once, not once have I dishonored my public office," Menendez said Wednesday, as he struggled to hold back tears. "I started my public career fighting corruption, that's how I started, and I have always acted in accordance with the law and I believe when all of the facts are known, I will be vindicated."
Menendez's defense attorneys argued on Thursday that the government's bribery case against the senator and Melgen, who was born in the Dominican Republic, represented an "attack" on Hispanic-Americans.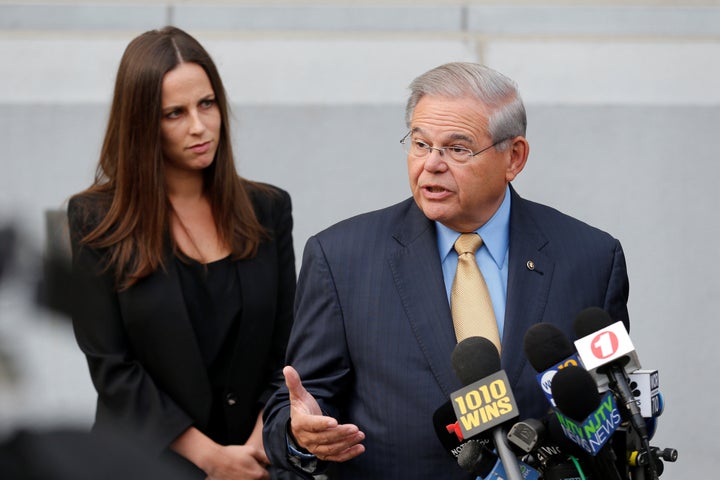 The details surrounding the trial, as well as Melgen's reported ties to former Sen. Harry Reid (D-Nev.), present an embarrassing distraction for Democrats on Capitol Hill. They are trying to focus on pressing issues, such as providing legal status to young undocumented immigrants and the tax reform debate.
Senate Minority Leader Chuck Schumer (D-N.Y.) on Wednesday declined to say whether he would stand by Menendez if he's proven guilty.
"Senator Menendez is issuing a spirited defense," Schumer said. "We all believe in the presumption of innocence in this country, and Senator Menendez is fighting very hard, and we respect that greatly."
Other Democrats were similarly hesitant to weigh in on the trial.
"I'm a former prosecutor, so I was trained appropriately to never discuss a trial until it is completed," said Sen. Claire McCaskill (D-Mo.). "That process needs to be completed before we all start weighing in politically."
Sen. Martin Heinrich (D-N.M.) said it was "not for me to decide" whether Menendez is guilty. "I think we should let the legal process play out."
Sen. Cory Booker (D-N.J.), however, praised his colleague as a "champion" for residents of the Garden State.
"He's innocent until proven guilty. So he is an innocent man," he said. "If he's proven guilty, I think there's going to be some serious appeals because I think there are some fundamental constitutional questions that I've never seen in a case like this."
It's not yet clear how the trial will affect Menendez's ability to cast votes in Washington, a likely concern for Democrats given the packed fall legislative schedule. A federal judge rejected Menendez's request to delay the trial while he attended to congressional business, criticizing the senator for "seeking special treatment."
Republicans, meanwhile, are eager to use the trial as a way to attack vulnerable Senate Democrats up for re-election in 2018. The Republican National Committee launched a series of online ads this week on Facebook and Twitter, urging high-profile Democrats to weigh in on the fate of Menendez. The committee also launched a Snapchat geofilter around the courthouse in New Jersey where Menendez's trial is being held.
Support HuffPost
The Stakes Have Never Been Higher
Popular in the Community