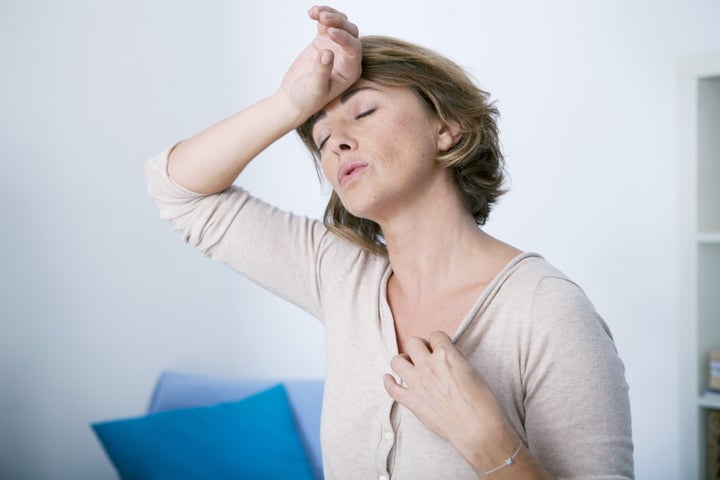 By Fiona C. Baker, PhD, SRI International, SWHR Interdisciplinary Network on Sleep Member
It was 2 a.m. when SJ woke up feeling hot, clammy, and bothered. She threw off the blanket in hopes of cooling down. Unfortunately, this experience was nothing new for her. She knew it was going to take a while to get back to sleep.
While approaching and passing menopause, around 80 percent of women experience transient periods of flushing, sweating, and a sensation of heat known as hot flashes. When they occur during the night, they can also be called night sweats [1]. While an occasional flash lasting a couple of minutes may not sound like much of a problem, some women experience this many times throughout the day and even at night. A woman whose sleep is interrupted will soon notice additional interferences with her daily life. This impact will be reflected in her daytime functioning, mood, and health.
A laboratory study of 34 perimenopausal women by Dr. Baker's lab at SRI International found that around 70 percent of nighttime hot flashes woke women up, disrupting their sleep (objectively measured with sensors that detect brain activity) [2]. Women were most attuned to wakeful periods that co-occurred with hot flashes during the night.
Hot flashes can be the cause of chronic sleep disruption and can perpetuate insomnia, keeping women awake by feeling like they are losing control over their sleep, worrying about the impact of hot flashes on their sleep quality, and consequently how well they will function the next day. Hot flashes can persist for several years past menopause and are therefore a potential long-term source of sleep disruption, which in turn, affects quality of life, including mental and physical health. Therefore, hot flashes are a priority symptom that women should discuss with their healthcare provider.
Treatments can be tailored to the needs of each woman, taking into account the severity of the hot flashes, whether or not they disrupt both daytime functioning and sleep, where they are in the menopausal transition (pre-, peri-, post-, or surgical menopause), and whether they may have any other medical conditions that could add to any sleep disruption, such as sleep apnea. Treatment options include hormone therapy, non-hormonal pharmacological treatments such as selective serotonin reuptake inhibitors and gabapentin, or non-pharmacological choices specifically targeting sleep disruption such as cognitive behavioral therapy for insomnia [3, 4]. Cognitive behavioral therapy along with a healthy lifestyle can help women cope with their menopausal symptoms and put them back in control of their sleep. So if hot flashes are disrupting your day-to-day activities and/or your nighttime sleep, ask questions and talk to your healthcare provider.
The Society for Women's Health Research Interdisciplinary Network on Sleep is committed to promoting awareness of sex and gender differences of sleep and circadian rhythms across the lifespan, and the impact they have on health and wellbeing. Learn more about the Sleep Network here.
1. Melby, M.K., et al., Methods used in cross-cultural comparisons of vasomotor symptoms and their determinants. Maturitas, 2011. 70(2): p. 110-119.
2. de Zambotti, M., et al., Magnitude of the impact of hot flashes on sleep in perimenopausal women. Fertil Steril, 2014. 102(6): p. 1708-15.e1.
3. Baker, F.C., et al., Insomnia in women approaching menopause: Beyond perception. Psychoneuroendocrinology, 2015. 60: p. 96-104.
4. Joffe, H., A. Massler, and K.M. Sharkey. Evaluation and management of sleep disturbance during the menopause transition. Seminars in reproductive medicine, 2010. 28: p. 404-421.