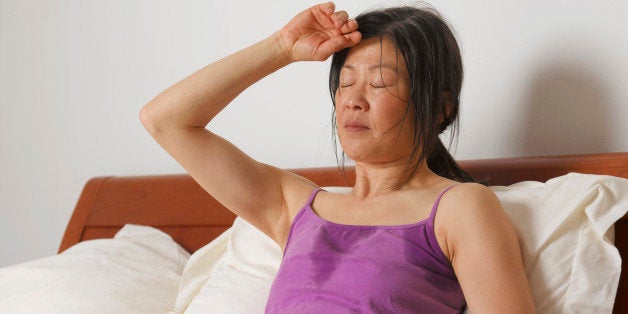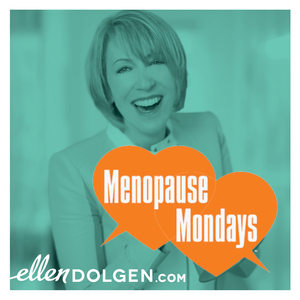 Are you awake all night, and then dragging through the day with toothpicks holding up your eyelids? Then try not to snooze through this one. Sleeplessness can be a real problem for women going through menopause. In fact, the North American Menopause Society (NAMS) lists trouble falling asleep as one of the five main symptoms of menopause. Once perimenopause hit my life, suddenly, without any notice, I was no longer sleeping beauty.
   
The Menopause Sleepless Society is a BIG club, Ladies! Why does menopause affect a woman's ability to catch her z's? According to the National Sleep Foundation (NSF), most women complain of sleeplessness during perimenopause to post-menopause, with about 61% of post-menopausal women continuing to have issues with insomnia. Why does menopause affect a woman's ability to catch her z's? The NSF says it has to do with the hormonal changes -- estrogen and progesterone -- that occur during menopause.
A study conducted in 2013 by scientists at the University of California San Francisco found a lack of sleep can put adults at risk for a variety of chronic health issues. And a report published in Harvard University's Harvard Women's Health Watch in 2006 says adults who sleep less than six hours a night can suffer from such issues as memory loss, poor cardiovascular health, irritability and problems with their metabolism and weight.
Sound hopeless as well as sleepless? Don't despair. Get your snooze on and get back in touch with Mr. Sandman by trying these 4 tips:
Move your body more during the day. Menopausal women who had more leisure physical activity during the day reported rating their sleep as good. Those same women who did household physical activity during the day - like vacuuming and mopping - found they were sleeping through the night more (not to mention having cleaner houses).
While you are lathering yourself in your latest and greatest wrinkle reducing moisturizer, think about preparing yourself for sleep, too. Before you hit the sack, do something calming like reading a book while sipping on some chamomile tea, enjoying a candlelight bath, or just closing your eyes and listening to some soft music to relax yourself and get your body in to sleep mode. Prepare your bedroom so there are no distractions -- eliminate as much light and sound as possible. Think about turning off the TV and giving your smart phone a time out!
Hot flashes can be another reason why women in menopause have a hard time staying asleep. To help combat the heat, Cleveland Clinic suggests wearing loose-fitting, lighter weight clothing to bed. Make sure the sleeping area is well ventilated. And if spicy food is your thing, cool it on the spicy foods before bed!
Hormones matter! I'm talking Hormone Therapy (HT) here. An article published in Menopausal Medicine -- the journal of the American Society for Reproductive Medicine -- says that studies have found hormone therapy helped menopausal women with sleeping issues, and helped them get more productive sleep. If sleeplessness is a major issue for you, discuss this option with your menopause gynecologist.
So put away the toothpicks. No need to walk around with your "Eyes Wide Shut" (no, Tom Cruise, not referring to you). Using these simple tools can help you get your snooze back!
Suffering in silence is OUT!  Reaching out is IN!
For more by Ellen Dolgen, click here.
For more on women's health, click here.
Ellen Dolgen is an outspoken women's health and wellness advocate, menopause awareness expert, author, and speaker.
After struggling through the silence that surrounds menopause, Ellen resolved to help women reach out and end the confusion, embarrassment, and less-than-lovely symptoms that come with "the change." Her passion to be a "sister" to all women fueled Ellen's book, Shmirshky: the pursuit of hormone happiness. As a result of her women's wellness journey, and in response to the overwhelming thirst of her ever-expanding audience for empowering information, Ellen's weekly blog, Menopause MondaysTM was born.
Menopause MondaysTM allows Ellen an expansive platform from which she broadens her discussion of menopause, women's health, and life as a menopausal woman. Her weekly newsletter provides a one-stop shop for the latest menopause and women's health news and research, allowing women the access and know-how needed to take charge of their health and happiness. In addition to Ellen's ever-growing social media presence, EllenDolgen.com has fast become "the place" on the web for informative and entertaining women's menopause and wellness engagement. Ellen is #1 on Dr. Oz Sharecare.com Top 10 Social HealthMakers on Menopause. In 2012 and 2013 EllenDolgen.com was named first on the list of the "Best Menopause Blogs" by Healthline. Ellen is also a regular contributor to over a dozen leading women's health blogs. Her motto is: Reaching out is IN! Suffering in silence is OUT!
Ellen has appeared on the "TODAY Show," "The Katie Show," "NBC Nightly News", the "Rachael Ray Show," "The Doctors," Oprah Radio, Playboy Radio, NPR's "Tell Me More," Doctor Radio, and dozens of regional and national media outlets. In 2011 she appeared in a sold-out, San Diego production of "The Vagina Monologues." Ellen was one of the first regular contributors to debut on The Huffington Post's, Huff/Post50, which targets 116 million Americans over the age of 50.
Calling all HuffPost superfans!
Sign up for membership to become a founding member and help shape HuffPost's next chapter