November 7th is my husband's birthday and I find myself standing in the exact same spot every single year, having the same thoughts and hesitation. I'm getting tired of buying my husband the same gift (Nike sneakers) year after year. No matter how I try to be creative and think out of the box, I always end up in the same store. Just this morning, Jason (my husband), not so subtly left me a yellow Post-it note with his sneaker size. It's safe to say that the art of gift giving and gift receiving has waned in our relationship. This year I actually started my gift search on what I thought was the right foot. We are getting older and I figured it was time to stop buying sneakers (or just reduce the amount we buy), and instead search for a more mature and useful gift. I looked in his closet (which is very conservative), and my eyes quickly zoomed in on the dreaded sports coats that I have hated for the past seven years that he's been wearing them. As laid-back as Jason may seem, he sticks to his style guns. Like me, Jason knows what he likes, and unfortunately, that includes sports coats.
For years we have had an ongoing discussion about donating the offending sports coats to Goodwill and investing in a more updated and modern look. The sport jackets he owns are boxy wool styles that are itchy to the touch, and they boast a mismatched plaid pattern. The buttons and fit remind me of the captain from "The Love Boat." I recently learned (and I'm not one bit surprised), that these sports coats were deeply discounted. Jason has great taste in (most) clothes, and he has a wide variety of tailored grey and navy suits. I often urge him to ditch the sports coat. After all, can't he just dress a suit down by not wearing a tie and leaving a few buttons undone? No go. Whether it's a matter of pride or stubbornness, Jason always manages to find the opportunity to wear the sports coats.
This year, for Jason's 33rd birthday, I figured I had the perfect excuse to get rid of the old, and hopefully, bring in the new. I browsed online, shopped the boutiques and looked through our catalogues. I finally settled on two simple, conservative and versatile sports jackets. They were pricey, but the quality and fit makes them worth the hefty price tags. The hard part was getting Jason's cooperation to get measurements and make the purchases. Not only was I sure Jason would say "no way" to the price, but also, he is not your average 5"10' male. He has been an athlete his whole life and his broad shoulders often require larger sizes and tailored pieces. Unfortunately, I couldn't buy these jackets off the rack.
After some bribery and lunch at a deli near the men's store, Jason followed me to the men's boutique where I had found the new jackets. I knew this wasn't going to be easy: From the start Jason was rushed and impatient. He didn't feel the 'need' to update his look, he said, and under no circumstances would he pay the price on the tags. As with all gifts, I told him it was rude to look at the price. He laughed and replied, "It's more rude to get me something that really you want." His comment made me wonder if maybe I was being a tad bit selfish? I couldn't help but think back to our anniversary, three years prior. Jason had spent some time explaining that our gift to each other should be a flat screen TV. I don't even remember the size he wanted, but needless to say it was huge and -- I thought -- totally unnecessary. I recall going on a tirade, saying that this gift was selfish. I never ever watched TV, and he was using our anniversary to get what he wanted. Well, unfortunately, Jason has a good memory. He too remembered the anniversary, and my ranting. Needless to say, this year, just like every year, Jason is one pair of sneakers richer than he was last year. I worked out a plea bargain: Keep the coats, just don't wear them around me.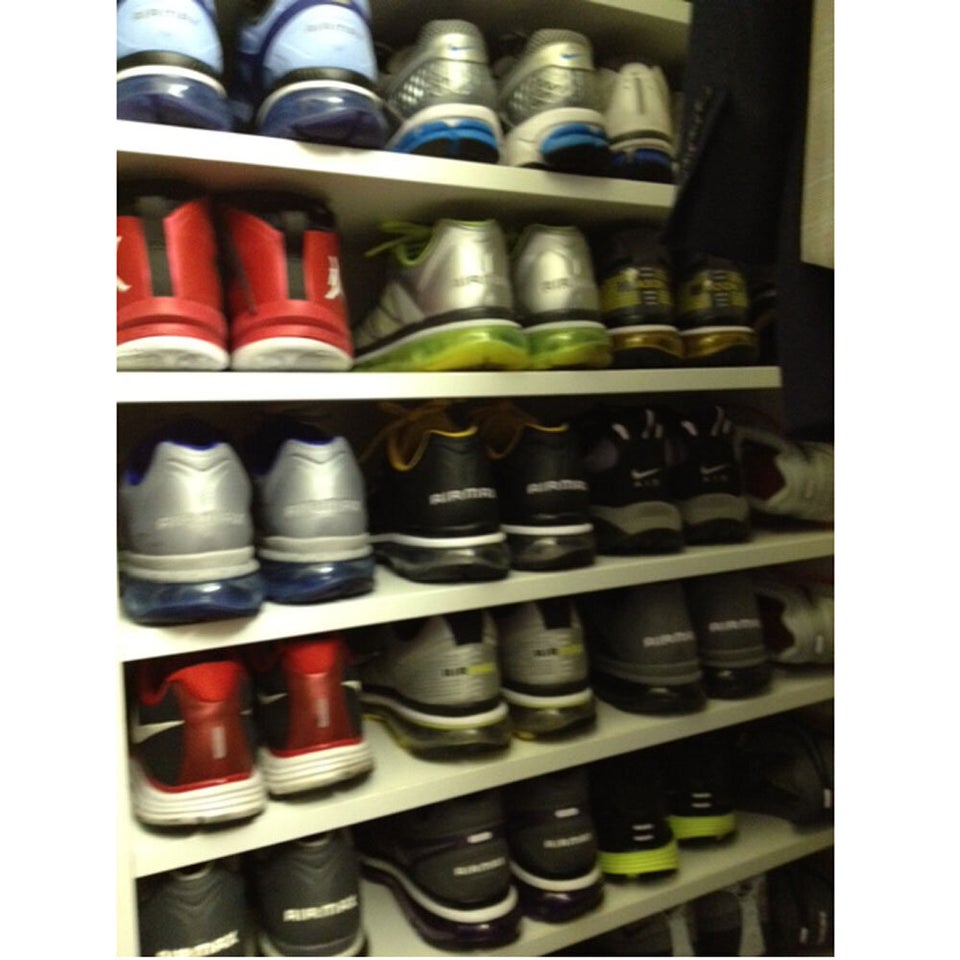 My Husband's Ugly Clothes
Related