 Men come in all shapes and sizes, and it's not always easy to know what clothing will best compliment our unique body types. Working with male clients for nearly 20 years, I have gained a lot of insight when it comes to finding the right fit and proportion for every man. First, I will break down the common body types that are often challenging to fit, and offer some suggestions that may change the way you feel about your frame and make you look better than ever.
Taller and Lean
If you are tall and lean, you most likely have a difficult time finding knits, sweaters, jackets and even jeans due to length. You might be self-conscious about anything feeling even a little too short, because it may bring you back to your childhood when you had to fake it by rolling up your sleeves or pulling your pants down. There just weren't many options back then.
Jackets and suiting are available in long sizes now and chances are if you are over 6' or 6'1" you will need a long version. You can wear double-breasted, three button or even high two-button models with center or side vents. A peak lapel was made for you, as are ticket pockets on your jacket to help fill-in some of the clean space between your pocket and your lapel or breast pocket.
Most off-the-rack dress shirting comes in long or 35 sleeve length. If you need longer, custom shirts are not out of the question. Fortunately they can be found for nearly the same price as a standard shirt these days. You may even want to try shirts with double buttons on the neck and a taller collar. On the bottom, you can find Levi's in longer lengths; J. Crew and Gap also have options.
Taller and Large
If you are big and tall, it is best to go with a long version in your jacket (6'1" or taller). The goal is to create the look of a longer line, so going with a lower stance, two-button jacket with side vents in back is the best model for you. Be sure to have the jacket tailored to be as fitted as possible around your waist; try to create a "V" in the shape. This may mean a slightly more gutsy shoulder or maybe even a peak lapel. Try dark solids or narrow pinstripe suits to elongate your frame. Also be sure that you are wearing flat front pants -- avoid pleats! -- as you do not want to add any bulk to the front area of your suit. A pocket square tends to cause the eye to move upward towards your face, taking attention away from the midsection.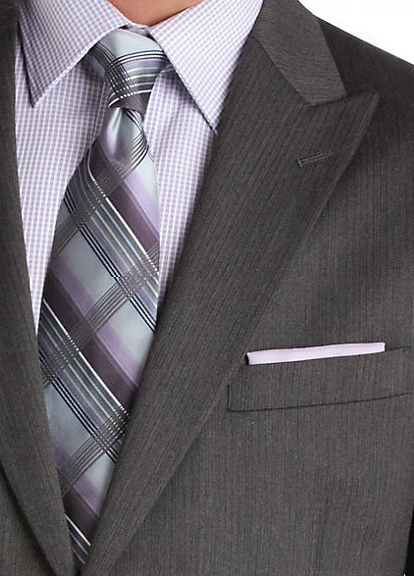 Photo credit: Men's Warehouse
Shirting should be solid or pinstripe or a microcheck, never a plaid or gingham. Try to keep your fitted jacket buttoned as much as possible while you are standing to give your silhouette more shape. Do not overstuff your pockets or add bulk to your waist or mid-section. Use the breast pockets if you must store something bulky, such as a phone or wallet.
Shorter and Lean
It's all about fit for a shorter and lean man. The idea here is to look "as big as" or bigger than your clothing. Be sure to buy a short model jacket or suit to avoid being "lost" in your suit or jacket. Be sure that your jacket is fitted and your trousers are narrow with a slightly tapered leg. Avoid a cuff on your pant to create the illusion a longer leg. I recommend to always tailor shirts in the body and shorten sleeves to the proper length. Be sure the collar on your shirt is proportionate to your face.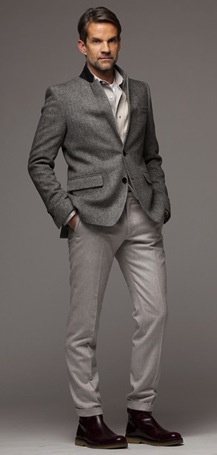 Photo credit: FashionBeans
A long collar or wide spread can overpower the shirt and look disproportionate to your face and neck. Wearing your shirt untucked can shorten the appearance of your torso, which is not what you want to do: It's about elongation of the body. A round toe shoe can also make your leg look shorter, whereas a slightly pointed or elongated shoe will work with you to create the longer line.
Shorter and Large
The idea is to try to create a silhouette that is as close to a V as possible. In order to achieve this, you will need moderate tailoring -- it is important to buy the right shape to begin with. Be sure the jacket fits closely in your challenge areas and take the jacket in as much as possibly to outline or skim the body. You don't want huge shoulder pads, but you do need structure around the shoulder to help create the V.
Also, you should only go for lower two button jackets to create space between your top button and your neck. Keep your sporty looks clean and somewhat monochromatic -- this will avoid cutting you in half. For example, a light sweater and dark pants (or vice versa) create a distinct line in your midsection. If you want to wear a plaid or patterned shirt, do so under a deep V sweater only. V-neck sweaters are optimal because they will elongate your neck.
Larger in the Midsection Only
If you carry your weight in the midsection only and would like to visually minimize it, I recommend wearing structured jackets with a lower button stance. Again you want to try to achieve a "V" shape with your body or at least a straight line if the "V" is not possible.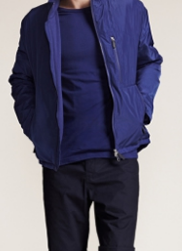 Photo credit: FashionBean
This can be balanced with a stronger shoulder and a heavier shoe (such as a wingtip with a substantial sole). I prefer belts with minimal hardware to not draw attention to the waistline. Also, your belt doesn't have to be an exact match to your shoes. Sometimes tonal is better or even matching to your pants can be chic. Casual clothes such as a sweater should be tonal like your pants and a deep v-neck style. Avoid too much elastic around the waist as it can accentuate the parts you do not wish to accentuate. If you are doing a bold shirt or pattern, it's best to keep the color or boldness peaking out of the V-neck around your face. In the hot summer months, dress tonal. A shirt with pockets on the chest can balance out the top part of your body. Avoid large patterns and plaids.
Larger in the Hips and Thighs
If you carry your weight in your hips, seat and thighs, you want to try to build up your upper body and shoulders to balance out the proportion. Again, a stronger shoulder and tapered jacket in the body can give a longer line. You want to avoid pants that are overly tapered at the bottom -- a slight taper is necessary. Again a round-toe shoe will make your legs look shorter so go with more of a slightly pointed (not severely pointed, but less round) shoe. Never wear cuffs on your trousers as this will cut the line of your leg and shorten the appearance.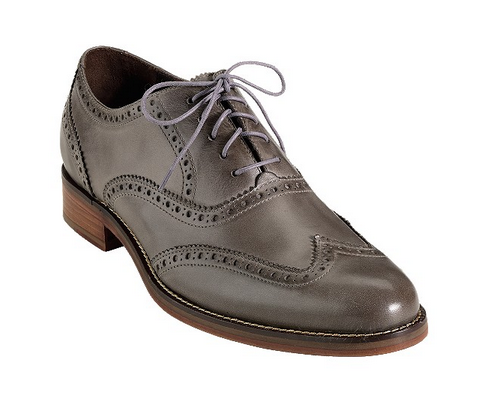 Photo credit: Cole Haan
Remember, it is all about embracing what you've got to be the optimal version of yourself. There is a solution to every challenge when you put forth the effort to conquer! I hope these tips help you feel your best in how you dress!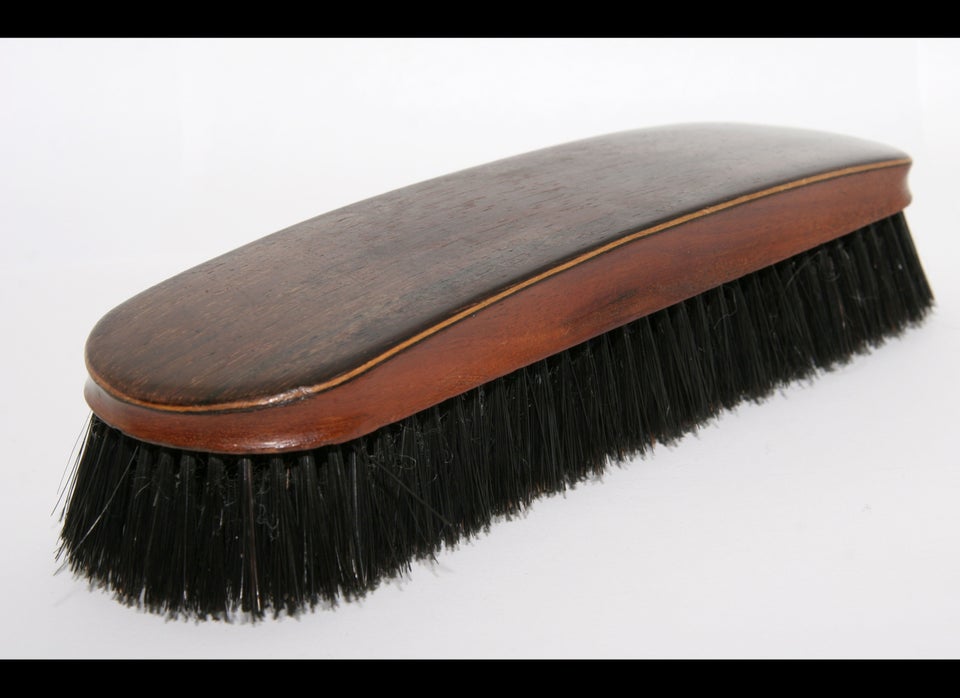 Wardrobe Survival Kit
Related
Popular in the Community