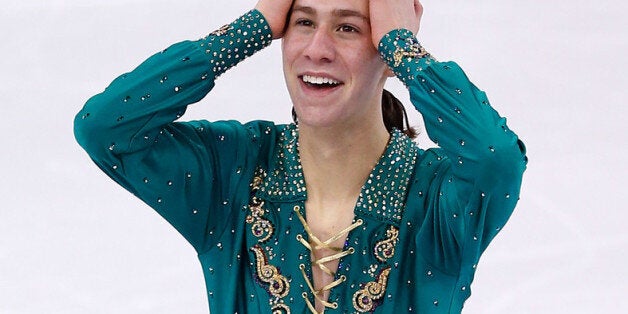 Soaring jumps, sexy swivels, gravity defying glute muscles and costumes which could easily transition into a Renaissance Festival or Civil War reenactment wardrobe. Is there anything better than men's figure skating? I think not.
Now that we've answered the big question, which two men will be competing for the USA in Sochi -- that would be veteran Jeremy Abbott and teenager Jason Brown -- let's move on to the even bigger question, what are they going to wear?
As Evan Lysacek taught us four long years ago in Vancouver, even a man who is 6 foot 2 can pull off not one, but two, bejeweled snakes strapped to his torso. But if reptiles that double as Judith Leiber purses are not your thing, you really have one of four costume options to choose from: the classic toy soldier, the aged rocker ensemble (billowing shirt and slicked back hair optional), the let-me-strap-on-my-feathers-and-fly-away or going full on Shakespeare in the Park. So which will it be, Jeremy and Jason? Here's a little inspiration from the past, including some of your finest ensembles.
Bring on the fife and drum music, it's time for the soldiers to take the ice! Though the toy soldier look really peaked during the battle of the Brians in 1988, Brian Orser and Brian Boitano are probably thrilled to know that the look is still alive and well in the skating world. Both Canadian dynamo (and heavy gold medal favorite) Patrick Chan and Jason Brown have recently embraced the military-inspired two rows of gold buttons. Russian great Evgeni Plushenko won silver in the 2002 Olympics in a Liberace-meets-toy soldier ensemble and Great Brittan's David King did a slightly less spandex version of Boitano's '88 costume at last year's worlds. When Boitano perfected the look in Calgary, he went all out with gold leaves on his soldiers, two rows of shiny buttons, heavy gold braiding and a maroon waist sash! I mean, talk about bringing it. All he was missing was a light cavalry sabre, but you know, pesky IOC rules and all. And what medal did he win? Gold. That's right. Toy soldier costumes bring home the bling.
Michael Bolton is blowing you up on Twitter. He loves that mauve/lavender/plum flowing poly-blend shirt! Okay, I get it. It's a comfortable look. And almost as normal as it gets in men's figure skating. You can pair the billowing shirt with simple black pants. You're not going to become an instant meme in it, but is this look Olympic enough? It's a style Jeremy Abbott tends to favor, sometimes even adding fingerless leather gloves. Jason Brown has reached for it too, and likes to strike Saturday Night Fever poses when he does. Joshua Farris, having just made the jump this year to seniors, really digs it. Luckily he knows that to nail the aging rocker style you have to add some sparkle and really skate your way back to 1976. Gentlemen, if you're going for greatness and you've decided this is your thing, how about taking a cue from Alexei Yagudin who struck Olympic gold in 2002. Stick to your rocker black pants, but add some metallic flair to your shirt. Nothing says medal podium quite like pretending you're that circle of golden goodness personified.
"He picked me, mommy! I'm the new swan queen!" Yes, that's a line from Black Swan, but it seems oddly fitting in men's figure skating. Even Lysacek won Skate America in 2009 thanks to some lucky plumes. Okay, it was probably his skating but did that I-am-the-black-swan-who-ate-Edgar-Allan-Poe-for-lunch outfit hurt? Certainly not. When Evan started wearing costumes by Vera Wang, his feather quota flew way up and he started flapping his way to many a gold medal. He even wore black feathers when he won gold in Vancouver in 2010. But Evan's not the reigning king of quills. That would of course be Johnny Weir. Johnny skated to The Swan at the Olympics in Turin, wore a feather costume to match (natch) and even wore a red glove, which he turned into the swan's beak and named it Camille. It made Time's list of Top 10 Worst Figure-Skating Costumes, but clearly they missed his pink and black number in Vancouver? No matter how crazy your outfit, no matter how many feathers you sew on, you'll never beat Johnny Weir in this department. We miss you JWe. That said, if anyone can try, it's Japan's Tatsuki Machida. As for Jason and Jeremy, grab that glue gun, call Vera, and fly to greatness!
If you still aren't sold on all the fashion choices in men's figure skating, perhaps you need to take it back...to the sixteenth century. Nothing screams perfectly executed quad Salchow like some puffy velvet sleeves and a lace up shirt, am I right? Of course, if you happen to fall on your quad, you can just glide on over to the Delacorte Theater in Central Park and channel your inner Prospero. At this year's nationals, Jason Brown won hearts, and a silver medal, in a green lace up shirt and back at nationals in 2009, Jeremy Abbott proved that he can more than pull off a puffy sleeve.
So what will it be gentlemen? Feathers? Fingerless gloves? Epaulets? Just remember, whatever you wrap yourselves in, you're already good as gold to us.