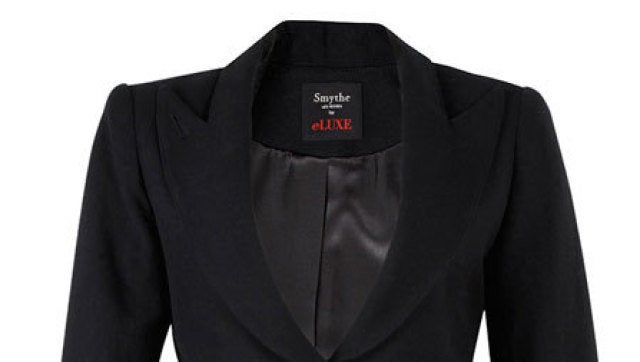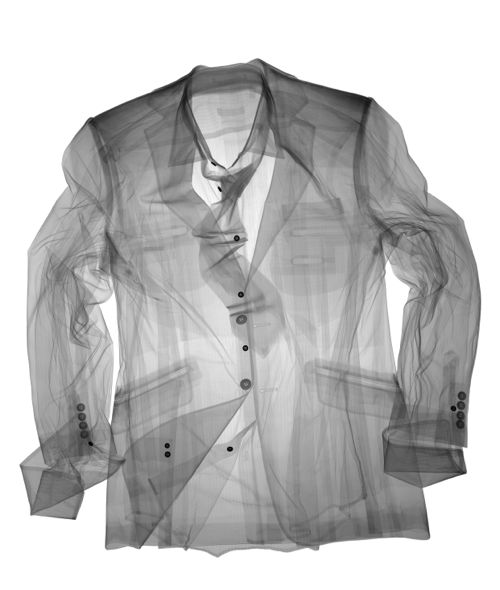 The latest catalog from Restoration Hardware includes an interesting piece of art for the menswear fan. It's an S-ray photograph by Nick Veasey -- price $1,595 -- of a suit jacket, dress shirt and necktie. It's a striking visual, eerie and ghostlike, and lends itself to interpretation. Is this the uniform of a corporate drone who's hollow underneath his daily uniform?
"My work on fashion is about how clothes transform the personality," Veasey tells me via email. "I also wanted to celebrate the love, care and attention to detail that goes into making garments."
I didn't ask Veasey about his jacket (he used his own clothes for the photo), so I've no idea if it was made with love and care. But if you're the average consumer, you might be shocked at the sartorial dirt being swept under the rug of your suits and sport coats. And by rug, I mean the lining.
You don't need an X-ray machine to see it, just a jacket and pair of scissors. I went to my local thrift store and bought a sport coat made by a designer brand sold in every mall in America. On the outside the quality was passable, but when I opened the lining, the inside was such a rat's nest as to cast aspersion on the integrity of the entire garment. Jagged fabric edges suggested rushed and careless manufacturing, echoed by a spider's web of loose threads. As for the shoulder pads, they looked to be made from some kind of post-recycled consumer waste. I could hardly think of a better argument for natural-shouldered jackets.
It should come as no surprise the jacket was made overseas.

Back when clothing was made in American by union workers with high standards, men's suits and sport coats often came with only partial linings. You still see it today, albeit rarely, from certain high-end makers. "The vast majority of American-made jackets I have encountered from the '20s-'70s are half-lined," says Zachary DeLuca, proprietor of Newton Street Vintage, an Etsy shop. "Half-lining requires more workmanship, but it also showcases that workmanship in the form of neatly finished seams."
Jackets from the '20s-'50s tended to have piped or bias-taped seams, DeLuca continues, in which a single strip of the lining material ran down the length of the seam's raw edge. "This is the most labor-intensive way to finish the seams," he says, "but it is also the most ornate, showing a thin stripe of lining on either side of the seams that matches the rest of the jacket's lining. It's also the most expensive in terms of material cost because the lining for the taping has to be cut on the bias, which is the least cost-effective way to cut cloth." Jackets from the '60s and '70s, DeLuca says, used a simpler method of folding the raw edge under and simply surging it, but were still largely partially lined, revealing fine workmanship.
But today, when most of our clothing is made overseas and without the quality standards consumers could once expect, using a full lining is "a way of hiding sins," says Crittenden Rawlings.
An industry veteran who's held posts at some of the finest ready-to-wear manufacturers, including Oxxford, Norman Hilton and Ralph Lauren, Rawlings says full linings replaced partial linings for one simple reason: "It's sort of like cheating in that it saves a lot of production costs. The main reason jackets are fully lined is because companies can make them faster and cheaper that way."
Rawlings makes jackets under the brand Crittenden using the Tennessee-based Hardwick factory. His current Ivy League model sportcoat, pictured below, comes in pure Shetland tweed from Jamieson's, employs French facing (which uses more fabric), a butterfly yoke, bias-taped seams, style touches such as lapped seams and hook vent, and, in a final attention to detail, real horn buttons. All this -- and made in America, no less -- for the modest suggested retail price of $400. Big-name clothing brands, with much higher prices, should blush when faced with this attention to detail.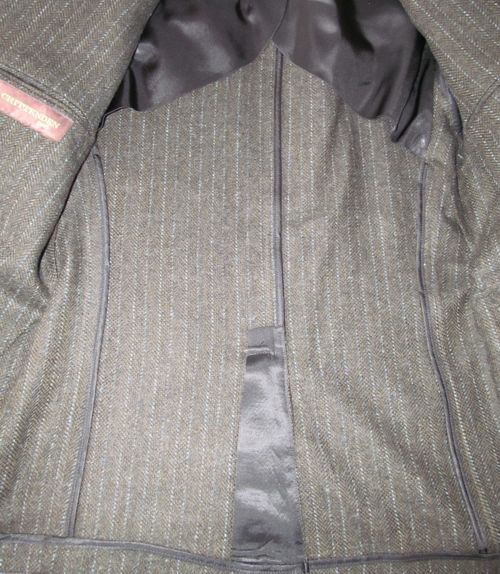 When Rawlings set out on his own a decade ago, he vowed never to make a fully-lined jacket. Modern consumers want lightweight clothes, he asserts, and linings add a surprising amount of weight. They also prevent the fabric from fully breathing. The only lining a jacket really needs is in the yoke, he says, where it can slide smoothly across a dress shirt when a man moves his arms and shoulders, keeping a jacket from feeling restrictive.
But if consumers really want lighter clothes, they have little clue what it takes to make them. When Rawlings shows his partially lined jackets to retail customers at his Kentucky store, or to wholesale accounts on his market trips to New York, most don't know what they're looking at. Ironically they think the jacket is somehow unfinished, using a cheaper rather than more expensive manufacturing method. If partially lined jackets are to make a return, as Rawlings believes they should, merchandising and manufacturing are not the only hurdles: Consumers will also have to be educated.
Related