Have you been wondering about getting a custom suit or shirt but aren't sure where to start? Between the newspaper ads ("3 suits, 2 shirts and a tie for $199!" - what??) and the Hong Kong tailors coming to your office with wheelie bags full of fabrics, the whole thing can be pretty overwhelming. I've been working with custom tailors for my one-on-one clients since starting my business years ago, and based on that, I put together the guide below for you on how to choose wisely. Your results, after all, are directly related to who you select to make your clothes.
And before you get dollar signs in your eyes at the talk of custom clothing, you should know that you can often save money by going custom. That's because you're not (typically) paying a premium for a brand name or store overhead.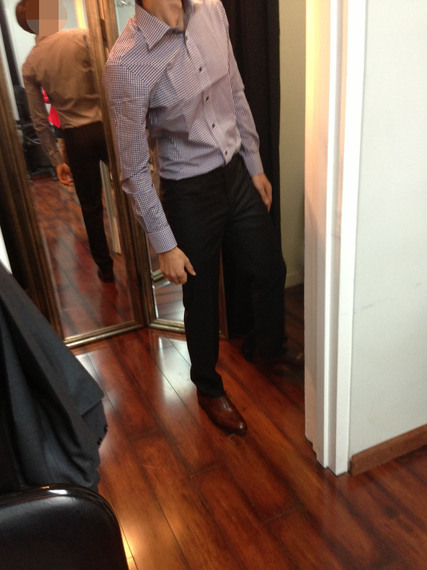 One of my clients dancing his way back into the fitting room. He was happy with the results of our order!
If you have time to devote to the process, 9 times out of 10, guys are better off with custom clothing (particularly for suits, sportcoats, dress shirts and tuxedos) than off-the-rack. Time frames can vary widely, taking anywhere from 4 to 12+ weeks from the time of the order. It's an up-front investment of time that pays off in the end: when you're done, the clothier has your measurements and knows how to fit you, so you don't have to go through major fit adjustments each time. And of course the biggest benefit to going custom is that your clothes will fit you immeasurably (haha) better than off-the-rack. The second biggest benefit is that you get to select the exact fabric and details you want.
Once you've decided you want to make the move to custom, it's key to find someone reliable and who does good work. Here's how to do that:
1) Look on local listings like yelp or other user-review sites for well-recommended ones in your area.
2) Google "best custom clothier/suits/shirts [where you live]." If you live in a major city, the local magazines often rate area vendors like custom clothiers, so check their websites as well.
3) If you come across any men with bang-on style, ask them where they're doing their shopping. Chances are these guys will have a great custom tailor they can recommend to you.
Create a running list as you go and rule out any that are not comfortable for your budget (as I said above, you can save money by going custom, but prices can vary greatly depending on where you go). Take that narrowed-down list and make introductory appointments with your top 2 or 3 choices. Any good custom clothier will allow you to come in to meet with a salesperson and check things out in general without any pressure to buy. Here are some things to find out when you're there:
1) How custom are they? - There are various levels of "custom clothing," and it's a term that's used quite liberally for anything from made-to-measure to full bespoke. So it's best to find out exactly what level of custom you're getting with each clothier. (Try to find someone who actually makes a custom pattern for you, as opposed to made-to-measure. With MTM, they take a base pattern that already exists and alter it to fit you.)
2) Canvassing vs fusing - This refers to the construction of a suit jacket or sportcoat. Fully canvassed suits will last longer and drape better on your body than those that are fused (the latter basically means glued together). A canvassed suit has a layer of wool and typically horsehair between the outer and inner layer of the jacket, giving it body and helping it be more durable. A fused suit can develop "bubbling" on the lapel after a few rounds of dry cleaning or if you get caught in the rain. So ideally you're looking for a custom tailor within your budget who offers fully canvassed suits.
3) Selection of fabrics - Look for fabric books from known brands like Zegna, Holland & Sherry, Loro Piana, Vitale Barberis, Thomas Mason and Canclini. If the clothier carries a variety of books from these brands, that is usually a sign of legitimacy. A broader selection will also make it easier for you to choose and get just what you want.
4) Details - Do they have a variety of options when it comes to details like buttons and thread color for monogramming/stitching? It's better to have more options than fewer. And do they use real mother of pearl and horn buttons and bemberg linings? Ask. These details are an important sign of quality.
5) Fit confirmation - For your first order, the clothier should only put one test for each type of item through first to confirm fit. Then, once fit has been confirmed (and any needed alterations have been made), they can put through the remaining items. Don't work with a clothier who orders everything up front. In addition, most clothiers will have you pay for all or half of your items upon ordering, so it's in your best interest to place a small order initially, and once you've confirmed you're happy with the process and results, you can go back and order additional items.
6) Fittings - Any good custom tailor will want you to have at least two fittings (the number of fittings you need will depend on how "tricky" your body type is) to make sure the fit is right. If they simply order the clothes and tell you that you can come pick up, that's a problem.
7) The cut - I've worked with a variety of custom tailors, and some have a standard cut (i.e., slim, classic, etc.) which they will automatically give you unless otherwise requested. And others will ask you how you want things to fit. If you want a slim, modern fit, but you choose someone who cuts more traditional, you'll end up in a suit that feels too boxy to you. Go with someone who will deliver the type of fit you want and who will also talk it over with you if necessary to help you decide.
8) End result - The tailor you end up with should have a guarantee that you'll be happy with the fit in the end, and if you aren't that they'll alter and/or redo items as needed until you are.
Based on the above, you can make an informed decision as to who your best option is.
Do you use a custom clothier? If so, how has your experience been? If not, what's holding you back? Let me know in the comments below.
Related