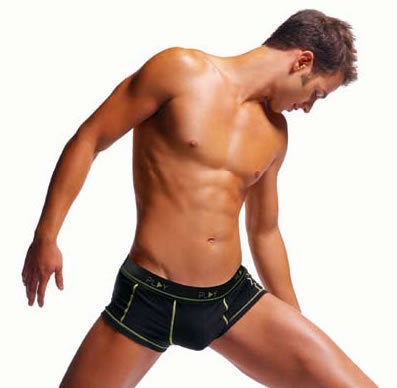 With reporting by Arthur Delaney
As chairman of the Federal Reserve, Alan Greenspan was known for using quirky, proletariat metrics to judge the temperature of the economy. The most famous of these, as recounted by NPR's Robert Krulwich in January 2008, were the sales of men's underwear. If the economic scales dipped even the slightest, Greenspan reasoned, it was as sure a sign as any that people were truly feeling the pinch.
"If you look at sales of male underpants it's just pretty much a flat line, it hardly ever changes," Krulwich recounted after the publishing of Greenspan's book, "The Age Of Turbulence." "But on those few occasions where it dips that means that men are so pinched that they are deciding not to replace underpants. And [Greenspan] said 'that is almost always a prescient, forward impression that here comes trouble.'"
Well, here comes trouble.
A revised survey by the leading global research company, Mintel, shows relatively large drops in the sales of men's underwear in the United States. The study, to be released April 9, projects a 2.3 percent drop in sales of all men's underwear products in 2009. Underscoring just how quickly the market has gone south, in November 2008, Mintel had forecast sales to grow by 2.6 percent in 2009. A serious downturn led to a serious revision.
Officials in the business say a variety of factors are to blame, including an influx of private label products from China. But the truth is, the psychology of the recession plays the biggest role.
"Men's basic apparel products probably have the least fluctuating sales of all [apparel products]," Matt Hall, a spokesman for Hanesbrands Inc. said in a brief interview. "But recessions impact all categories and men's underwear sales are no different... Men's underwear is a replenishment item. If you see a dip in the market it is because of the economy. But over a longer-term period it will even out. They tend to be later going into the recession and earlier coming back... Men certainly aren't wearing underwear less frequently than before."
Of course, extending the life of a pair of boxers or briefs is different than simply abandoning the undergarment all together. And here is where Greenspan's economic divination comes into play.
"[Greenspan] once told me that if you think about all the garments in the household, the garment that is most private is the male underpant, because nobody sees it except people in the locker room, but who cares," Krulwich told NPR. "Your children need clothes, your wife needs clothes that have to change, your children grow, you need clothes on the outside. But the last purchase that you don't have to make is underpants.... [men wear them until they are in] total tatters."
And yet, adjustments in the men's underwear market do show some silver linings -- room for growth, one might say. For starters, the sale of briefs (as opposed to boxers) is forecasted by Mintel to rise this year by 0.6 percent, though fall back down in 2010.
Moreover, some higher-end underwear retailers have seen their business improve even in the current slump.
"Our sales have been up this year and we are not sure exactly why. With all the bad news we were expecting sales to fall and they haven't, so we are quite pleased" said Robert Clark, of Skiviez, Inc, the self-proclaimed "men's underwear authority."
And yet, when asked why that might be the case, Clark's reply only further indicated how under duress the American consumer truly is. "My theory is that people still want to treat themselves to a luxury item," he said. "$150 or $170 jeans were pretty popular. But my theory is that sales on those jeans have fallen. People who want a luxury item are now finding it cheaper to simply buy a $20 dollar pair of deigned underwear instead."
ALL UNDERWEAR

2007 retail sales: $4.73 billion (up 3.7 percent from year before)
2008 retail sales: $4.87 billion (up 2.9 percent from the prior year).
2009 forecast: $4.76 billion (down 2.3 percent)

BRIEFS
2007 sales: $1.21 billion (down 3.6 percent)
2008 estimated: $1.17 billion (down 3.0 percent)
2009 forecast: $1.18 billion (up 0.6 percent)
2010 forecast: $1.17 billion (down 1.0 percent)

BOXERS
2007 sales $1.16 billion (up 9.7 percent)
2008 estimates: $1.25 billion (up 7.1 percent)
2009 forecast $1.09 billion (down 3.5 percent)
Related
Popular in the Community