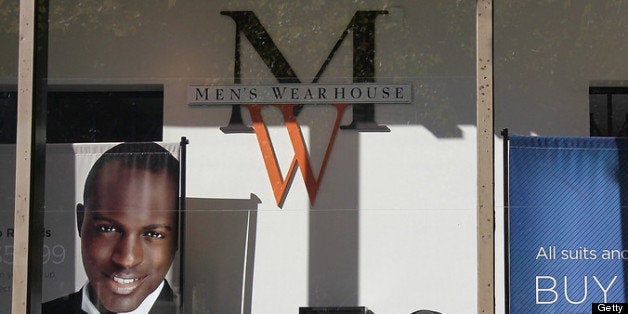 Though Men's Wearhouse has been quiet on its social channels following the controversial firing of founder George Zimmer, many of its employees have taken to the company's Facebook page to defend it against the onslaught of consumer outrage, urging customers to continue to patronize Men's Wearhouse for the sake of the front-line workers.
"It's sad to see this happen but it's not the board members that work in these stores, it's us employees that you all will be hurting," wrote Amanda Balow, who works as a senior customer service associate for Men's Wearhouse in Ohio.
Angry customers have flocked to the Men's Wearhouse Facebook page to rail at the company for its decision earlier this month to fire Zimmer, the longtime face of the brand who appeared in commercials touting the tagline, "You're going to like the way you look -- I guarantee it."
As commenters flood each post with shaming, name-calling and threats to boycott the retailer, the team behind the company's Facebook page has simply continued to put up style tips and suit suggestions. The only line of defense has consisted of the self-identified employees who are bold enough to speak up.
"We as MW employees still love our customers and what we do," wrote Pete Nielson, a store manager at a Men's Wearhouse in South Dakota. "Please think twice people before posting all of these toxic comments. Trust your local MW team. We still strive for world class customer service ... and are at your service."
Representatives for Men's Wearhouse did not respond to a request for comment.
The 17,000 or so employees who work for Men's Wearhouse have been lost amidst the turmoil, carrying on their daily routines as their founder and board of directors battle each other in a prolonged war of words. With little control over what happens at the top rungs of management, all they can do is assure customers they're doing their part.
"We as employees are the guarantee," assured Rihn Nolan, a consultant at a store in Pennsylvania, in reference to Zimmer's famed slogan. "World class customer service is what we will continue to deliver. I personally make sure everyone that shops with me likes the way they look."
While many Men's Wearhouse workers took to the public forum to parlay with customers, other employees, current and former, went to voice their support for Zimmer and slam the board of directors for how they've handled the situation.
According to a statement released by the board on Tuesday, Zimmer was fired after he issued an ultimatum, demanding that the board either reinstate him as the sole decision-maker or continue on with the current management team. Zimmer disagreed with his colleagues about a multitude of strategic decisions, including executive compensation levels, the potential sale of the company to an investment group, and the fate of K&G, a men's, women's and children's apparel chain owned by Men's Wearhouse.
The board chose to side with current CEO Doug Ewert and ditch Zimmer, dumping him with a terse press release announcing his departure.
Melissa Burns, a senior customer service associate and 10-year veteran of Men's Wearhouse, said on Facebook that she felt "heartbroken" over Zimmer's unceremonious firing and thanked the many commenters who supported him. "He is truly a great man," she wrote.
Chris Jacobs, a former assistant manager at Men's Wearhouse, sided with Zimmer as well. He wrote that he had quit his job because the company changed for the worse when Zimmer stepped down as CEO in 2011, handing over the reins to Ewert, his hand-picked replacement.
"Once he stepped down, working conditions deteriorated and the bean counters took over and started caring more about profit than customer loyalty," Jacobs wrote. "Now that I see what they have done to George, I can honestly say, I am glad I left when I did. Most of you probably won't have jobs in a few years."
"I encourage you to stay focused on serving your customers and maintaining your jobs," Zimmer wrote. "Please do not concern yourselves with my well-being at the risk of your own."
Yet some employees, like Mark Foxworth, a wardrobe consultant at Men's Wearhouse in Alabama, aren't afraid of potential repercussions.
On the company's Facebook page, Foxworth wrote that he's dismayed at how senior management have handled the situation with Zimmer, and he has started to question the retailer's future after this "really bad move."
"I am shocked and appalled at the treatment of our founder and figurehead, George Zimmer," Foxworth wrote. "For us, as employees, even management, to find out about his 'outing' through a callous email 'notifying us of his termination' is just wrong."
"Thanks Doug," he added, referring to Ewert, "guess you can fire me now."
Calling all HuffPost superfans!
Sign up for membership to become a founding member and help shape HuffPost's next chapter
BEFORE YOU GO
PHOTO GALLERY
The Worst And Best U.S. Cities To Get A Pay Raise