Move over, Blue Man Group! New York City has got another spectacular nonstop men-only attraction landing on its West Side shores.
The Council of Fashion Designers of America (CFDA) is launching New York Fashion Week: Men's. The long-anticipated standalone showcase for American men's fashion will take place July 13-16, 2015 at the historic Skylight Clarkson Square in the heart of SoHo. The news inspired impassioned pros (yours truly) and cons (wait, really?!) chatter throughout the city and the industry. Here are a few worthwhile reasons to say a wholehearted, resounding YES:
American menswear designers not only deserve but need a focused venue. Tommy Hilfiger and Ralph Lauren have revolutionized the casual man aesthetic. Thom Browne is ever at the vanguard of men's couture. Not to mention the worldwide impact of legendary New York street styles: Wall Street, urban sport, hipster chic.

"It is an opportunity to demonstrate the collective talent of an important segment of our industry. American menswear has never been stronger or more creative," said Steven Kolb, CEO of the CFDA.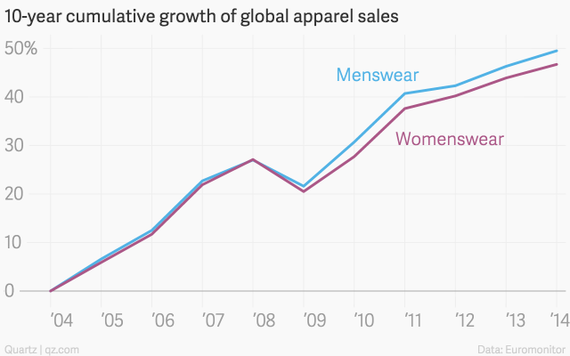 Menswear's global sales, according to Euromonitor, have grown faster than womenswear over the past decade.
Menswear has had a Eurocentric flare for far too long. Since 1972, Pitti Uomo (the oldest industry trade fair) has drawn dedicated followers of menswear fashion to Florence, followed by Milan & Paris weeks. In 2012, the British Fashion Council put London back on the map. Last season, Toronto officially got in on the menswear game. If Canada can do it, it's time -- past time -- to give American men their due. Aside from logistical convenience, it would bring more international fashion industry professionals stateside during the summer period, historically a "dead" period for the New York fashion industry.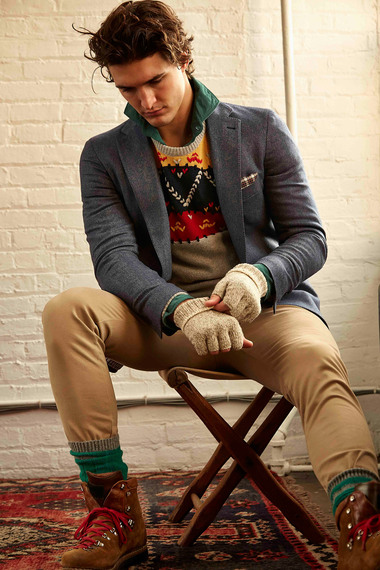 Photo: Courtesy of Michael Bastian
In its decision to produce a dedicated menswear fashion week, the CFDA is also recognizing the ever-growing need to globally promote American menswear design graduates, trained by some of the best fashion design programs across the United States, including California's Academy of Art University School of Fashion, New York's Parsons School of Design and the Fashion Institute of Technology, and Georgia's Savannah College of Art and Design. The next generations of U.S. menswear designers will now have a unique opportunity to utilize newly created platform to launch their brands and fashion careers.
"The CFDA's smart move to consolidate menswear into a singular event will generate the right attention and momentum for established and emerging American sportswear designers," noted Simon Ungless, Executive Director of the School of Fashion at the Academy of Art University in San Francisco.
As a good news precursor that presages greater interest and hype, the New York Times announced mid-January that it will now publish a monthly dedicated menswear style section starting in April 2015. The fashion media excitement about menswear continues to fuel industry attention across multiple platforms: print, TV, social networks, blogosphere. For example, although COACH is an American fashion stalwart, the brand premiered it's first-ever menswear collection in London a couple weeks ago. We don't have to miss such milestones anymore.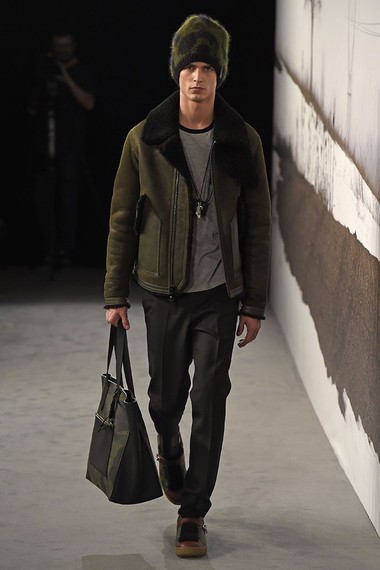 The CFDA partnership with a trifecta of Amazon's fashion sites (Amazon Fashion, East Dane, and MyHabit) highlights the trend of further migration of clothing retail online. Cathy Beaudoin, President of Amazon Fashion, said the company was "proud to support an initiative that both celebrates strong design and talent, and solves a very real challenge for menswear designers today." As tech firms increasingly collaborate with the fashion sector, always in search for a revenue stream, opportunities for new niches for both industries will abound.
"As a New York menswear designer, it's exciting to hear about the CFDA's platform for New York Fashion Week: Men's," said Kenneth Ning, The Academy of Art University's School of Fashion alumnus. "Focusing on men's collections will help the industry recognize the emerging American talents in the early stages."
Image credit: Design by Kenneth Ning F/W 2015, Photography by Brent Chua.
"Additional support" for the CFDA's "New York Fashion Week: Men's" from SHINOLA is more than strategic marketing. This Detroit-based watches and leather goods manufacturer is part of the effort to revitalize one of America's hardest working cities. It shows good faith in and commitment to the future of nation's craftsmanship.
Certainly the calendar is quite packed, but for this New York minute, we are just beside-ourselves-happy with whatever he question was! The confirmed line up already reads like a dreamboat show tune chorus line: Calvin Klein, Michael Kors, Michael Bastian, Public School, Billy Reid, Robert Geller, Duckie Brown, Patrik Ervell, Timo Weiland and Rag&Bone, whose current campaign is a viral video sensation with an epic Baryshnikov vs. Lil Buck dance-off.
Start spreading the news. It's up to you, New York, New York!
Popular in the Community