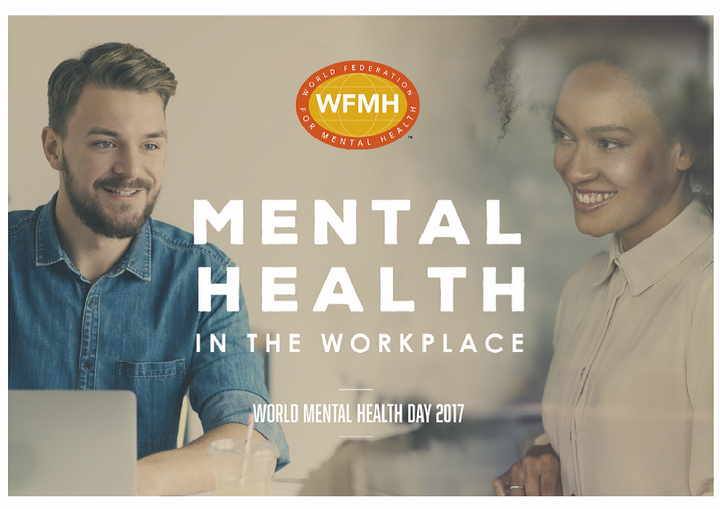 "Mental Health in the Workplace" is the theme of World Mental Health Day 2017 and WFMH calls on each and every one of you to join us as a partner for this year's World Mental Health Day.
One in four adults will experience mental health difficulties, yet prejudice and discrimination are significant barriers that deprive people of their dignity. To make dignity in mental health a reality requires every member of society to work together. It requires action in the community and, importantly, in the workplace.
One in five people in the workplace experience a mental health condition, and while many employers are developing policies to support a healthy workforce, there is no shared vision for mental health in the workplace.
Our vision, therefore, is to start the discussion so that we can define best practice in promoting mental health in the workplace and create a broad coalition to promote best practice, decrease negative attitudes and discrimination and empower individuals to promote mental health and dignity for all. This focus builds on the recent World Bank's identification of mental health as a Global Development Priority which recognizes the critical impact mental health has on economic development and well-being. Annual global costs of mental health problems are estimated at 2.5 trillion U.S. dollars and expected to rise to 6 trillion U.S. dollars by 2030.
Employment is critical in promoting recovery – for individuals, communities, and nations. However, estimates show that up to 80% of individuals with serious mental illnesses are unemployed while 70% want to work. In the U.S. alone, it is estimated that major mental health disorders cost the nation at least $193 billion annually in lost earnings alone.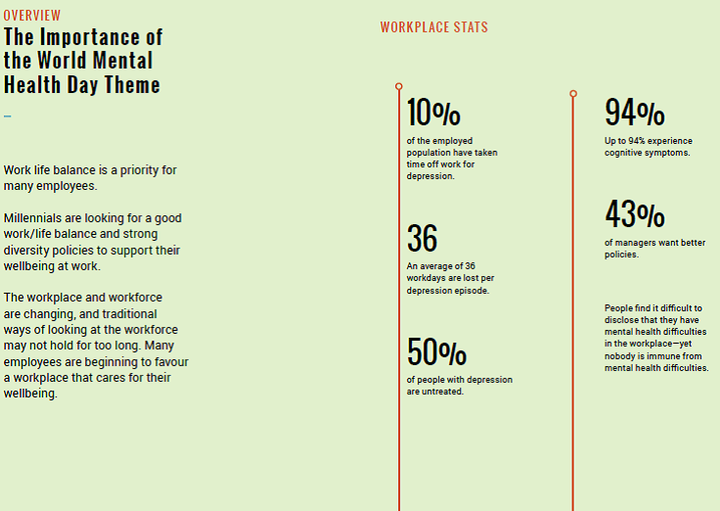 To address these issues, it is imperative to engage businesses, employers, legal rights advocates, unions, mental health providers, families, service users, and others to promote meaningful employment for people who experience mental health problems.
This World Mental Health Day, let's take action to promote #mentalhealth in the workplace http://bit.ly/2hOWn2G
When managers take action to promote #mentalhealth at work, employees are healthier and more productive http://bit.ly/2hOWn2G
Work is good for #mentalhealth, but a negative working environment can lead to physical and mental health problems http://bit.ly/2hOWn2G
#Depression & #anxiety cost the global economy USD 1 trillion per year in lost productivity. Invest in mental health! http://bit.ly/2hOWn2G
Investment in treatment for #depression & #anxiety is good for people's health, good for economies #mentalhealth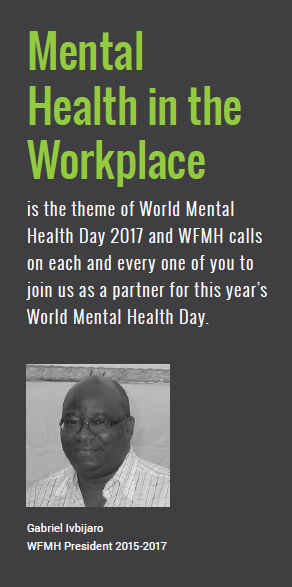 Professor Gabriel Ivbijaro MBE JP, MBBS FRCGP FWACPsych MMedSci MA IDFAPA
President WFMH (World Federation for Mental Health),
Chair The World Dignity Project,
Medical Director, The Wood Street Medical Centre, 6 Linford Road, Walthamstow, London E17 3LA, UK
facebook.com/IvbijaroGabriel
http://www.huffingtonpost.com/author/gabrielivbijarogmailcom
www.worlddignityproject.com