By Lloyd I. Sederer, M.D.
Our country, every year, continues to grieve for the tens of thousands of lives lost to homicide and suicide by people in the throes of acute mental illness. Since the massacre in Newtown, CT, mental illness and the tattered fabric of services for people and families affected by the consequences of these highly common disorders has been in the forefront of media and political attention. But too little has been done so far to make a difference for those whose fates lies ahead.
Light appeared, and with it, some fire, when Congressman Tim Murphy (R-PA) authored "The Helping Families in Mental Health Crisis Act" (HR 3717). Rep. Murphy, a Ph.D. clinical psychologist, has proposed a broad variety of actions aimed at improving the broken system of mental health care, not just adding more programs or money to the already fragmented and far too unaccountable services that now exist.
It has been more than 50 years since mental health in America underwent an overhaul. The 1960s saw the passage of The Community Mental Health Act, which set the stage for population based care in the community (though this play never quite went on); Medicare and Medicaid were introduced to fund psychiatric services outside of state mental health agencies; and psychopharmacology advances enabled disruptive and debilitating behaviors to come under enough control for people to leave mental institutions and try to build lives in the community. We are "better but not well" from the innovations of the '60s.
What do we need now to deliver on the promises of decades ago? It is not rocket science to appreciate that what works is comprehensive care (not singularly a medication or therapy) delivered in an ongoing manner. This is common sense but it is not common practice. Less than 20 percent of people with serious mental conditions, like depression, PTSD, bipolar disorder, schizophrenia, eating disorders, and many other conditions, are properly diagnosed and receive effective treatments. The terrible irony here is that mental health has many proven treatments that work as well as those we have for the chronic conditions that dominate general medical care, like heart, lung, neurological and kidney illnesses, and cancers.
The problem, the biggest problem, is that what we know about mental health care is not what is being done. The greatest benefits for people with mental (and addictive) disorders in the next decade can derive from doing a better job delivering on what we know now. People with illness, their families and our communities can't wait 10 years for new discoveries to help.
That is the premise of Congressman Murphy's bill. He is not simply proposing more programs, though that is there, too. His bill asserts that evidence-based and informed treatments must become the coin of the realm. Caring without science may be kind, but it's not modern medicine. HR 3717 stresses mental health built into primary care because that is where most people with mental disorders go. But today their conditions are undetected and untreated -- and will remain so unless general medical care makes mental health screening and treatment a standard of care.
Families and caregivers, our best early warning system for people becoming ill or in danger, need to be able to communicate more fully with clinicians and hospitals and not have their tongues tied by overly legalistic interpretations of federal privacy laws that throw clinical judgment out the window.
This bill has many other provisions that emphasize a right to treatment and a right to get better. Involuntary outpatient treatment, a lightning rod issue, is there after all else has failed to prevent an otherwise likely trajectory to disability, prison, shelters, the streets and early death. Early identification of serious mental illness in youth is another section of the bill, as are mental health courts and brain research that could help after we get to a better functioning system of care. Accountability through an assistant secretary of mental health in HHS is also proposed because of that position's need to report to Congress.
There is more. You can read the bill or its summary. You can see that this bill is not tinkering, or myopic attention to some details, or wishes for money that is not there. The bill is a work in progress and the Congressman is seeking help refining it. He seems, to me, to be urging a clinically informed policy to overcome partisan politics and ideological posturing.
Mental health is in the forefront of national attention -- and even more so in the minds of tens of millions of people and their families who live with these highly prevalent conditions. Tragedy can become the engine for needed change. This is a rare, defining moment for mental health in America. We have the opportunity to better serve people with mental disorders and their families, a privilege and a responsibility that are ours to meet. Or as a great Greek poet has taught us, "And what he greatly thought, he nobly dared."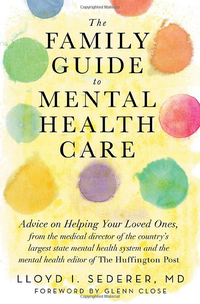 Dr. Sederer's new book for families who have a member with a mental illness is The Family Guide to Mental Health Care (Foreword by Glenn Close).
Dr. Sederer is a psychiatrist and public health physician. The views expressed here are entirely his own. He takes no support from any pharmaceutical or device company.
Popular in the Community