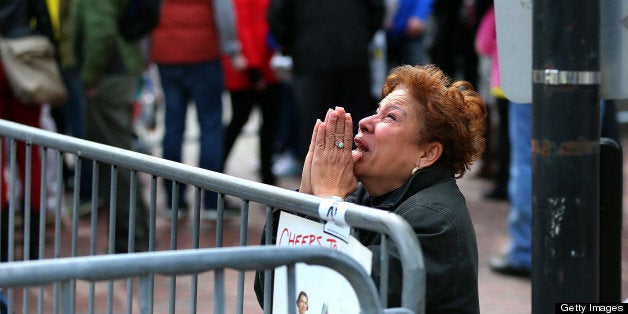 The morning after the deadly Boston Marathon explosions, Joyce Maguire Pavao called local hospitals and the Red Cross, rushing to find victims.
Family and friends who had been near the attack were unscathed, but Pavao, a psychologist who usually works in child welfare, was looking for something else: people who needed help recovering from trauma.
"It's like an experience in an war zone, a bomb on a sidewalk," said Pavao. "It's traumatic for the people that were involved, for those hurt, for those who saw them get hurt, for the people that helped afterwards."
After two bombs packed with pellets exploded near the finish line of the city's marathon Monday, killing three people and injuring more than 170, the recovery continues. The streets are being cleaned of debris, hospitals are tending to victims with burns and severed limbs, and law authorities are investigating a terrorist act. But as Boston slowly returns to normal, people like Pavao are tending to an often less visible effect of disaster: post-traumatic stress disorder and mental health issues that can emerge in weeks, months and years after the trauma.
"There is so much we know about PTSD these days, and there are so many instances in our world that are traumatic. If we acknowledge them and find the best way to address them, we can save people from having residual, difficult problems," said Pavao. "Horrible images are ingrained in people's minds, and there will be memories and triggers. But you can manage them better if you have assistance, if you have someone to talk to."
Across Boston, trauma counselors, disaster chaplains and mental health professionals were dispatched to hospitals, churches and recovery resource centers to help those who are spiritually and emotionally drained, and in shock.
Not far from the blast sites is the Park Plaza Castle, a historic Victorian building that's become a makeshift resource center for victims, where Boston officials are offering shelter to displaced residents and information on counseling. In New York and across several states, the federal Substance Abuse and Mental Health Services Administration has a 24-hour, toll-free "disaster distress helpline" (1-800-985-5990). Though it had only logged a few dozen calls since Monday, volume had doubled by Tuesday, officials said.
"Trauma is a completely natural response to an unnatural event, and most people are resilient," said Lloyd Sederer, medical director of the New York State Office of Mental Health. "But you need to help people understand what happened, that these are predictable symptoms and that there are ways to take care of yourself."
Sederer, who administered mental health programs in New York City after Sept. 11 and is currently organizing similar resources for Hurricane Sandy victims, said many witnesses to the Boston attack may have trauma symptoms in the days and possibly weeks after the bombings, including a general sense of fear, mental replays of the experience and nightmares. But he cautioned that a minority could develop longer-lasting PTSD and related symptoms, such sudden debilitating flashbacks, anxiety, social isolation and drug and alcohol abuse.
"The (physically) closer you are to the experience, the more it is potentially life-threatening to you or the closer you get to witnessing a life-threatening or deadly event, the more likely you will remember it indelibly," he said. "The most important resources are your own family and community. It helps to talk to someone to understand what you have gone through."
That's one of the reasons for the disaster distress hotline, said Anne Mathews-Younes, who directs mental health services for Substance Abuse and Mental Health Services Administration. The administration, which also runs National Suicide Prevention Hotline, first launched the disaster line during the BP oil spill. It's been manned continuously since then, but has seen a spike since Monday.
"We know from experience with Hurricane Katrina that sometimes we don't immediately experience our stress or distress. Sometimes it has taken people up to two years to realize they are not feeling or acting like themselves," said Mathews-Younes. "It can be a simple as people lacking energy or not sleeping enough. We train people to give reassurance."
Experts said isolation is one of the worst things for those who have experienced the tragedy. They point to the candlelight vigils and prayer gatherings in the Boston region throughout the week as immediate, organized ways to cope.
Boston resident Charlotte Robinson, whose family left the marathon uninjured, described herself as "dazed" by the attack and planned to mourn at a memorial service at the Israeli consulate Tuesday evening. After she saw dozens of ambulances rush by her home in the Jamaica Plain neighborhood to aid victims on Monday, Robinson said she felt as though she was in a "horrible nightmare." But recounting the experience with her partner, Marilyn, has helped her process it, she said, and she's looking forward to reflecting with other residents.
"It's a somber time and it's tough to see your city like this," she said, "but it feels better if we come together."
This story appears in Issue 45 of our weekly iPad magazine, Huffington, in the iTunes App store, available Friday, April 19.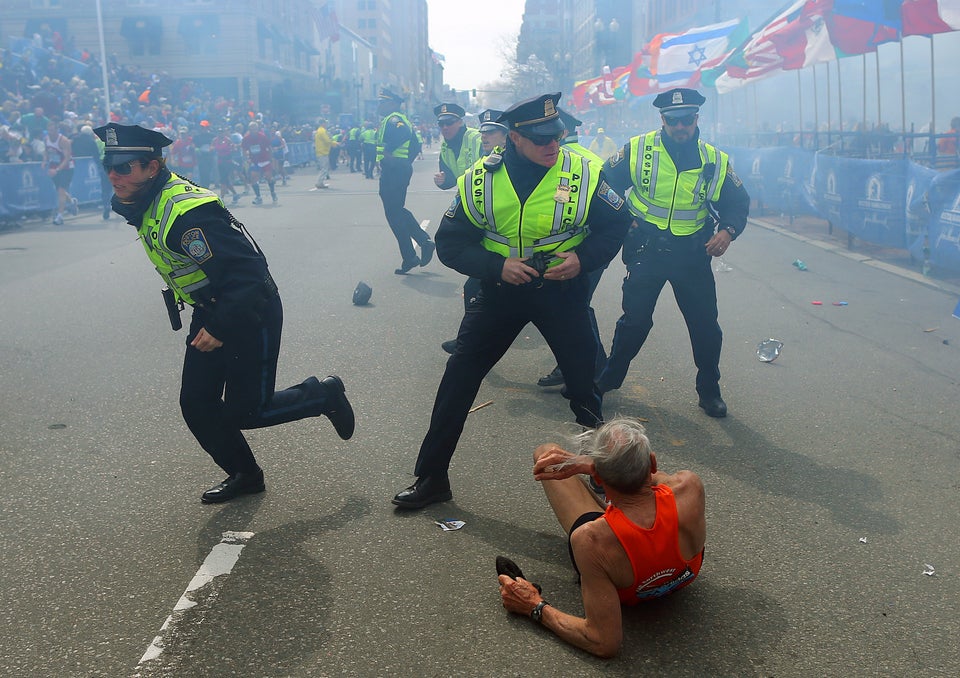 Boston Marathon Bombings
Popular in the Community