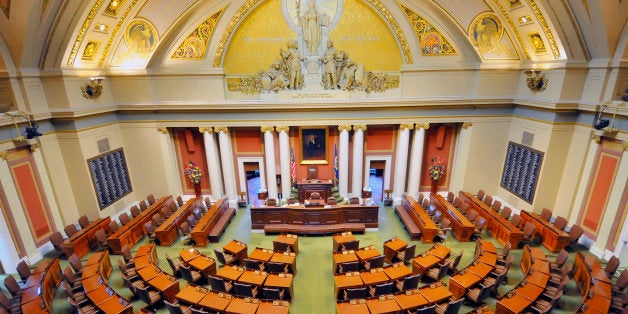 It's Mental Health Awareness Month. Congress is closer to passing mental health reform than it ever has been before, but as the saying goes, "close" only counts in a game of horseshoes. The challenge is whether both the Senate and House of Representatives will act before time runs out and attention shifts almost entirely to the fall election campaigns.
Today, 1 in 5 Americans have a mental health condition. Recovery is possible but at least half of people with mental illness do not get the care they need. Meanwhile the nation's suicide rate is the highest it's been in 30 years.
The good news is that the Senate Health, Education, Labor & Pensions (HELP) committee has unanimously approved a mental health reform bill, S.2680. The bill is now pending on the Senate calendar, waiting for Senate Majority Leader Mitch McConnell (R-Ky.) to bring it to a vote by the full Senate. For millions of Americans affected by mental illness, Senator McConnell is currently the man of the hour.
The lead sponsors of S.2680 are HELP Committee Chair Lamar Alexander (R-Tenn.) and Ranking Member Patty Murray (D-Wash.) It also is supported by Senators Bill Cassidy (R-La.) and Chris Murphy (D-Conn.) who are key leaders in efforts for broad reform.
Election year or not, bipartisan support exists for the legislation. Individuals and families affected by mental illness, along with others, are currently calling on all Senators to show their support by contacting the Senate leadership, to bring S. 2680 to a vote soon.
The bill provides a framework for strengthening the nation's mental health care system. Its provisions:
•Authorize suicide prevention programs.
•Address shortages in the mental health workforce.
•Strengthen enforcement of the mental health insurance parity law.
•Invest in early intervention programs so people get the right care at the right time.
•Promote integration of primary and mental health care.
•Strengthen community crisis response systems.
Meanwhile, in the House of Representatives, Republicans and Democrats on the Energy & Commerce are working on bipartisan legislation. House Speaker Paul Ryan (R-Wisc.) is on record wanting to make a mental health bill a priority for action.
But the expectation is that the Senate needs to act first. The more time that goes by, the smaller the window, especially in an election year. Every voice is needed now to keep the process moving forward. During Mental Health Awareness Month, let's make the Senators aware that they must act on this critical national issue and pass mental health reform now.
Related